Do you need winter running tights? And what should you look for when you buy?
Why running tights could be a runner's best friend as temperatures drop – and what to look for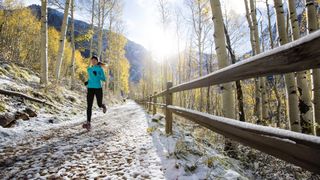 (Image credit: Getty)
It makes sense, doesn't it, to wear running tights in winter? The obvious reason is that when comparing tights to running shorts or skorts, they offer better coverage of the skin and therefore keep out the cold and wind.
While some runners will wear shorts year-round, bare skin is at risk of being chilled by the winter rain, snow or wind. Skin can end up red, raw, sore, chapped and even chilblained if exposed to the cold weather for too long.
Cold muscles are also more prone to injuries, such as muscle tears, while joints can also suffer when temperatures fall.
So, for most people, when the weather turns cold in winter, a fuller coverage of skin is a good idea. It could be you choose to wear full length tights or three-quarter length winter tights, but either way they give greater warmth for a runner's legs.
The benefits of winter running tights
Running tights are designed to be neat fitting and to provide support for the body and muscles. There are various different fabrics to look for, from compression materials to fleece-lined running tights for colder temperatures.
Compression fabric is said to increase blood flow and circulation in your body, which should mean that muscles are warmer and more flexible as a result. This is an advantage for running in winter. Although it might be worth looking for thicker compression fabrics for colder days in winter.
Fleece-lined or brushed backed fabrics are a good idea when it's really cold outdoors because they better protect skin and muscles from the chill and potential wind.
But it is worth considering how cold it will be. While fleece-lined running tights are a great purchase, there will be times when they can feel too warm.
Being too warm when running can be as uncomfortable as being too cold and thicker fabrics may cause you to sweat while running. Sweat and cold weather are not good friends because the wet, if it doesn't evaporate, may end up feeling cold and damp.
Winter running tights are also a versatile item of clothing. They are a great base layer for winter hiking, if you plan to wear waterproof trousers, and also for activities, such as skiing.
What to look for: winter running tights
When choosing the best running tights make sure they are well fitting. A complaint of many runners is that tights fall down while they are running. The tights should fit neatly and hug the waist and hips, so there is less chance of them creeping downwards. Look for a drawstring at the waist so that you can tighten this should the tights start to fall.
Some people like to wear tights with shorts over the top. This can prevent the annoyance of tights falling down, plus you will have more warmth around the butt area.
Reflective details are important for winter runners. The chances are, due to shorter days and less clement weather, you will end up running in dull or dim light and perhaps at night. It is vital for winter running safety at night that other people, especially motorised vehicles, spot you if you are running near traffic or in built up areas.
Buy bright and colourful winter running tights for better visibility – and also because they will make you smile every time you put them on. Getting motivated for running in winter can be hard but if you have great clothing it makes it a bit easier.
Ankle zips can be a good ideas and make it easier to pull running tights over your feet.
Breathable fabrics or tights with areas that have greater breathability, such as mesh at the back of the knees, will help with the balance of warmth and sweating.
Pockets are important to many runners, especially if you want to keep a key safe. Look for zipped pockets for maximum security.
Running tights are not everyone's favourite item of clothing but for practical reasons they are a useful item to have in your sports clothing drawer.
All the latest inspiration, tips and guides to help you plan your next Advnture!
Fiona Russell is a widely published adventure journalist and blogger, who is better known as Fiona Outdoors. She is based in Scotland and is an all-round outdoors enthusiast with favourite activities including trail running, mountain walking, mountain biking, road cycling, triathlon and skiing, both downhill and back country. Her target for 2021 is to finish the final nine summits in her first round of all 282 Munros, the Scottish mountains of more than 3,000ft high. Aside from being outdoors, Fiona's biggest aim is to inspire others to enjoy the great outdoors, especially through her writing. She is also rarely seen without a running skort! Find out more at Fiona Outdoors.