11 tips for running with a stroller
Our tips for running with a stroller cover form, choosing a route and keeping your little one happy so that you can both enjoy your fast-paced adventures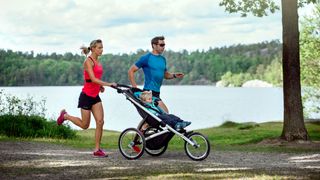 (Image credit: Thule)
So you've got yourself a new bundle of joy and one of the best running strollers on the market to help you stay active during these busy first few years. Great idea! Not only can running with a stroller help you maintain your fitness level or continue with your training, a study in the Journal of Sports Medicine found that it increases your heart rate and respiration more than regular running, meaning you're getting a better workout with your stroller than without. But how do you actually go about running with a stroller? Our tips for how to run with a stroller cover your running form as well as practical steps like choosing a route and keeping your little one happy so that you can both enjoy your fast-paced adventures.
1. Maintain an upright position
It's going to be easy to lean on the handlebar without meaning to, but this can force you into a hunched position that's not great for your back. Try to maintain an upright position when you're running, with your shoulders back.
2. Use your core
In addition to your arms, make sure to recruit your core muscles to push the stroller. Something that can help is to keep your body a little closer to the handlebars so your elbows are bent – if your arms are straight out, it may be harder to use your core. Check out our core workouts for runners if you need a little help in the ab department, and if you've recently given birth, check out our tips for running after pregnancy.
3. Shorten your stride and slow down
At least initially, it's a good idea to slow down your running pace and take smaller steps. You might be keen to get back to your pre-baby pace quickly, but you're pushing extra weight that you wouldn't usually be, so you'll be getting more bang for your buck even at a slower pace and this also helps you get used to this new style of running. Depending on your stroller, you might find that you keep kicking it with every step, so shortening your stride can help till you get used to it.
4. Alternate hands
Another good tip is to alternate hands, so that only one is holding the handlebar at a time. This way, the other arm is free to swing in a natural manner. It will feel a little odd at first, and you might feel a bit nervous not to clutch at the handlebar with a death grip, but the next tip will help with that.
5. Use the safety strap
If your stroller has a safety strap, use it. Chances are, you won't need it, but if you do lose your grip on a downhill, your precious cargo will stay safe. Plus, you'll run more confidently.
6. Adjust the stroller
If you've got a really nice running stroller, it may be adjustable, so play around with it to get the handlebar to the right height. Too low and you'll be stooped over and too high and you'll get achy shoulders. Ideally, your elbows will be bent to around 90 degrees.
7. Consider your route
Where possible, look for nice wide running tracks such as pathways through parks and recreation paths rather than busy sidewalks. Seek surfaces that are well-maintained and not littered with tree roots and potholes so your child isn't in for a bumpy ride. Consider less busy routes or go at a quieter time of day so you have lots of space to focus on your running without feeling like you're dashing through an obstacle course.
8. Pack supplies
There's nothing worse than finally finding your rhythm only to have to abort mission because the sun came out and you didn't bring any sunscreen, or because you need to do a diaper change. Pack supplies and snacks for your little one as well as your water bottle for yourself – that's why your running stroller has all that storage.
9. Go with a partner
Running with a partner has lots of benefits, but when you're running with a stroller it means you can also tag team the effort. Take turns managing the stroller and chatting with the little one and you'll have an extra set of hands for emergency feeding and changing.
10. Make it fun
In the past, your runs might have involved long stretches with just you and your favorite playlist, but when you're running with your child, leave the headphones at home and be prepared to chat with them, play games and sing songs. This is another great argument for slowing down.
11. Adjust your expectations
Finally, if it's not already obvious, your running routine might not look like it used to for a while. Expect to have to adjust your pace, turn back early and take pit stops for feeding, soothing and changing. It might be a while before you can run at your normal pace for one continuous stretch, but that doesn't mean you're not getting loads of benefits, from the physical workout to the fresh air.
All the latest inspiration, tips and guides to help you plan your next Advnture!
Julia Clarke is a staff writer for Advnture.com and the author of the book Restorative Yoga for Beginners. She loves to explore mountains on foot, bike, skis and belay and then recover on the the yoga mat. Julia graduated with a degree in journalism in 2004 and spent eight years working as a radio presenter in Kansas City, Vermont, Boston and New York City before discovering the joys of the Rocky Mountains. She then detoured west to Colorado and enjoyed 11 years teaching yoga in Vail before returning to her hometown of Glasgow, Scotland in 2020 to focus on family and writing.