How to start cross country skiing
Learn all about how to start cross country skiing, from getting fit enough to even give it a go to picking a style and choosing the right gear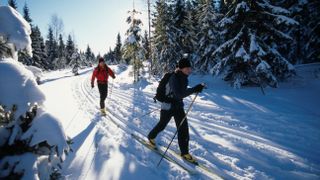 (Image credit: Henrik Trygg)
The snow is falling, frigid overnight lows mean it's going to stick around, and you're ready to get out there and have some frosty adventures on cross country skis. If you're a first-timer, you could just pull on your best ski pants, hit a snowy trail and work it all out on the go, but doing so can lead to disappointment, frustration, overheating and lots of awkward falling over. A little preparation, on the other hand, can make sure you have a great time cross country skiing, and emerge from winter fitter than ever. Read on to learn all about how to start cross country skiing, from getting fit enough to even give it a go to picking a style and choosing the right gear.
1. Get in shape
We know, you've probably heard all about the amazing benefits of cross country skiing, the best form of cardiovascular exercise known to humankind, so aren't you doing it to get in shape, rather than the other way around? Well, a lot like running, it's definitely going to improve your fitness, but you want to start with some fitness first. If you're already a hiker or a runner who is able to run for 30 minutes without stopping, great, you'll be off to a good start. Running and hiking mimic a similar movement to cross country skiing, while trail running in particular is a great way to improve your balance for skiing. You might also consider weight training to strengthen your upper body for all that poling and yoga for glute strength and balance. If this is all new to you, we suggest booking a few sessions with a trainer to help you work on the specific muscle groups and endurance that you'll need for success in cross country skiing.
2. Pick a style
Once you've built up some strength and endurance, it's time to pick a style of cross country skiing. As we explain in our article on cross country skiing techniques, you can essentially break down cross country skiing into two categories:
Classic cross country skiing, where you slide one ski forward then the other. This can be done on a groomed track or, with the right gear, through untouched snow and hilly terrain in the backcountry.
Skate skiing, where you move as though wearing ice skates. This requires a groomed track and is harder to learn initially.
If you're not sure where to start, it can be a good idea to rent some gear and go out with a guide, while of course your choice may be determined by what sort of terrain or nordic centers are available to you. Another good way to make this type of decision is to go with what your friends do, so you can enjoy it together!
3. Get the gear
Once you know what type of cross country skiing you're doing, choosing gear will be fairly easy (it's also a good reason not to start by buying a pair of skis before you know what you're doing!). You'll choose cross country skis based on your chosen technique (skate skis are skinnier while nordic skis meant for touring need metal edges and fish scales or wax), and you'll choose your boots and bindings based on your skis. The good news is that you can always rent gear to start, and cross country ski gear is not nearly as pricey as alpine gear.
4. Source some snow
Next up, you need snow obviously. If you're lucky enough to live near a Nordic ski center, that's a no brainer for cross country skiing. If there's plenty of snow in nearby hills and on forest tracks, that's definitely fair game so long as you have waxed or fish scale skis with edges. Another hot tip is local golf courses – in winter weather, the rolling terrain here provides excellent cross country skiing, and some golf courses even transform into Nordic ski areas come winter.
5. Dress for the occasion
You've probably heard that cross country skiing is a serious workout, and that means you actually don't want to just pile on all your thickest, warmest alpine ski gear. You'll be roasting in minutes and find it difficult to move. If you're serious about gliding briskly, cross country skiing requires you to wear layers of fairly lightweight and very stretchy clothing that let sweat evaporate and don't restrict your movements, though for slower touring you can get away with some lightweight ski pants paired with a base layer and a fleece jacket. Read our article on what to wear for cross country skiing for all the details.
6. Practice
Because cross country skiing doesn't showcase the same daredevil, high-speed skill as alpine skiing, it can be easy to think that you'll pick it up straight away and therefore a little discouraging if it's difficult. Many people do find it much easier to learn than downhill skiing, but it is hard work and your heels being free requires good technique and balance to avoid falling backwards, so plan to get a few learning sessions in before you really take off, and be patient.
All the latest inspiration, tips and guides to help you plan your next Advnture!
Julia Clarke is a staff writer for Advnture.com and the author of the book Restorative Yoga for Beginners. She loves to explore mountains on foot, bike, skis and belay and then recover on the the yoga mat. Julia graduated with a degree in journalism in 2004 and spent eight years working as a radio presenter in Kansas City, Vermont, Boston and New York City before discovering the joys of the Rocky Mountains. She then detoured west to Colorado and enjoyed 11 years teaching yoga in Vail before returning to her hometown of Glasgow, Scotland in 2020 to focus on family and writing.