Skiing in jeans: ironic, iconic, or just plain idiotic?
Skiing in jeans, once winter's greatest faux pas, has become a badge of honor – but is it a good idea?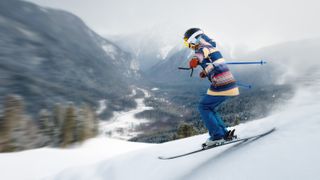 (Image credit: yanik88)
If you grew up skiing, there's a good chance that at some point you skied in jeans. I know I did. Just threw my rain pants over the top to stay dry and hit the slopes at Mad River Glen. I can't be sure because it was 20 years ago, but there were probably some leggings underneath for insulation. Hey, the northeast is a cold, cold place. If you're still skiing, however, you may have realized that skiing in jeans is now met with deep derision in the ski community.
In Colorado, anyway. "Dude skis in jeans" is about the worst insult you can utter in places like Vail, where I lived for 11 years and where bumper stickers reading "Cheney skis in jeans" could be spotted on the bumper of many a Subaru during the Bush years (later to be replaced by "Trump skis in jeans" stickers).
Why skiing in jeans, something we all did for decades and survived, has become such a point of ridicule isn't totally clear, but it's fair to say that Colorado skiers in particular love to make a mockery of anyone who doesn't appear to be an expert skier, branding anyone in a less than high-end ski jacket a "gaper."
Lately though, skiing in jeans has taken so many left turns it's almost right again. People ski in jeans to be ironic, to show that they don't care what the new generation of skiers think of them, because they're cowboys or because it goes with their handlebar moustache. If you ski this winter in your 501s, your fashion choice may be met with cheering as well as jeering from rad bros in the chairlift as you cruise underneath them. High brow ski pants are actually being designed to look like denim and there's even a Ski In Jeans Day at Jackson Hole. And as I mentioned, many of us have done it and lived to tell the tale.
So is skiing in jeans iconic, or just plain idiotic?
Can you go skiing in jeans?
Sure, you can go skiing in jeans if you want to. People ski in bikinis and gorilla costumes after all. You undoubtedly already own a pair, so it's the most economical option and a thick pair will keep the wind off much better than leggings or sweatpants and be pretty durable against sharp edges. Since most jeans these days come with at least a little stretch, you should be able to move better than you did back in the 1980s. They might not tuck into your ski boots very easily, but you'll be ready to sail right into apres looking stylish instead of swish-swish-swishing in wearing your ski pants.
However, I must caution you – in terms of comfort, and avoiding hypothermia, jeans may not always be your best option. If you're just cruising groomers on a bluebird day in Colorado where the snow just brushes off your pants (and other people are skiing in bikinis), you can definitely ski in jeans. If, however, it's a cold and wet day somewhere like Vermont, or Scotland, you will almost certainly be very unhappy with your sartorial choice.
Jeans, after all, are made from cotton, which is as suitable for skiing as it is for hiking. When cotton gets wet, it stays wet, and when you're wet and riding a chairlift to 10,000 feet, your wet jeans are going to freeze. And when your jeans freeze, so will you. So if you're likely to encounter any moisture, be it from a wet chairlift seat, soggy snow or your own sweat, leave the Wranglers at home.
Denim, even when stretchy, is also a bit stiff for a sport where you want to be able to make turns or adjust the buckles on your ski boots. A pair of ski pants will allow you room to move, fend off the wind and the rain, and can be layered over a pair of thermal leggings on cold days. Nobody will cheer you from the chairlift (unless you're a ripper) but you'll be warm and dry.
If you must wear jeans skiing, and it's wet, consider at the very least wearing waterproof trousers over the top. Then you'll have some weather protection, and you can just rip them off at the bar Fully Monty style afterwards to rapturous applause. It will be legendary.
All the latest inspiration, tips and guides to help you plan your next Advnture!
Julia Clarke is a staff writer for Advnture.com and the author of the book Restorative Yoga for Beginners. She loves to explore mountains on foot, bike, skis and belay and then recover on the the yoga mat. Julia graduated with a degree in journalism in 2004 and spent eight years working as a radio presenter in Kansas City, Vermont, Boston and New York City before discovering the joys of the Rocky Mountains. She then detoured west to Colorado and enjoyed 11 years teaching yoga in Vail before returning to her hometown of Glasgow, Scotland in 2020 to focus on family and writing.