Trail running in Vail: fast-paced high adventure
Trail running in Vail delivers all the high adventure and majestic views you expect from anywhere in the Rocky Mountains, but with a few luxury perks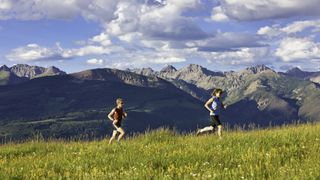 (Image credit: Jack Affleck/Vail)
You've heard about Vail's legendary back bowls, a mecca for winter sports enthusiasts from around the world – but did you know that in the summer months, this iconic terrain transforms into a playground for runners? Trail running in Vail delivers all the high adventure and majestic views you expect from anywhere in the Rocky Mountains, but with a few unusual perks.
"In Vail you can go out and have a day where you run 7 - 10 miles on completely diverse terrain. You can be on open back bowls or you can be in a forest or you can be in an aspen grove – there's a lot you can see, and then if you want to, you can take the gondola down and pop into the village for a nice meal," says Eric Dunn, trail runner and Senior Communications Specialist at Vail, adding that Vail's tough trails are not just for seasoned locals.
"You can come here on vacation and still get really good training in Vail."
This mountain town is brimming with adventurous types, so it's no wonder that there's a strong history of trail running here – the Vail Recreation District has been putting on an annual trail running series for the past 24 years with weekly races all over the valley. But whether you're looking for some friendly competition or just want some trails to trot on while you're visiting, you'll find challenging terrain with splendid views in large doses here. Grab your trail running shoes and get ready to experience some of the best trail running in Colorado.
What makes trail running in Vail so great?
Ok, so obviously there's the incredible views of the Gore Range and the big mountain feel which have been drawing adventure lovers here since the 1950s, but according to Dunn what makes trail running in Vail so unique is the combination of a rugged backcountry feel with convenient access and luxurious options for recovery.
"Obviously getting out into the backcountry is really cool and a lot of people strive for that sense of adventure but I also think that's not for everyone," says Dunn.
If you want to explore on the resort itself, for a fee the gondolas will whisk you away from the constant hum of busy I-70 and deliver you into the back bowls in under 10 minutes. One there, you'll feel like you're a million miles from civilization as you sprint through wildflower meadows and aspen groves, but, as Dunn points out, when you're ready to hit the hot tub or enjoy a post-run burger, it's all just down the trail.
Don't be fooled by the abundant opportunities for self-care and comfort though – if tough terrain is what you're looking for, you'll find it in heaps here. High elevation and steep slopes make for plenty of challenge, even for seasoned runners, while well-maintained and well marked trails let you get in the zone.
What do you need for trail running in Vail?
Most importantly, you need to be prepared for running at high altitude, which you'll notice more when you pick up the pace, even if you're a local. Whether you're running the 25 miles of trails on the resort or elsewhere around Vail, you'll be at above 8,000ft. If you're heading to the top of the mountain, add another 2,000ft to that, so if you've just landed in Vail, don't hit the trail straight away.
"For people coming to visit, give yourself at least a day. Don't come from sea level and then hop on a trail and try running at 10,000ft," warns Dunn.
"Use those initial days to acclimate. You can head up the gondola for a scenic ride or go on a hike in the area and plan your first run. There's a lot to see before you get on the mountain and trail run."
If you can't bear to take a day off, Dunn suggests hitting the paved Gore Creek trail along the valley floor first to give yourself time to acclimate, get rid of any high altitude headaches and, of course, hydrate.
Because the air is so much drier at altitude, once you get running you'll definitely want to wear a hydration pack so that you can carry plenty of water, but with plenty of on-mountain restaurant and restroom facilities at the top of each gondola, the good news is that you can easily stop for a refill. These convenient pit stops also mean you don't have to weigh yourself down with running gels and snacks if you don't want to.
You will want to load up on sunscreen as the sun is always intense here and plan to get out early before the day heats up and to avoid the crowds – the gondola doesn't start running until 9:30am, so if you're willing to get yourself up the mountain on two feet, you'll have it mostly to yourself. On Saturdays you can even time your run to be followed by the weekly mountaintop yoga class at 10 a.m. to stretch out afterwards.
Finally, two things to watch out for when trail running in Vail are bears and bikes. Black bears do call this area home, and while they're probably not too keen on getting up close with you, you'll want to keep your eyes peeled and ears free of music to make sure you don't startle one (carrying bear spray isn't a bad idea). Mountain bikers and hikers have their own designated trails, but bikers do like to zoom down fast on some of the service roads that you might be running up; however, there's plenty of room for everyone, just stay alert and keep to one side.
Best trail running routes in Vail
It should be noted that you can run on any hiking trail in Vail, though many are quite steep and unrelenting. Between valley floor trails, steeper climbs on the front side of Vail mountain and undulating ridges at the top and in the back bowls, you'll find there's something for every runner. Grab your best pair of trail running shoes and download a trail map and you're ready to have some fast-paced fun at high altitude.
Best trail running routes in Vail: off the mountain
The North Trail
The North Trail is on the other side of the highway from the resort and it's a popular one with locals, offering great views of Vail mountain itself. It is actually part a long traverse in White River National Forest with multiple access points, but you can take the free Vail bus or park for free at Trapper's Run, Buffehr Creek, Red Sandstone Road, and Middle Creek trailheads and pick up the trail to run out-and-back for as long as you want. Unlike many trails in the area, it's not overly steep as it runs along the mountains parallel to the highway rather than taking you straight up a slope or drainage.
Best trail running routes in Vail: up the mountain
If you're up for the challenge of running up Vail Mountain (or don't want to pay for a gondola ride), there are a few great options. Any of these can be as long as you like, really. Run them as out-and-backs, get all the way to the top and take the gondola down, or link up with other trails for a loop.
Berry Picker
One of the best hiking trails in Vail, Berry Picker is a popular and beautiful route that weaves between stands of pine and Aspen groves, offering tantalizing glimpses of the Gore Range all the way up. Start from Lionshead Village, cross over the ski bridge and follow the signposted trail as it begins its switchbacks up the mountain under the gondola. This trail is for hikers and runners only, so you don't have to worry about mountain bikers coming down, but do be careful when crossing any gravel roads.
Close to the top, you can go left to Mid Vail or right to Eagle's Nest, both of which offer restaurants with decks and stunning views to recover – from both locations you can also get a ride down on the gondola (it's free to ride down) if you want to save your quads from the steep descent, or head down Gitalong Road...
Gitalong Road
From Vail Village, you can also hop on Gitalong Road which is a green run in ski season and a wide, dirt service road in summer. You won't encounter vehicles on it, but do watch out for mountain bikers. Compared to Berry Picker, Gitalong offers a slightly mellower ascent with more wide switchbacks and less of a hiking trail feel, heading more or less up the middle of the frontside of the mountain. Hook up with Cub's Way and Post Road to get to Eagle's Nest for your gondola ride down.
Mill Creek Road
Similar to Gitalong, Mill Creek Road is a dirt service road popular with bikers that starts from Gitalong and takes you out on wide switchbacks to the far east part of the front of the mountain. It feels quiet and remote out here compared to Gitalong though, so it's an ideal escape if you need to escape the hustle and clear your head and it offers plenty of shade, too.
Best trail running routes in Vail: top of the mountain
If you don't mind paying for a gondola ride, you already own a lift pass or you've run all the way to the top of the gondola and you're still not tired, you can hop on any of these trails and you'll get the absolute best views money can buy. Again, you can link any of these up for longer days as they are basically a series of interconnecting loops. Up here, you'll be at much higher elevation, but you won't be climbing nearly as much as if you start down at the village.
Meadow's Loop
Meadow's loop is a new forested trail that's just 2.6 miles and offers plenty of shade and takes you through thick carpets of gorgeous wildflowers. You can hop on it from the top of Gondola 1 or if you come up from Lionshead, join it from the Grand Escape trail.
Northeast Rim Trail
If it's views of back bowls you're after, from the top of Gondola 1, you can jump on the Northeast Rim Trail and join up with Sunlight to run along the top of the bowls then either divert off to Parker Deck for a rest with a view or take Kinnikinnick back to the gondola.
Grand Escape
This is a beautiful trail that begins from Eagle's Nest and links up with Sunlight to take you along high ridges above the back bowls then dives into forested terrain before taking you back to either gondola for the descent. Of course, you can always run down the front side of the mountain if you're feeling enthusiastic.
Grand Traverse
The Grand Traverse is popular with mountain bikers for breathtaking views of the Sawatch Range and Mount of the Holy Cross, but it also makes for an incredible high altitude trail run. Start out from Eagle's Nest and head out on the backside through Game Creek Bowl trees, then you're in the wide open bowls of Sun Up, Sun Down and China Bowl.
All the latest inspiration, tips and guides to help you plan your next Advnture!
Julia Clarke is a staff writer for Advnture.com and the author of the book Restorative Yoga for Beginners. She loves to explore mountains on foot, bike, skis and belay and then recover on the the yoga mat. Julia graduated with a degree in journalism in 2004 and spent eight years working as a radio presenter in Kansas City, Vermont, Boston and New York City before discovering the joys of the Rocky Mountains. She then detoured west to Colorado and enjoyed 11 years teaching yoga in Vail before returning to her hometown of Glasgow, Scotland in 2020 to focus on family and writing.