8 trail running hacks you'll wish you'd known sooner
Make life on the trails that little bit easier with these handy running hacks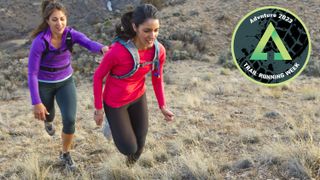 (Image credit: Getty / Future)
Running off-road is a totally different ball game to hitting the pavement, and it takes a little more preparation and planning but over the years you pick up various little tricks and techniques that make life easier.
Whether you're new to trail running or just looking for tips to improve your performance, we've compiled a list of handy hacks that we rely on ourselves. None of these tips take more than a few seconds, and they could make a real different to how you feel during and after your workout.
Whether it's training, racing, nutrition, gear, or just motivation, these eight handy hacks will make your life that little bit easier when it's time to head off the beaten path.
1. Wear your waterproof over your running pack
Some days the weather just can't decide what its doing – is it raining, is it sunny, is it windy, is it calm? This, combined with the difference in effort going up and down hilly trails, can make you want to take your waterproof jacket on or off for the umpteenth time so you don't either get sopping wet or cook inside it.
To save energy and faff time, you need your waterproof jacket to be super handy –tied round your waist, looped through the shoulder strap of your backpack, or stuffed at the top of the back compartment so you can get it out reaching behind your head with a flexible bend of the elbow (not everyone's preferred modus operandi, we'll admit).
When you do put it on, try putting it over the top of your running pack rather than taking your pack off. As well as saving time and effort, this has the added bonus of keeping what's in your pack dry. That said, if you regularly carry a large amount of kit on your runs, you might need to go one size up in your waterproof running jacket to be able to zip it up comfortably.
2. Set an alert on your watch to eat or drink
Fueling frequently is a really easy way to up your game on long runs without extra training. The current advice is to consume 30-60g of a high carb snack or drink every hour after around 60-90 minutes of running, like a banana, a handful of jelly babies or dried fruit, 500ml of sports energy drink, an energy bar or gel. However, it can be hard to remember this with everything else going on – especially in races – so set an alert on your GPS watch to go off every 30 mins so you can be reminded to cram in another mouthful of scran, or take a few sips of your energy drink. Getting that regular hit of sugar to your muscles will give you the consistent energy boost you need to steam round that trail in comfort and speed.
3. Experiment with your socks
If you're prone to blisters when running there's a lot you can do with socks. We all know the regular sock – it's just a tube with a hole at one end and your foot slides in there and bam, good to go – but did you know there are also double layer socks and toe socks that might be your new best friends?
First let's take the double layer sock; this eases hot spots anywhere that they might occur over the foot with the idea that the two layers of sock fabric slide about rather than your skin becoming chafed. They're particularly good if you have rubs in the arch area or heel, but do be aware that the extra layer makes the sock a little thicker so slacken off the laces a little more than usual to make your big enough to accommodate this.
Next up, toe socks can work wonders for those who experience blistering between the toes as each footy digit is encased in its own protective fabric – like a glove on your foot. The only thing to watch with these is if you have wide feet, the fabric between each toe further spaces your foot apart so you can feel more cramped in shoes with a narrow toe box. Wide-fitting versions are recommended with this type of sock unless you have dainty, narrow feet.
4. Write a motivational message on your hand
When times get tough on a trail race, you need to remember your "Why?" – your reason for parting with possibly quite a large amount of cash to plunge through knee-deep, never-ending miles of bog. It's all fine and dandy to think you'll just be able to call these into your mind, but what about a physical reminder to motivate yourself not to give up?
You could copy super ultra runner and former Pennine Way record holder Damian Hall by writing the initials of your why on the back of your hand or lower arm – he scrawled FFF which stood for Friends, Family and Future as he is an ardent climate activist. Think of your personal reasons and take them with you in this very visible way to give you that extra motivation boost.
5. Mix sweet and savory
From the marketing hype about running gels and energy drinks you'd think that's all we need to survive on, but if you're on an easy-paced long run or a long, slow race your stomach might be craving savory as well as sweet foods. Good ideas include pizza, malt loaf, a ham and cream cheese croissant (squashed down), baby potatoes with a pinch of salt, mouthfuls of cheese, peanut butter and jam hot cross buns, rice balls, salted nuts and crisps. Mmmmm. We're hungry now.
6. Wear your waterproof back to front
Another waterproof one, but really they're a fantastic piece of kit that have many uses. This one is for when it's not raining but the headwind has picked up and you feel a bit chilly up front.
Simply pop your waterproof jacket on back to front – like when you wore your dad's old shirt as a painting apron at school – and it will provide a protective wind barrier for your chest and arms without you overheating. If the fronts of your thighs are becoming cold, tie it round your waist and swivel it round so the long back of the jacket covers them like a half skirt. Neither of these will make you look especially cool, but if you're warm and happy, who cares?
7. Ace your laces
Laces that come undone mid-muddy puddle are no joke, and heel slippage can lead to crippling blisters a few miles in, so learn how to tie your shoe laces using the square knot and create a heel lock to stop these common problems.
For the square knot: cross the laces and thread one under the other as normal, but then form the bow by crossing and threading the laces in the opposite direction. For the heel lock: Take the end of each lace push it through the last eyelet (nearest your ankle bone) to create a loop. Post each lace under and through the opposite loop and pull the loop tightly over the lace to create the 'lock'. Then tie your laces as normal or using the square knot above.
For more information, read our guide to making use of the extra lace holes on running shoes.
8. Get second hand or last season's gear
Once you get into trail running you might find running isn't necessarily the cheap, free sport that it seemed to start with! First you need a running backpack, then a decent, lightweight waterproof, then of course a snazzy GPS watch and wouldn't that merino baselayer be nice… The list goes on, but if you know where to look you can save yourself a pretty penny by snaffling second-hand gear and hoovering up last season's kit in the sales.
Try eBay, Freecycle, Gumtree, outdoor/running gear sale groups on Facebook and websites like ReRun Clothing, RunAgain and Switchback Clothing. You can also borrow things like poles, waterproofs, running packs and maybe even a whizzy GPS watch (if your friend Brian's feeling generous) while you work out if you need to invest in your own.
This article is part of Advnture's Trail Running Week 2023 (running from Monday 27 March to Sunday 2 April), our in-depth look at how to train smarter, choose the right gear, and have fun when things get muddy.
All the latest inspiration, tips and guides to help you plan your next Advnture!
The co-founder and former editor of Trail Running magazine, Claire now runs the YouTube channel Wild Ginger Running, creating films packed with trail- and ultra-running content. An award-winning journalist, writing for outdoor and adventure sports magazines and websites, her first book The Ultimate Guide to Trail Running 5k to 50k is out in January 2021. Claire also speaks and presents at events and races.