I traveled to Chamonix for the UTMB – here's what I learned
Top takeaways from this year's holy grail of trail ultra running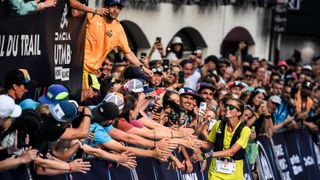 (Image credit: JEFF PACHOUD / Contributor)
I arrived home on a late-night flight from Chamonix yesterday and I have a serious UTMB hangover. Not from the post-race beers or from running around the Mont Blanc Massif – we were mostly just chasing the race in the Merrell tour bus – but from the sheer delirium of it all. The 20th edition of the punishing 106.2-mile race wrapped up yesterday in record-breaking style and once again, it did not disappoint.
When I got a last-minute invitation to come along to trail running's biggest ultra marathon and test out the Merrell Agility Peak 5 shoes on the local trails, obviously I jumped at the opportunity. Chamonix is pretty much heaven on earth for any owner of trail running shoes, and the UTMB is an iconic sporting event. If I'm being honest though, I wasn't quite prepared for the experience of being within high-fiving distance of the world's most tenacious trail runners from the moment they set off to their triumphant return 106 miles later.
I've known for a long time that certain humans can run really, really long distances, and that it requires a level of dogged determination I don't think I possess, at least when it comes to running anyway. In person, however, the endeavor these runners undertake is staggering, to say the least, and something I feel quite privileged to have finally witnessed in the flesh.
Anyway, rather than try to find more adjectives to describe what it's really like, let me instead walk you through the highlights of the weekend, and a few of my main takeaways from the holy grail of trail running.
Anything can happen
I keep hearing that anything can happen at the UTMB, so first thing on Saturday morning, I switch on the live feed of the race from my hotel room to see where things stand. The night before, we'd hiked a 5 km section of the course from the top of Le Prarion ski lift across to La Fre Mi, a mountain restaurant on the slopes of Les Houches ski resort. At exactly 7 p.m., one hour after the starting gun was fired in Chamonix, the first runners surged past us with their running poles, pursued over the next hour by 2,700 other hopefuls. At this time, French runner Mathieu Blanchard is out in front, in a group of four runners, and a minute later comes American runner and Western States 100 record holder Jim Walmsley.
Overnight, things have changed. At 9 a.m when I tune in, Blanchard has dropped back to fourth, British hopeful Tom Evans has dropped out at around 80 km after what sounds like the night from hell, and Walmsley has been holding onto second place for hours, behind fellow US runner Zach Miller. As I'm packing up to go and follow the runners from the course, the announcers confidently speculate that no one this year has any real chance of breaking Kilian Jornet's 2022 record, where he became the first person to break 20 hours on the UTMB course.
At 10 a.m., we jump on the bus. The plan is to go for a trail run, then cheer on the frontrunners from the Vallorcine aid station, positioned before the final climb. Before we can even get going, we hear the news that Walmsley has suddenly made up the 10 minute lead Miller has been holding on to, and is somehow two minutes ahead of him.
Our plans change. Because the frontrunners are moving so quickly, there's no time for us to go for a run and instead, we need to head straight to Vallorcine if we want to catch them. We make it there just before 11 a.m. and by 11:30 a.m., Walmsley strides in, stopping for a brief pep talk from 2021 UTMB winner François D'haene, before taking off again looking surprisingly fresh.
We leap on the bus and race to the finish line, watching the race on our phones as we go and we can barely believe our eyes. In just two hours' time, Walmsley covers the final 22 km, which includes over 12 km of climbing, at near-lightning speed. When he rolls into Chamonix at 1:34 p.m. to rapturous applause, he's cracked the 20 hour mark and all but obliterated Jornet's record by a full 12 minutes.
Walmsley might have been a favorite pick to win, and win he did, but nothing in the men's race really played out quite as the experts anticipated. Anything can happen.
If at first you don't succeed, try, try again
It should go without saying that, when faced with 2,700 runners attempting to run over a hundred miles with more elevation gain than Mount Everest, some will not make it. In the case of this year's race, 931 runners didn't finish, which is just over a third, and as early as an hour into the race, I saw quite a few that looked like they were almost out of steam already.
Walmsley's victory isn't just a demonstration of perseverance on the day, however, but the result of a years-long all-consuming pursuit of trail running's top goal. The former U.S. Air Force Academy track-and-field team captain took up running in 2014 to combat depression brought on by a DUI charge and a military discharge and has been trying to win the UTMB for the past six years. He debuted at the UTMB in 2017 and came in a respectable fifth place. That early success was followed by two DNFs before placing fourth last year.
Most mere mortals would have given up somewhere around 2019, but instead Walmsley moved to France to train harder. That earned him a bad ankle sprain including a fully torn ligament in the spring, and meant a month off his feet. It seemed unlikely he'd start, but this summer he announced he was fit to race. For the first two-thirds of this year's race, it looked as though a win might elude him again, but as it turns out, he was just pacing himself. A lesson to us all – if at first you don't succeed, try, try again.
Appearances can be deceiving
There were a number of other times where what we thought we were seeing turned out not to be the case at all. Walmsley looked super strong, but from the podium told us he felt terrible. At the Vallorcine aid station on Saturday morning, 15 minutes after he sprinted off up the slopes of La Flégère looking like an adolescent gazelle, Miller staggered in looking near-death. After a minute with his crew, he was essentially carried out, propped up by two crew mates, and shoved back onto the course.
No way he's going to make it, we concurred gravely. Another 10 minutes later, third-placed Germain Grangier trotted in, his fresh and focused look all but the final nail in Miller's coffin, or so we thought. But incredibly, the catatonic-looking American runner held onto second place for the remaining two hours and finished the podium with a silver, something he credits to taking more electrolytes.
Then you've got the women's race. US runner Courtney Dauwalter was widely expected to win and she pulled it off, maintaining an entire hour on the next woman runner for nearly the entire race. But on her second-to-last descent, coming down into Vallorcine over nearly 7 km, things did not look good. It appeared her quads were shot and we all knew that despite looking pretty ferocious on her final climb, she had another testing 6.6 km of downhill to complete before she could claim victory and that could easily eliminate a less hearty runner.
A couple of hours later, however, Dauwalter sailed through the streets of Chamonix with plenty of energy left to dish out high fives to the thousands of fans awaiting her, before stepping onto the podium. Perhaps some runners are just better at posturing while others wear their pain on their sleeves, but whatever the reason, make a mental note: that runner just ahead of you that looks like they're ready to drop might be about to leave you in their dust. Appearances can be deceiving.
All the latest inspiration, tips and guides to help you plan your next Advnture!
Julia Clarke is a staff writer for Advnture.com and the author of the book Restorative Yoga for Beginners. She loves to explore mountains on foot, bike, skis and belay and then recover on the the yoga mat. Julia graduated with a degree in journalism in 2004 and spent eight years working as a radio presenter in Kansas City, Vermont, Boston and New York City before discovering the joys of the Rocky Mountains. She then detoured west to Colorado and enjoyed 11 years teaching yoga in Vail before returning to her hometown of Glasgow, Scotland in 2020 to focus on family and writing.