What is the UTMB? Meet trail running's most difficult race
We answer all of your questions about this hellacious footsport event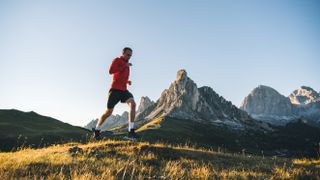 (Image credit: AscentXmedia)
If you're starting to dip your toes into the crazy sport of ultrarunning, a couple of things will happen. First, you're going to need several pairs of the best trail running shoes in rotation at any given time to put up with all those miles pounding rocky trails, and second, it won't be long before you hear mention of the UTMB.
In fact, I recently attended the Arc'teryx Alpine Academy in Chamonix which holds a number of trail running clinics, and over the course of four days it was rare to have a conversation where the UTMB didn't come up. Other participants in the academy wanted to know if our mountain guides had run it, how many times and whether they liked it (they don't, considering it a tourist event) and mountain guides were keen to complain about how busy it made their favorite running trail.
But what is the UTMB exactly? Is it the ultimate goal for all trail runners? Why is it so hard? Here, we answer all of your questions about this hellacious footsport event.
What is the UTMB race?
UTMB stands for Ultra-Trail du Mont Blanc and is considered one of the world's premier trail ultra marathons. This demanding annual event follows the route of the Tour du Mont Blanc, a classic long distance hiking trail which circles the Mont Blanc Massif over 106 miles and passes through France, Switzerland and Italy. The UTMB begins and ends in Chamonix and is regarded as one of the most difficult races in the world.
The race takes place on the last weekend of August or first weekend of September and is today the ultimate in a series of events that take place around the world. Runners from all over the world aspire to compete in the UTMB. In the first year of the race, there were 700 participants, but these days, participation is capped at around 2,300 runners and other events have been created to allow for more participation.
The maximum cutoff for the race is 46.5 hours. In 2022, Kilian Jornet became the first to complete the UTMB in less than 20 hours (check out his race data to find out how he managed it) but most mere mortals can expect to have to run for two days and two nights to complete the race. Better bring some running gels then!
How does the UTMB race work?
Due to the event's extreme popularity, you need to qualify to run the UTMB. That involves accumulating points through qualifying trail races over a two-year period. Qualifying races take place all over the world, from elsewhere in the Alps to Snowdonia, California, Mexico, Hong Kong and Australia. So if you're serious about participating, you'll have lots of time to train.
For each event you participate in and complete you'll receive one running stone, which you can then enter into the lottery to be selected. You can enter the lottery at the UTMB website.
Why is UTMB so hard?
Besides the fact that at over 100 miles, it's very long, competitors in the UTMB are also looking at 32,940 feet of elevation gain. In comparison, over roughly the same distance you could run the Leadville 100 in Colorado and gain only 11,000 feet (though at much higher altitude) or the West Highland Way in Scotland where you'd gain 10,300 feet.
The highest point of the route is 8,743 feet, which you'll reach twice, in both Switzerland and France. That's not extremely high altitude and it's unlikely you'd experience altitude sickness at that height, but you'll definitely notice shortness of breath and more challenging conditions, especially if you're not already used to this altitude.
What you can also expect is more extreme conditions that come with trail running in the Alps. The altitude combined with the season means that the days might be swelteringly hot, while the temperatures at night could drop down around freezing at night.
How much does it cost to enter UTMB?
In 2023, the UTMB itself cost €335 to enter, plus administration fees. Of course, you'll also have to pay registration fees for your qualifying events too. Your race will also include the cost of traveling to and from Chamonix, and accommodation while you're there, but on the plus side the aid stations will be on hand to feed you during the race so you can save a little on those pricey Chamonix restaurants.
How many people have died in UTMB?
Sadly, deaths do occur in ultrarunning events and it's perhaps more remarkable that for 17 years, no fatalities occurred during the UTMB, which not only places runners' under extreme physical stress but entails a lot of night running. There have now been two deaths of runners in the UTMB, occurring in 2021 and 2022, both as the result of falls.
Do people sleep during UTMB?
Some runners somehow manage to do the UTMB without sleeping at all while others do sleep, but they're not carrying a bivy sack and grabbing eight hours if that's what you're wondering. Sleeping during the UTMB looks like cat napping, and according to a 2015 study of 17 UTMB runners, the average time spent resting was between 12 and 17 minutes in total, and hallucinations were a common complaint, understandably.
Can you walk the UTMB?
Can you walk the UTMB? Well, yeah you could. Since the race is 106 miles and you have 46.5 hours to complete it, you technically could walk at a 2.3 mile per hour pace without any breaks and make the cutoff. Obviously though, you could just walk it at a time when the race isn't going on, save yourself €335 and enjoy far fewer people on the trail.
In all seriousness though, if you don't already know, ultrarunning is actually hiking, and you're not going to be running at the same pace you do on the tarmac back home. Even Jornet ran at an adjusted pace of around five miles per hour which isn't exactly turbo speed (though it is if you maintain that for 20 hours). You'll most likely walk the uphills and slow down or walk for rest periods, making up time on the downhills. And sorry, there aren't many flats to speak of.
All the latest inspiration, tips and guides to help you plan your next Advnture!
Julia Clarke is a staff writer for Advnture.com and the author of the book Restorative Yoga for Beginners. She loves to explore mountains on foot, bike, skis and belay and then recover on the the yoga mat. Julia graduated with a degree in journalism in 2004 and spent eight years working as a radio presenter in Kansas City, Vermont, Boston and New York City before discovering the joys of the Rocky Mountains. She then detoured west to Colorado and enjoyed 11 years teaching yoga in Vail before returning to her hometown of Glasgow, Scotland in 2020 to focus on family and writing.