26 things I learned from walking all 282 of Scotland's Munros
Advnture contributor Fiona Russell reveals the highs, lows, challenges and eventual joy of completing a renowned list of the tallest Scottish mountains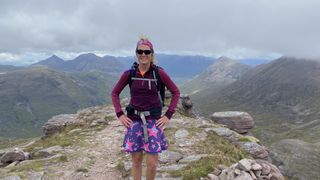 (Image credit: Fiona Outdoors)
Advnture contributor Fiona Russell reached the summit of her final Munro, Beinn Na Lap on the Corrour Estate in the Scottish Highlands, earlier this month. The Munros are the 282 Scottish mountains with a summit of more than 3000ft (914.4m). She reveals the 26 things she learned from completing a full round of Munros. You can find out more about how to become a Munro bagger.
26 things I learned from walking the Munros
1. In the beginning, I had no plan to walk a round of 282 Munros – and, in fact, I didn't fancy even one more Munro. That's because I am scared of heights and my first two Munro summits were located on the Aonach Eagach in Glencoe, which is revered as one of the UK's most exposed ridges with many steep drops. The high-altitude traverse had been suggested by a former partner because it's his favourite route, but I didn't enjoy it at all.
2. Years later, I realised there was more to the Munros than scary ridge walks. I joined a charity hike of three Munros, known as the Five Sisters of Kintail in north-west Scotland in 2009. It was a long walk with almost 1400m of ascent and descent, but I loved the challenge, spending time with outdoorsy people and the amazing views.
3. Although always with a summit of at least 3000ft, the Munros list includes a huge variety of mountains, from relatively easy walks of single peaks, to breathtakingly beautiful day circuits of several summits, to multi-day adventures that require a wild camp just to reach the base of the mountain. There are plenty of Munro books and on-line resources for different routes.
4. The tallest Munro is not the hardest. Ben Nevis rises to 1345m above the Highlands town of Fort William but most people follow a "tourist" path to the top. It's a relatively straightforward walk, although weather and ground conditions can make it more testing and it shouldn't be attempted unless you can navigate. Yet, there are many more Munros that require a great deal more effort to reach the start of the walk or to gain the summit.
5. Walking with like-minded people is one of the great joys of Munro bagging and on a charity walk 13 years ago I bumped into a man, Gordon, who is now my husband. We have since walked hundreds of mountains together. While I do enjoy a solo hike, it's usually much more fun with other people.
6. Many people, like me, have no plans to finish a round of Munros when they start. It was only when I realised I'd ticked off more than half of the 282 Munros that I considered the idea that I might one day try to finish them. But, still, there were dozens that just seemed too far away, too daunting or are located on scary ridges.
7. In contrast, some people are Munro bagging goal setters right from the outset. Gordon started walking Munros in 2008 and by 2011 he had finished a round. Almost every year over the past decade, Scottish walker Hazel Strachan has bagged a full round of Munros and now holds the female record of 10 rounds. Meanwhile, the overall record holder Steven Fallon has managed to bag 16 rounds.
8. Munro bagging is not a new concept. In 1901, the first person to "compleat" all the Munros was the Rev A E Robertson. I'm the 7115th person to have registered at least one full round with the Scottish Mountaineering Club, which holds an official list. Since me, several more have registered their round.
9. Almost 350 people have gone on to record two or more rounds with the SMC. And it's not just Munros that people bag, because there are also sibling mountains in Scotland called Corbetts, Grahams and Donalds.
10. It's Munro, not Monroe, nor Monro. The plural is Munros and not Munroes. The name for the list is taken from Sir Hugh Munro who, in 1891, published Munro's Tables listing all the mountains he considered to be the tallest – and more than 3000ft – in Scotland.
11. There are more "Munros" – called "Furths" – across the UK. The Furths are mountains of at least 3000ft stature in England, Wales and Northern Ireland. There are 34.
12. The term used for someone who completes a round is the archaic word "compleator". I can also now call myself a Munroist.
13. My favourite Munro hike is the South Glen Shiel Ridge, which includes no less than seven summits over 16 miles and a total ascent of almost 6000ft.
14. Walking Munros brings with it a wealth of new knowledge, including learning how to navigate by map and compass, winter mountaineering skills, avalanche and weather forecasting and a much greater understanding of Scotland's geography and geology.
15. I would never have visited so many stunningly beautiful locations and seen so a variety of wildlife if I had not been bagging Munros.
16. My fear of heights has never disappeared, yet somehow I have gritted my teeth and "never looked down" to reach Munro summits that I never imagined possible. These include Liathach in Torridon, the Forcan Ridge in Kintail and the much-revered Cuillin ridge on the Island of Skye.
17. The Black Cuillin ridge stretches almost seven miles, with 11 Munro summits set amid a jagged arc of peaks with narrow points and steep drop offs. Most baggers hire a guide for the Cuillin, while I was very fortunate that Gordon is a climber and was able to guide me on the ridge. Although, my husband was by my side all the way, I didn't enjoy the Cuillin and like many people I frequently felt paralysed by fear but thankfully Gordon's skills and patience gave me the mental strength to bag these Munros.
19. The crux of a Munro round for many people is the Cuillin ridge. knew once I'd bagged the Cuillin Munros I'd finish a round. I had less than 10 summits to go by then and the sense of joy and relief was incredible.
20 It takes on average 23 years to walk a full round of Munros. I started in 2002. Gave up that same year. Then walked most of my Munros between 2009 and 2022.
21 A last Munro is best saved for enjoying with other people. There is a lot more emotion on the day of a final Munro than I ever imagined. The Munro, Beinn Na Lap, is one of the "easiest" and included just 1800ft of ascent over 6.25 miles thanks to a start at 1300ft above sea level. It is a remote Munro and some 40 friends made journeys by train, bike and on foot to join me. There is no access to Corrour by car for the general public. It was a day – and weekend staying at Hostelling Scotland's Loch Ossian Youth Hostel – of great chat, fine weather, stunning views and summit fizz.
22. You should never give up hope of a Munro round. For the last few years, there have been many obstacles, including the Covid pandemic restrictions, facing my fears on the Cuillin ridge, frustrating weather issues and illness at the wrong time. But the mountains will always be there and while it might take longer than you had hoped you will get there.
23. While I have huge respect for the fastest munro round compleators, I have very much enjoyed the journey over more than a decade. I prefer to walk in good weather and Scotland doesn't always allow for this so I think that taking the time to do a round and enjoy good views is the best choice. Saying that, Scottish ultra runner Donnie Campbell's record of 31 days and 23 hours in 2020 is very impressive.
24. Donnie's round reveals the figures for self-propelled Munro round: 883 miles and a total ascent of 413,854ft, which is the equivalent of more than 14 ascents of Mt Everest. I have no idea how many more miles I walked during my round but it will easily be much, much further than during Donnie's non-stop adventure.
25. While a list is not everyone's cup of tea, it has given me great focus and motivation to get out into the mountains and to see so much more of Scotland than I ever knew existed.
26. There is always another list after you finish a round. Some people do another Munro round – and Gordon is only about 35 short of his second round. Instead, I am 82 summits into a 222 list of Corbetts, the Scottish mountains between 2500ft and 3000ft height. I know this will keep me busy for years yet.
All the latest inspiration, tips and guides to help you plan your next Advnture!
Fiona Russell is a widely published adventure journalist and blogger, who is better known as Fiona Outdoors. She is based in Scotland and is an all-round outdoors enthusiast with favourite activities including trail running, mountain walking, mountain biking, road cycling, triathlon and skiing, both downhill and back country. Her target for 2021 is to finish the final nine summits in her first round of all 282 Munros, the Scottish mountains of more than 3,000ft high. Aside from being outdoors, Fiona's biggest aim is to inspire others to enjoy the great outdoors, especially through her writing. She is also rarely seen without a running skort! Find out more at Fiona Outdoors.