Should I wear waterproof running shoes?
The pros and cons of buying waterproof running shoes for hitting the trails in the wet and during the winter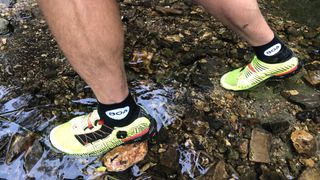 (Image credit: La Sportiva)
Wouldn't it be wonderful if every run was on dry trails and our feet always felt warm and comfortable? But most runners end up with wet feet at some point – and if it's in the UK, winter running usually leads to wet feet more than dry feet. So how about trying waterproof running shoes as part of your winter running gear list?
On the face of it, waterproof running shoes sound like a great idea. Most waterproof footwear has a Gore-Tex liner, or similar. This is built into the lining of the shoe. The trail running shoes may also have a water-resistant treatment on the outside. The aim is to keep the wet out.
The waterproof design should also be breathable. Even in winter, feet get hot and sweat and this creates vapour that needs to exit the shoe. Gore-Tex is created to be both waterproof and breathable.
Waterproof might not be watertight
This all makes sense if you want to have dry feet while running in the wet. However, there are some other points to think about.
While the waterproof liner will keep out a lot of water, from rain and snow, that would ordinarily penetrate the upper of the footwear, there are other areas where wet can get in.
The ankle cuff and the top of the lacing system are open to the elements. This means that if it is raining hard, or if you run through deep puddles or in deep snow, the wet will still get in.
Water has a tendency to spread and if the wet gets into the top of the shoe, it is likely to seep down through your socks and inside the shoe.
One way to combat the wet coming in around the ankle is to wear running shoe gaiters. These fit over the top of the shoe and around the ankle. The aim is to keep excess rain and snow out of running shoes.
Cost is another factor. It is usually the case that running shoes with a waterproof lining are pricier than the non-waterproof equivalent.
Any water-resistant treatments added to the outside of running shoes will wear off in time and with continued use. For example, where the shoes crease, the waterproof lining may not be so effective. It is possible to reproof the outers if you remember to do so.
A waterproof running shoe that has a Gore-Tex liner designed into the shoe may feel stiffer and a bit heavier. It is not hugely different but if you usually wear a non-waterproof running shoe and then you switch to the waterproof version of this shoe, you'll notice the shoe feels different.
Keeping feet dry when it's wet can actually be a bit of losing battle and it may be that it is better simply to accept the wet. A shoe that let the wet in will also let the wet out more easily.
Alternative ideas for running in the wet
Instead of buying waterproof running shoes, you could wear waterproof socks. There are some disadvantages to this, such as potentially sweaty feet and a need for a larger size of shoe to accommodate the thicker waterproof sock, however it could be a more effective solution for keeping feet dry.
So long as you keep your feet warm while running and you have a way to dry feet and quickly put on dry socks and footwear after your run, this could well be the best way to cope with the wet and winter running. This means you can carry on running in your usual footwear, but simply make sure you try to keep feet dry – and then remember to dry out your shoes afterwards.
All the latest inspiration, tips and guides to help you plan your next Advnture!
Fiona Russell is a widely published adventure journalist and blogger, who is better known as Fiona Outdoors. She is based in Scotland and is an all-round outdoors enthusiast with favourite activities including trail running, mountain walking, mountain biking, road cycling, triathlon and skiing, both downhill and back country. Her target for 2021 is to finish the final nine summits in her first round of all 282 Munros, the Scottish mountains of more than 3,000ft high. Aside from being outdoors, Fiona's biggest aim is to inspire others to enjoy the great outdoors, especially through her writing. She is also rarely seen without a running skort! Find out more at Fiona Outdoors.