Do I need winter running gaiters for my shoes?
A guide to the pros and cons of gaiters for running footwear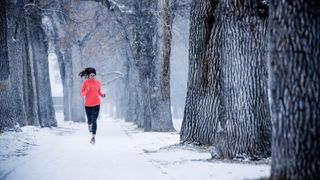 (Image credit: Getty)
In simple terms, running gaiters are pieces of fabric that fit over your best trail running shoes and around the ankle to prevent trail debris, vegetation or water penetrating the sock and foot.
They are much shorter and smaller than hiking gaiters and designed to fit over running shoes.
Running shoe gaiters are made of different fabrics, depending on their use. For example, in summer a fabric gaiter may well be sufficient, while in the wetter seasons, the gaiter will be more useful if it's made of a waterproof material, or it is treated with a water-repellent.
There are plenty of options for buying running gaiters, while some people make their own.
Why wear running gaiters?
Running gaiters are often worn when people are running through sand, such as for the endurance race the Marathon des Sables.
Running gaiters might also be worn when people are training or racing in places with rough terrain. For example, the running gaiters can be useful in preventing small stones, grit, dirt and other debris, such as vegetation, from getting into a runner's footwear.
In winter, running gaiters are worn by some runners to protect against the season's wet, ice and snow. If you are running where snow is likely to penetrate the shoe cuff, then a suitable winter running gaiter will help to keep out the ice and snow.
At any time of year, reducing the amount of grit, stones and vegetation from getting into running shoes is a good idea. As well as the general irritation of running along with debris inside the shoe, it can also lead to blisters and abrasions.
If you are taking part in a race, you might well be keen not to waste time by stopping to remove debris from your shoes, so gaiters could be considered as an extra item of useful kit.
Using winter running gaiters to keep the wet and snow out of your running shoes is a great idea, too, because it will aid foot warmth.
Are running gaiters a good idea?
But do you need winter running gaiters, or is this just an extra bit of kit that is more hassle than it's worth?
The answer is that It depends. Some runners swear by running gaiters. If you become familiar with attaching a gaiter to a running shoe, or if you buy running shoes that have been designed so that it is quick and easy to affix the gaiter, then you are more likely to become a fan of this running accessory.
For greater ease, some running shoes have gaiters built into the design of the shoe, too. Read some tips on how to put on gaiters.
If you will be running where there is likely to be a lot of small debris, such as grit, stones and vegetation, compared to larger rocks, or if it will be very wet and snowy, then gaiters could be considered as essential for irritation-free running.
But there are some further factors to think about. Gaiters can become easily worn and eroded due to the location of them. Because of where the gaiter fits, usually on to the side and under the shoe as well as on the top, they are subject to a lot of wear and tear.
This means there is a cost to consider when buying and replacing gaiters. The range of gaiter prices depends on what they are made from and the level of design.
Also, if you are using a gaiter in winter to keep out the wet and snow, it will need to be waterproof. Note that your trail running shoes should also be waterproof.
However, because feet get hot while running, they generate moisture through sweat. If the moisture can't escape your running shoe or the gaiter, you'll end up with wet feet. In winter, wet feet can lead to cold feet if you need to stop for a length of time.
For some people, a gaiter is just another item of kit to worry about - or lose! For other runners, gaiters are essential.
Whether you need running gaiters or not will depend on your personal balance of considerations.
Running gaiter tips
It is worth thinking about some running gaiter tips. If you want to use a running gaiter, it's useful to buy running shoes that are gaiter compatible for easier fixing on of the gaiters.
Wear the right gaiter for the season. A thicker fabric or one that is very waterproof could lead to high humidity if you wear the gaiter in summer, when feet will naturally sweat more.
Make sure you wear running socks that are high enough on the ankle so that the gaiter fits against the sock fabric and not against the skin. This will prevent sores and rubs.
Your running shoe needs to have a fairly high arch cutaway so the gaiter strap fits into that. Running footwear with a flat base will not be suitable for a gaiter strap.
All the latest inspiration, tips and guides to help you plan your next Advnture!
Fiona Russell is a widely published adventure journalist and blogger, who is better known as Fiona Outdoors. She is based in Scotland and is an all-round outdoors enthusiast with favourite activities including trail running, mountain walking, mountain biking, road cycling, triathlon and skiing, both downhill and back country. Her target for 2021 is to finish the final nine summits in her first round of all 282 Munros, the Scottish mountains of more than 3,000ft high. Aside from being outdoors, Fiona's biggest aim is to inspire others to enjoy the great outdoors, especially through her writing. She is also rarely seen without a running skort! Find out more at Fiona Outdoors.