What is fleece? An essential guide to an outdoor staple
For hikers, climbers, campers and anyone who spends time outdoors, a good fleece is an essential piece of clothing, but what is this magical mid layer material?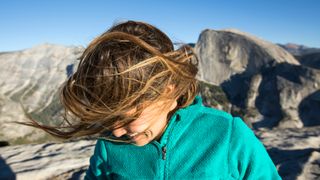 (Image credit: Getty)
First introduced by Polartec back in the 1970s, and now seen everywhere from the high street to the high peaks, fleece tops – or polar fleeces as they're often known – are soft, warm, comfortable and breathable garments, making them the mid layer of choice for the vast majority of people who spend time outside.
The best fleece jackets are lighter and less itchy than woolly jumpers, sweater or pullovers, and they continue to provide thermal insulation even when wet. And they're a whole lot cheaper than down jackets or puffers.
They're not perfect of course. Firstly, fleece is a synthetic fabric made from polyester fibres – essentially it's a type of plastic derived from petrochemicals, which means it isn't great for the planet. Worrying research has also shown that fleece's fluffy fibres gradually degrade over time, releasing tiny filaments called microplastics into the environment. The effect is multiplied when you chuck your fleece in your washing machine, as these microplastics then enter our rivers, seas and oceans.
A number of leading brands are actively addressing these problems, designing fleeces that shed fewer microscopic fibres when they're being laundered, lessening their environmental impact, and making fleeces from recycled polyester.
Fleece is evolving, and there are now myriad versions of this fabric being used to create tops that perform in different ways for various activity types. Before you invest in one such top, it's worth understanding what you're getting into, so following is our fleece guide.
Fabric type
Originally, 'fleece' referred specifically to polar fleece, a synthetic fabric made from polyester. Today, however, a 'fleece' has become a catch-all term for pretty much any warm and cosy midlayer jacket that does the job of a traditional wool sweater, jumper or pullover. As such, you might find some 'fleece jackets' that aren't actually made from polyester fleece at all, or which are a hybrid of synthetic and natural fibres (including wool). But the most common types of polyester fleece include:
Classic polar fleece which comes in different numeric weights – 100-weight fleece being the lightest, and 300-weight being the heaviest, with 200-weight fleece providing the traditional 'sweet-spot' between warmth and breathability.
Lightweight fleece is often referred to as microfleece. It uses a tightly woven pile that is very soft but also relatively thin, which ensures it remains comfortable and not too bulky.
Gridded microfleece is a variant of this fabric. It contains a grid pattern of channels that are designed to permit greater airflow, ensuring optimum breathability for active use. It also ensures minimum bulk. As such, it is usually employed in lightweight garments designed for going 'fast and light'.
Heavier weight fleece fabric is often called shearling or pile fleece. It is warm but bulky, with a distinctive fuzzy, wool-like look. It is generally only used for jackets designed for static use, or for more casual wear. Its retro style means it has recently seen a bit of a comeback though.
High-loft fleece is a super-fluffy fleece that uses long synthetic fibres to trap as much warm air as possible – a bit like animal fur. It generally offers the best warmth for weight of any fleece fabric, and is therefore used in situations that demand plenty of warmth with minimal weight – like Alpine climbing, for example.
One of the disadvantages of fleece fabric is that it tends to pill (go fuzzy) over time. Because fleece has a very soft handle, it can also wear out. Hardface or techface fleece was developed to combat these problems, as well as to improve fleece's overall lack of weather resistance. It has better abrasion resistance and water repellence than classic fleece, and some garments also add a DWR (durable water repellent) treatment to add even greater water resistance. The smooth, shiny surface of hardface fleece also makes it good for layering, as it slides more easily underneath other garments (like a windproof or waterproof shell).
Thermal Pro was developed by Polartec, the original inventor of polar fleece. It is available in different forms but often has a knitted face rather than a pile, which gives it a more appealing look and feel without losing fleece's technical characteristics. Like hardface fleece, it is also a little more durable and resistant to pilling.
Power Air is another proprietary fleece fabric from Polartec designed to counter the issue of microfibre shedding. According to the manufacturer, it sheds up to 5x less than other mid-layer fabrics, marking a real step forward in reducing the environmental impact of fleece.
An outdoors writer and editor, Matt Jones has been testing kit in the field for nearly a decade. Having worked for both the Ramblers and the Scouts, he knows one or two things about walking and camping, and loves all things adventure, particularly long-distance backpacking, wild camping and climbing mountains – especially in Wales. He's based in Snowdonia and last year thru-hiked the Cambrian Way, which runs for 298 miles from Cardiff to Conwy, with a total ascent of 73,700 feet – that's nearly 2½ times the height of Everest. Follow Matt on Instagram and Twitter.
All the latest inspiration, tips and guides to help you plan your next Advnture!
Thank you for signing up to Advnture. You will receive a verification email shortly.
There was a problem. Please refresh the page and try again.