Why are flash floods so dangerous? Avoiding rising water on a desert hike
Why are flash floods so dangerous? We explain a common desert danger, how to avoid one and what to do if you find yourself in rapidly rising waters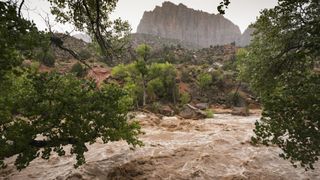 (Image credit: John Elk III)
When you're hiking in the desert, you're typically focused on staying hydrated and making sure you're carrying enough water, but occasionally you end up with too much water and find yourself facing a different type of danger altogether. Flash floods are a major hazard when you're canyoneering or hiking and camping in the desert, but why are flash floods so dangerous?
Hikers get stranded by flash floods in desert areas and canyons every year, with the most deadly instance on record being the fatal 2015 flood in Zion National Park's Keyhole Canyon which tragically claimed seven hiker's lives. Though serious, flash floods shouldn't stop you from getting out in your hiking boots and this article isn't intended to scare you. Instead, we take a look at this common desert danger and explain what a flash flood looks like, so you know how to avoid one and what to do if you miscalculate and find yourself in rapidly rising waters.
What are flash floods?
Flash floods are sudden, rapid floods that take place in low lying areas like river basins and canyons when the underlying ground is unable to cope with the amount of rainfall. Typically when it rains, the ground absorbs the moisture and it moves downhill with gravity, towards the nearest river or stream which is able to carry a bit more water towards the sea.
In urban areas, flash floods may occur with prolonged, heavy rainfall when the hard, concrete roads are unable to absorb the precipitation quickly enough and perhaps a nearby river bursts its banks, but in the desert, flash floods are a different kettle of fish altogether.
Why do flash floods occur in deserts?
It might seem surprising that flash floods are a risk in the desert since by nature, a desert is dry. So how do flash floods happen in the desert?
It's mainly the quality of the underlying ground in the desert that causes the problem. The top layer of desert soil is usually sun-parched and loose due to high winds and the scarcity of vegetation which stabilizes the soil through its root system. If even a little rain comes, the ground is unable to cope with it. As an example, Death Valley only receives about four inches of rainfall per year, but has been known to flood extensively.
In the southwest of the United States, the geography of desert areas also increases the likelihood of flooding when rain comes. Particularly in Utah, where many hikers love to recreate in the state's stunning National Parks, the landscape is characterized by deep, narrow canyons, and dry river and lake beds that can quickly fill with many feet of water.
Why are flash floods so dangerous?
Flooding is the most common natural disaster in the world and flash floods claim dozens or even hundreds of lives in the US each year according to Statista. Not all of these floods involve hikers or occur in the desert, of course, but it's still a common danger that desert hikers need to be aware of, no matter how strong of a swimmer you think you are. There are five main factors that make flash floods so dangerous for hikers in the desert:
Flash floods occur in just minutes. An area where you are hiking can go from bone dry to a fast moving river virtually instantly, giving you no time to prepare or react with a clear head.
The rain may be falling elsewhere. It's easy to think that you'd see the rain coming and respond accordingly, but oftentimes when the desert is flooding, it's because rain is falling somewhere else, further up the drainage basin, so flooding can occur without warning from the weather.
Flood waters move fast. Flood waters can move at a rate of about nine feet per second according to Live Science. That's enough force to knock you off your feet and in the 30 seconds it takes you to realize what's happening, you're almost 300 feet away from where you were just standing and possibly being knocked around on rocks and boulders.
Flood waters carry debris. As waters rise and move, they pick up objects like rocks and branches that can cause blunt force trauma.
You might be in a narrow canyon. Again, keeping this specific to hikers and climbers, the geography that you're in can make flash flooding much more dangerous. A mere trickle of water can turn in a wall of water many feet high in a slot canyon in just minutes.
How can you avoid a flash flood?
As with any outdoor adventure, any time you are heading out in the desert, you should check the weather forecast. If there is any chance of rain in the forecast, avoid slot canyons and low lying areas and opt for higher elevation trails instead like rim trails. If you're exploring in a National Park or State Park, check in with the park ranger and ask what the flood danger is that day. Weather and flood danger can change throughout the day, so also keep your eyes on the sky and if you notice darkening clouds, get to higher ground.
If you're camping in the desert, don't pitch your tent in a dry river bed, even though that seems like the best spot for a tent and often has the most shade. You don't want to wake up in a river.
What do flash floods look like?
Though it's the suddenness and unpredictability of flash floods in the desert that makes them so dangerous, there are a few warning signs to be aware of:
Puddles forming: if it's raining already and you notice puddles forming, that's an early indicator that the ground isn't coping with the moisture. If the rain shows no signs of letting up, these puddles will soon be lakes.
Change in river color or debris: deserts do have rivers and streams running through them – known as exotic rivers – and if you're hiking or camping near one and notice that it has changed in color (usually looking like chocolate milk) or suddenly picked up a lot of debris, it may be about to rise drastically.
Sound of rushing water: hearing the sound of rushing water when you're in the desert is nature's alarm bell and means it's time to act fast.
What should you do during a flash flood?
If you find yourself in rapidly rising waters, or even if it just suddenly starts raining heavily, it's important to act fast to take life saving measures.
Always seek higher ground. If you're in a canyon, exit as quickly as you can, even if you have to turn back the way you came.
Don't climb up onto rocks where you might be stranded. It's tempting to try to climb up onto rocks or boulders to get up out of rising water, but you can end up stranded if the water rises a lot.
Never try to outrun a flash flood. Remember, floodwater can move at nine feet per second. Only Usain Bolt can outrun air and even he wouldn't try. You want to move higher, not ahead of the water.
Don't waste time trying to save your gear. Yes, your climbing gear is expensive, but unlike your life, it's replaceable. Don't waste precious seconds trying to gather up backpacks, ropes and cams in an emergency.
Stay put. Once you've found higher ground, stay where you are until rescue comes or flood waters recede completely. Don't try to cross floodwaters to continue on or get back to your car.
All the latest inspiration, tips and guides to help you plan your next Advnture!
Julia Clarke is a staff writer for Advnture.com and the author of the book Restorative Yoga for Beginners. She loves to explore mountains on foot, bike, skis and belay and then recover on the the yoga mat. Julia graduated with a degree in journalism in 2004 and spent eight years working as a radio presenter in Kansas City, Vermont, Boston and New York City before discovering the joys of the Rocky Mountains. She then detoured west to Colorado and enjoyed 11 years teaching yoga in Vail before returning to her hometown of Glasgow, Scotland in 2020 to focus on family and writing.