Why you should ditch your running watch
Did you know that running without a sports watch can bring benefits for physical and mental health?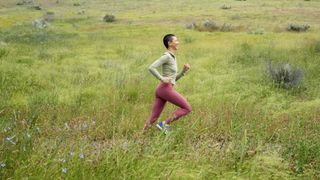 (Image credit: Getty )
If you're the sort of runner who lives by their GPS watch data, you might be surprised to discover that switching off your gadget and running by feel alone can bring some benefits.
While some training sessions do benefit from a running watch to keep track of the stats, such as heart-rate, pace, cadence and distance, for good long-term performance, there are definitely times when it can be a good idea to switch off and run by how you feel.
Running by feel – or 'naked' running – is when you run without any sort of timer or GPS tracking. One of the advantages of ditching you running watch is that it allows you to be more connected mentally with your run. By removing the pressure to run according to a pace or distance, you can simply enjoy the feeling of running.
For recovery runs
Running without a sports watch allows you to properly enjoy your easy running days. These are the days when you can be relaxed about how far you run and what pace you are running at. If you feel like running slower, then do so and if you feel like going for a shorter outing, then you can do that, too.
Mike Dales, the author of Find Time for Exercise (opens in new tab), ditches his sports watch on local runs. He says: "Although I like to keep track of how far I've run each month or year, for local runs from home I quite often don't bother finding satellites and just wear my watch to know what time it is.
"The reason for this is that I know how far local runs are. There are days when I want to push hard and time myself, but on other days I take the relaxed view that I know all the distances so I can pick a 5K route, 6K route, 12K route or whatever, and just enjoy the activity without the need for knowing my time or any other statistics.
"Another aspect of these 'naked' runs is that I can sense how my body is feeling and how well I'm running without the need for some kind of external clarification from my sports watch."
After an injury
When you are returning to running after an injury, it is much better to remove the pressure to perform. Switching off your sports watch allows you to run according to how your body feels and not to overdo the running by going too fast or for too long.
Better mental health
If you remove your sports watch, you are also removing the pressure to perform and to log miles. Many people like to share their running mileage and performance to tracking apps such as Strava, but this can turn a fun pastime into something seriously competitive.
Former elite athlete Lewis Moses says: "We live in a world surrounded by technology, so it's nice to get outdoors in the fresh air and run 'free'."
For improved performance
Lewis, who is also the founder of New Levels Coaching (opens in new tab), adds that he encourages running clients to switch off from thinking about pace all the time. He says: "This stops runners obsessing over the numbers, but it's also a great way for them to learn how to run to feel.
"Learning to run to feel is a real skill that should be practiced because it can be really helpful, especially in races.
"Watches can be inaccurate, especially in busy races, therefore learning to run to feel can help you pace your race better, even without your watch."
Love running again
If you have been keeping track of your running stats with a sports watch and you feel as though you are not progressing, the act of switching it off and just running again for pleasure can help you to fall in love with this form of exercise again.
Runner and PR director Jenny Scott (opens in new tab), who enjoys taking part in half marathons, 10k and 5k races, prefers to switch off her sports watch. She says: "I much prefer to soak up the atmosphere of my run rather than always clock watching.
"When I have my watch I clock watch and try to hit my pacing targets, but the reality is that my body takes time to get going and if I rush off at the start I loose steam and it affects the whole run both physically and mentally. In fact, I think I run faster without my watch."
How to run by feeling
Lewis suggests that a good way to "run by feeling" in training is to think about effort, rather than pace. He says: "A simple effort scale of one to 10 is really useful, with one being extremely easy and 10 being the maximum effort.
"To make sure you're in the right sort of zone, you can always do the talk test. When running easy, at the lower end of the scale, from one to four, you should be able to talk, so you would pass the talk test.
"This is different from when you work at maximum effort, as you are breathing heavier and deeper, therefore talking is almost impossible. By applying this simple method to your training, you can start to understand the effort you run at and get a feel for the paces."
All the latest inspiration, tips and guides to help you plan your next Advnture!
Fiona Russell is a widely published adventure journalist and blogger, who is better known as Fiona Outdoors. She is based in Scotland and is an all-round outdoors enthusiast with favourite activities including trail running, mountain walking, mountain biking, road cycling, triathlon and skiing, both downhill and back country. Her target for 2021 is to finish the final nine summits in her first round of all 282 Munros, the Scottish mountains of more than 3,000ft high. Aside from being outdoors, Fiona's biggest aim is to inspire others to enjoy the great outdoors, especially through her writing. She is also rarely seen without a running skort! Find out more at Fiona Outdoors (opens in new tab).