How to break in running shoes
Learn how to break in running shoes, what that actually means, and how to know if you've bought the wrong shoes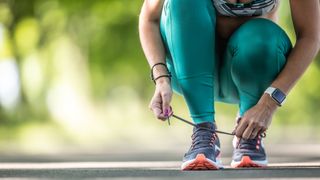 (Image credit: SimpleImages)
As a runner, there are few things more exciting than opening the box on a new pair of running shoes, inhaling their sweaty foot-free scent, pulling all that scrunchy tissue paper out and admiring the perfect lace job. Sure, you might spend a few minutes stroking them and even snap a pic for Instagram, but other than that, the very first thing you're going to want to do in them is go for a run. But steady on, there! Is it really ok to run a 10km, or longer, in a brand new pair of running shoes? Don't you need to break running shoes in? In this article, learn how to break in running shoes, what that actually means, and how to know if you've bought the wrong shoes.
Should running shoes need breaking in?
When you buy a new pair of hiking boots, you should expect to have to spend some time breaking them in, which in this case means wearing them until the fabric of the uppers and the insoles mold to your feet. Once achieved, you should be able to hike in your boots without them rubbing and causing pain and blisters.
But as you probably already know, you can usually pull on a brand new pair of running shoes these days and expect them to feel great right out the box, so long as they're the right size and design for your feet and running gait. After all, running shoes are generally made with pretty flexible fabric and spongy soles, unlike stiffer hiking shoes, so do they really need breaking in?
The truth is, when it comes to running shoes, it's not so much the shoes themselves that need breaking in as it is about giving your feet and body time to adapt to them. If your shoes are trail running shoes, then the uppers might be stiffer than your old, worn-in pair, which could cause some annoying rubbing, meaning hot spots and blisters. With both trail and softer road running shoes, the chances are that the soles will be a little more bouncy than your well-used pair.
So although you might not notice much of a difference, a new running shoe could cause subtle differences in your running gait. If you're going for frequent, long runs straight away, you might be susceptible to pain and strains in your feet, ankles or knees, which is clearly the last thing you want as a runner. Basically, with any new pair of running shoes, you'll want to give your body time to adapt to them before working them into full-time rotation.
How to break in running shoes
If you've bought a new pair of the same tried-and-tested shoes you've been using for years, the differences will be less than with an entirely new model, but there can still be small changes in design that require an adaptation period. Therefore, with any new running shoes, it's best to follow these three steps before you take them out for a spin in a half marathon:
1. Walk before you run
You know when your mum used to take you to the shoe store in the mall for a new pair of kicks and make you walk up and down endlessly to make sure they didn't hurt, while you cringed in mortification in case one of your friends spotted you? Turns out she was right. Before you go for a run, put your shoes on and just wear them around the house for an evening or a full day – make sure you're wearing your running socks while you do this. If there's any issue with the fit or design that's going to cause rubbing and blisters, chances are you'll realize straight away. Because you haven't worn them outside yet, you'll be able to return them if they're not right.
If they feel good, but you're feeling conservative, you could wear them for a short treadmill run before taking them outdoors, after which you may still be able to return them since they won't have picked up any dirt from the trails or road.
2. Don't go the distance
Once you're ready to run in your new shoes, don't start with a long run or even your base run. Wear your old shoes for that and when it's time for a short recovery run, wear your new shoes so you're not running in them for more than 30 minutes. If you include other types of running workouts in your routine such as intervals, where you're not running for long periods, you can also use your new shoes for these.
3. Alternate with your old shoes
After you've worn your new shoes for a short run, return to your old shoes for the next run. Then start to alternate between the two pairs for a couple of weeks. This gives your feet time to adapt to the new pair, and a 2013 study in the Scandinavian Journal of Medicine in Science and Sports found that parallel use of different running shoes decreases running-related injury risk by 39%. Though it would be great if we could all have two good pairs of running shoes in constant rotation, the best running shoes don't come cheap, so when you're ready to transition to wearing only your new shoes, make sure you read up on what to do with old running shoes so yours don't end up in the landfill. You may be able to recycle them, or keep them for adventures like canyoneering.
How long does it take for running shoes to break in?
It's a good idea to take 2 - 3 weeks to break in your new running shoes, though the timing varies a bit depending on how often you run. If you only run a couple of times a week, you could stretch that out to a month. If the shoes are right for you, you probably won't experience any pain or discomfort during this time, so you're really just being patient and timing things to allow your body to adapt.
However, if your running shoes are causing some issues with friction, pain or discomfort, it's possible that you need a different size or design. If these issues haven't resolved within about three weeks, they're probably not going to. Find out if you can return yours and consider going to a specialized running shop for a gait analysis to help you choose the right pair.
All the latest inspiration, tips and guides to help you plan your next Advnture!
Julia Clarke is a staff writer for Advnture.com and the author of the book Restorative Yoga for Beginners. She loves to explore mountains on foot, bike, skis and belay and then recover on the the yoga mat. Julia graduated with a degree in journalism in 2004 and spent eight years working as a radio presenter in Kansas City, Vermont, Boston and New York City before discovering the joys of the Rocky Mountains. She then detoured west to Colorado and enjoyed 11 years teaching yoga in Vail before returning to her hometown of Glasgow, Scotland in 2020 to focus on family and writing.