First aid kit: how to make your own kit of emergency supplies for the trail
In an emergency, a crucial item is a quality first aid kit. How to make your own is a great skill to know. Follow our guide and start compiling your emergency supplies...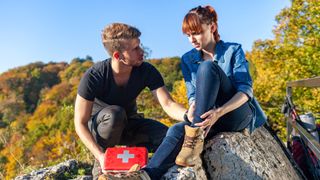 (Image credit: Getty)
Mountain guides and expedition leaders make their own first aid kit. How to make your own kit is knowledge worth having if you are thinking of taking your own adventures up a notch. Making your own first aid kit has many advantages, which is why it's common practice among the pros.
For a start, when you consider how to make your own first aid kit, you think carefully about what is going in it. A shop bought first aid kit is generic, a best fit for all and not carefully tailored to your exploits. You probably forget about it in most cases, save for the occasional rummage for a plaster. This means you won't know exactly what it contains, where you can find specific items or what everything inside is even for. When it comes to an emergency situation, you don't want to be searching to find what you need and getting flustered.
The other key factor here is the personalization of your first aid kit. How to make it a good fit to your adventures is not something we can tell you, you'll have to think carefully about that yourself. The best first aid kits are tailored specifically to the activities of those who might require it.
Do you plan to lead singalongs around a campfire? Multiple burn gels will be a feature of yours. Are you heading into the Scottish Highlands with your hiking backpack? You'll need insect repellent for the midges and tick twisters for those horrid, blood-sucking arachnids.
Fortunately, making your own first aid kit is more straightforward than you might imagine. Read on for our comprehensive guide...
First aid kit: how to make your own
Step one: get rid of the case
You open up your best daypack and grab your kit to get a plaster only to find that everything in there got damp during that wet suffer-fest of a hike a few weeks ago, rendering half of the items useless. Avoid this situation by using a quality dry bag as the main container for your first aid kit.
Step two: compartmentalize
Keep disparate sets of kit in clearly labelled or colour coded smaller dry bags or zip-locked wallets. For example, medication should be kept together, separate from bandages, which should be separate from hygiene products like vinyl gloves and sanitizing wipes, which should be separate from plasters and so on.
Step three: gather the essential items
When making your own first aid kit, you can pick up just about everything you need from a pharmacy. Specialised items, like group shelters can be obtained at outdoor gear shops. Keep a little notebook and pen in your kit to tick things off when you use them and when you replenish them. This ensures your kit is always properly stocked.
This list isn't necessarily exhaustive, nor does it contain the number of items you'll carry, as this will depend on group size, but it contains the essentials for a hiker's first aid kit:
Keeping warm
· a survival blanket or even better a blizzard jacket
· a group shelter (size will depend on the number of people you are out with)
Medication
· Paracetamol
· Ibuprofen
· any personal medication you carry for allergies etc.
Bandages
· open woven bandages
· triangular bandages – essential for upper extremity fractures
Dressings
· blister plasters
· eyepad wound dressing
· assorted plasters
· plaster fabric strips
· wound closure strips
· low adherent dressings
Hygiene
· cleansing wipes – crucial for avoiding infections
· vinyl gloves – for your own safety
Treatment
· 5 x 5 gauze – apply pressure to stop significant bleeding
· burn gel sachets
· instant ice pack – important fast treatment for sprains
· medical tape (micropore tape, zinc oxide tape and duct tape – how much you take will depend on intended use).
Misc
· safety pins – useful for so many applications
· tweezers – for splinters and as a makeshift tick remover (you may want a specifically designed tick twister if tick encounters are a real possibility)
· a multitool – this negates the need for scissors and is superbly multi-purpose
· resuscitation face shield
· spot check thermometer
How to build a first aid kit for camping and hiking: the additional items
As well as the essential items, when making your own first aid kit you may want to add additional items depending on what your intended adventures are. If you're camping, hopefully if you do need to administer first aid, it'll be on your tent rather than your camp mates. Knowing how to carry out tent repairs and having the tapes and patches to cope with wear and tear goes a long way to keeping your basecamp liveable.
Many mountain guides carry repair tape in their first aid kit for clothing too. This might sound a little odd, but things like holes and tears in trousers caused by crampons can become trip hazards if not patched up quickly. Mountain leaders often carry spare laces too. If a client's laces snap up near the summit, it could be a long – not to mention potentially dangerous – trudge down with loose hiking shoes.
How to build a first aid kit for camping and hiking: other tips
It's all very well having an all-singing, all-dancing, personsonalized first aid kit. How to make contact with medical help or rescue services is crucial knowledge. If you don't know how to attract help once you've patched up the casualty then you're in trouble. Always leave your planned route and approximate return time with a trusted friend. Route cards or a GPX file emailed across of your planned itinerary are an effective way to do this.
Know how to contact the local mountain rescue service before setting out. Having a spare mobile phone in the kit is useful for both making calls, and for using one of the best navigation apps like what3words to pinpoint your exact location. Utilize your blizzard blanket and group shelter to keep everyone warm while you wait to be rescued.
All the latest inspiration, tips and guides to help you plan your next Advnture!
Alex is a freelance adventure writer and mountain leader with an insatiable passion for the mountains. A Cumbrian born and bred, his native English Lake District has a special place in his heart, though he is at least equally happy in North Wales, the Scottish Highlands or the European Alps. Through his hiking, mountaineering, climbing and trail running adventures, Alex aims to inspire others to get outdoors. He is currently President of the London Mountaineering Club, training to become a winter mountain leader, looking to finally finish bagging all the Wainwright fells of the Lake District and hoping to scale more Alpine 4000ers when circumstances allow. Find out more at www.alexfoxfield.com