The best budget hiking boots 2023: quality footwear at a low price
The best budget hiking boots mean you don't have to break the bank to find high performance footwear for the trails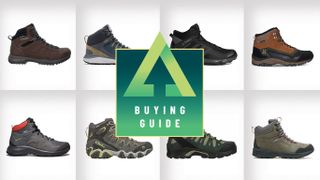 (Image credit: Future)
Hiking shouldn't be an elitist sport and the best budget hiking boots help make sure it isn't. Hiking and hillwalking are often hailed as one of the cheapest forms of exercise around, as well as being activities that can be enjoyed by anyone and everyone. But while it's true that the great outdoors is completely free and open to all – unlike exclusive gyms or golf clubs – it's still surprising how expensive some outdoor kit can be.
If you're planning to head onto more technical terrain – and the price of more technical footwear in our best hiking boots buying guide makes you wince – then a decent pair of the best affordable hiking boots are likely to soon be top of your shopping list. After all, nothing ruins a great hike like cold, wet and blistered feet. Solid, reliable footwear also makes for greater confidence and precision when tackling exposed ridges, long climbs or steep descents.
There is a vast range of walking boots on the market, ranging from fast and light fabric hikers to highly technical mountaineering boots. What you need depends on how long and how difficult your hikes are, as well as the time of year you plan to be out in the hills and mountains.
For more guidance, we have some tips at the foot of the page, which highlight different features to consider when shopping around for boots. This ought to help ensure you snag a pair of the best affordable hiking boots and not some cumbersome clodhoppers.
Budget boots for day hikes
A tried-and-tested stalwart from a much-loved British brand, with a very reasonable price tag for a quality all-leather boot
Specifications
Weight (per boot):
510g / 18oz
Materials:
Leather upper with AQ waterproof breathable mesh lining, EVA midsole, OrthoLite footbed, super grip OPTI-STUD outsole
Compatibility:
3-season walking on most non-technical trails
Reasons to buy
+
Great everyday walking boot
+
Waterproof
Reasons to avoid
-
Not the stiffest or most protective
The Berghaus Expeditor Ridge 2.0 is a mid-cut hiker that offers a good balance of immediate, out-of-the-box comfort and longer-term durability, thanks to a construction that combines quality leather uppers with a waterproof liner, plus plenty of ankle padding and generous underfoot cushioning. Unsurprisingly, given their affordable price tag, most of the technology here has been developed in-house by Berghaus, rather than making use of third-party branded components like Gore-Tex or Vibram. But on test the AQ membrane proved reliably waterproof, while the Opti-Stud lug pattern underfoot gave reasonable traction on all but the most treacherous surfaces.
They're reasonably lightweight for leather boots. They're generally well-built too, with solid stitching, though the finish perhaps isn't the neatest we've seen, with traces of adhesive around the soles and uppers. Despite that, they feel like good quality boots. In terms of fit, we'd describe them as medium volume, with a roomy toe box, a narrower midfoot and a close-fitting heel cup. They ought to fit a wide range of foot shapes, although they may not suit you if your feet are unusually broad.
The EVA midsole prioritizes cushioning over stiffness, which means these boots are more at home on well-trodden paths than technical terrain. Similarly, the emphasis is on day hiking rather than sustained backpacking missions with a heavy pack. As with many boots, the insoles are a bit of a let-down, lacking both structure and padding. Of course, this would be easily remedied with the addition of an aftermarket insole. We did like the ample padding around the ankle cuff and tongue, though, which is soft and comfortable – again, ideal for day hikes.
All in all, it's tough to criticize these boots given their low price point. They outperform most other options at the entry-level end of the market and are likely to last far longer than rival fabric boots.
Lightweight, high-performing, mid-height hiking boot with a small footprint
Specifications
Weight (average, per boot):
475g / 16.8oz
Materials:
Leather upper; EVA midsole; waterproof fluorocarbon-free Proof Eco membrane; Asics high-abrasion resistance rubber outsole
Compatibility:
Three-season walking on most non-technical trails
Reasons to avoid
-
Not robust enough for technical trails
-
Outsole accumulates mud
This handsome boot offers instant comfort as soon as you get it out of the box and stick your hoof in it. The leather upper is soft and supple, the moulded EVA midsole supplies good cushioning (complemented by the use of a gel insert in the heel) and unless you're extremely prone to hotspots and blisters, there is no real need to wear these boots in before hitting the hills.
The open mesh design doesn't fill you with confidence about their waterproofing credentials, but on test the Skutas stood up pretty well to being immersed in water during stream crossings and on coastal tracks. With a reinforced rand and a toe cap, the Skutas provide more toe protection than they first appear to. Robust without being overly chunky, they can be worn with hiking shorts or the best hiking pants, and look good with a pair of jeans for kicking back with a beer afterwards as well.
The lacing system features an integrated tensioning band across the forefoot, which allows you to get these boots on good and tight. Swedish brand Haglöfs place plenty of stock in the environmental considerations that have gone into making these boots. The Proof Eco membrane is entirely fluorocarbon-free and the premium leather in the upper is sourced from a tannery audited by the Leather Working Group, which endeavors to ensure ethical practices and supply chains are used in the production process of leather goods.
The heel and toe areas have been reinforced with extra suede, to add to the durability, and the tongue is integrated with the use of a gusset, which completes the waterproofing system and prevents gravel, stones and water getting into the boots.
Lightweight budget hiking boots
Boasting trainer-like comfort, contemporary styling and extremely low weight, these fabric boots are an attractive option for fast-paced trail hiking
Specifications
Weight (per boot):
347g / 12.25oz
Materials:
Mesh uppers with Omni-Tech waterproof liner, Techlite+ EVA foam rubber midsole, Adapt Trax outsole
Compatibility:
A lightweight trail hiker for day walks, fast-paced trails and town to country escapes
Reasons to buy
+
Very lightweight
+
Great out-of-the-box comfort
+
Well-cushioned
+
Waterproof
Reasons to avoid
-
Not robust enough for technical use
-
Limited traction for steeper descents
The economies of scale that come with being a global mega-brand means that the biggest outdoor manufacturers are often good names to look out for if you're boot-shopping on a budget. And brands don't come much bigger than US behemoth Columbia Sportswear. Their Trailstorm Mid is a very attractive casual hiker with funky fresh, eye-catching styling.
Described as a 'multi-sport shoe' for roaming from 'town to forest', the emphasis is squarely on day hikes rather than technical terrain. As such, we'd expect a lightweight, trainer-like feel with instant comfort and responsive cushioning. They deliver in all these respects, but unlike most trainers, you also get Columbia's own Omni-Tech waterproof-breathable liner and a seam-sealed bootie construction to guarantee your feet stay dry in the great outdoors.
The Columbia marketing blurb boasts about the capabilities of the Adapt Trax outsole, supposedly designed with 'angular front and rear orientation lugs to provide the optimal balance between traction and durability on multi-directional terrain'. We weren't quite so impressed. While it outgrips most trainers, the 4mm lugs aren't that deep, which limits traction on slippery ground, and while the rocker sole delivers decent contact grip, the lack of a heel breast is a disadvantage on steeper descents.
Admittedly, we maybe pushed these boots a little beyond their intended limits, and for quick hiking on groomed trails they are brilliant. That's largely because they are super-light, with fabric uppers that are as immediately comfortable as your favorite trainers. Obviously, this may impact long-term durability, though a laminated TPU film toe cap does add a little protection from scuffs and scrapes. You also get plenty of running shoe-style cushioning from the EVA Techlite+ midsole. Essentially, if you're accustomed to hiking in trail shoes but want a little more waterproof protection and ankle support, without too much added weight, these mid boots are a great pick.
A hybrid 'trainer-hiker' boot that combines a lightweight trail feel with a more reassuringly boot-like build for added protection and durability
Specifications
Weight (per boot):
340g / 12oz
Materials:
Performance mesh upper with TPU overlays for durability and KEEN.Dry waterproof breathable liner, EVA midsole, KEEN.All-Terrain rubber outsole
Compatibility:
Lightweight trainer-hiker that still works well on wet or muddy trails
Reasons to buy
+
Very lightweight
+
Surprisingly durable and protective for a fabric boot
+
Waterproof
Reasons to avoid
-
Needs a little more breaking-in than most fabric boots
Described as a hybrid 'trainer-hiker', the KEEN Explore boots are designed to be lightweight, agile and versatile. With their chunky heel and mesh vamp, they certainly share some of the traits of cushioned running shoes, while utilising modern synthetic materials to add performance and durability on the trail. Chiefly, this consists of a fabric upper with tougher TPU overlays that also add a little more protection for the foot, without resulting in a significant weight increase.
As such, they feel light and bouncy, though still undoubtedly more like a boot than a trainer, unlike some of the other sneaker-inspired hikers in this best cheap hiking boots selection. This has the benefit of creating an overall sensation of all-round protectiveness, stability and durability, although it inevitably sacrifices a little of the flexibility and responsiveness underfoot that you get from a conventional trail shoe or regular trainer.
Maybe that also explains why we found they needed a little more time to break in than expected from a fabric boot, though after a few hikes they were comfortable, with no noticeable hotspots (see also How to break in hiking boots). The fit is relatively accommodating, with a broad, blunt toe box that allows plenty of room for your toes to splay. However, the heel hugs the foot nicely, which may be attributable to KEEN's 'Konnectfit' heel-capture system, a TPU exoskeleton that pulls the boot in via the lace eyelet at the base of the ankle.
The outsole employs the brand's own rubber compound and tread pattern, consisting of 4mm multi-directional lugs. Though they're not the deepest, they're actually pretty effective – the only time we slipped was when descending a greasy, grassy slope, where many boots would struggle. Still, it's worth bearing in mind they're not designed to take on technical terrain, and as such they wouldn't be our recommended pick for rock-hopping or scrambling.
Having said that, the mid cuff is actually a little higher and stiffer than most, giving you better stability and support on uneven ground compared to its rivals. The pronounced rear cutaway also does a good job of relieving pressure on the Achilles while simultaneously aiding freedom of movement, especially when picking up the pace along rolling downhill trails. The overbuilt foam rubber heel and cushioned midsole are also a benefit in this regard.
The waterproofing also did its job – at least, they didn't leak on test. Overall, we liked the KEEN Explore boots. They feel sturdier and more boot-like than most trainer-inspired mid-cut hikers, while remaining lightweight.
A mid-cut fabric hiker that blends running shoe cushioning with clean, contemporary looks to create a modern lightweight boot well-suited to fast-paced walks on mixed terrain
Specifications
Weight (per boot):
390g / 13.8oz
Materials:
Mesh and synthetic uppers with Gore-Tex lining, EVA midsole, Traxion rubber outsole
Compatibility:
A lightweight trail hiker for day walks, fast-paced trails and town to country escapes
Reasons to buy
+
Gore-Tex waterproofing
+
Lightweight
+
Great out-of-the-box comfort
Reasons to avoid
-
Slim midfoot and heel won't suit all
The Eastrail Mid GTX is part of Adidas's Terrex line-up, the outdoor-focused arm of the German sportswear giant's vast product range. As you might expect, these affordable-yet-stylish mid-cut hikers take a platform inspired by the brand's running shoe heritage and add waterproof fabric uppers plus a rugged outsole for increased durability and traction on the trail.
The synthetic uppers consist of mesh and PU panels, backed with a Gore-Tex liner for reliable waterproof breathability. This construction creates a lightweight boot with clean, contemporary looks. Together with the understated monochrome colorway, this results in a very wearable mid boot that wouldn't look out of place in town or trail.
They're also very comfortable, with a well-padded tongue and ankle cuff, and a roomy toe box. The overall fit is very much trainer-like rather than boot-like, though if you're particularly broad of hoof you might not get on so well with the narrower midfoot and relatively slim heel cup (see also Parts of a hiking boot). Underfoot cushioning comes from an EVA midsole, which delivers springy responsiveness akin to a running shoe. As is increasingly the case with many fabric-based modern hiking boots, the break-in period also proved to be minimal, so if you're looking for instant out-of-the-box comfort, the Eastrails are a good choice.
We also loved their lightweight, nimble feel on the trail. Weight-wise, they're comparable to the lightest 'trainer-hikers' in this round-up, but were actually our favorite of all those that we tested – offering a little more structure than Columbia's Trailstorm Mid, while feeling less cumbersome than KEEN's chunkier Explore boot.
The outsole uses Adidas's own Traxion technology. It isn't the deepest or most sophisticated tread pattern but delivers reasonable grip across a range of different surfaces. We did find it occasionally clogged a little on particularly sticky, muddy paths, though.
That aside, our only other niggle was with the lacing system. We struggled a little to dial in a really tight fit, since it seems tricky to pull the boot closely into the foot. This led to a little heel slippage, though not enough to cause discomfort or the dreaded blisters. We'd also appreciate metal lace hooks at the top of the boot rather than fabric loops and an eyelet.
All in all, this was still one of the best affordable hiking boots, giving us confidence on the trail, while also keeping our feet dry, all day long. It seems reasonably durable for a fabric hiker too.
Three-season budget hiking boots
A comfortable, protective and supportive boot for three-season hiking that can even handle backpacking excursions with a heavier pack
Specifications
Weight (per boot):
570g / 20.1oz
Materials:
Suede leather uppers with Gore-Tex liner, EnergyCell Injected EVA / Advanced Chassis midsole, Contagrip MD outsole
Compatibility:
Three-season hiking and backpacking adventures including easier hill and mountain walks
Reasons to buy
+
Good out of the box comfort
+
ProtectiveGore-Tex waterproofing
Reasons to avoid
-
Relatively heavy and bulky
One of the bestselling boots on the market, Salomon's much-loved Quest Prime GTX is a common sight on the feet of hikers and hillwalkers. That's no surprise, since although it occupies a not-cheap-but-not-outrageously-expensive-either kind of middle ground in terms of pricing, it still delivers a lot for your money. That includes a Gore-Tex lining for reliable waterproof-breathable performance.
As the quintessential hiking all-rounder, it offers plenty of protection and great out-of-the-box comfort for its weight. It's certainly burlier than most fabric hikers, whilst still boasting great cushioning underfoot that draws on Salomon's trail running heritage, with an EVA midsole 'chassis'. There's a fair bit of flex at the forefoot, and a roomy toe box that allows your toes to splay. Still, this is undoubtedly a boot, not just a trainer with a slightly higher ankle cuff. As such, you get solid ankle support and plenty of padding too – ideal for when you're carrying heavier packs or crossing broken ground.
The outsole is made by Salomon-owned sub-brand Contagrip, employing their most durable MD compound. This has been proven to wear well, without sacrificing too much contact grip, even on slippery rock. Traction is aided by a beefy sole pattern with a multi-directional mix of angled lugs, chunky blocks and wavy sipes, reminiscent of car tyre treads. All in all, we've found it to be a solid performer. The uppers are a mix of suede and fabric, with additional synthetic rubber overlays including a robust toe cap and a wraparound heel section. This offers decent durability while shielding the foot from trail impacts.
Fit is obviously subjective, but the men's version seems to fit most people well straight out of the box. Locking lace-hooks (an unusual feature for a mid-cut boot) enable you to dial in a fairly precise fit.
The sheer popularity of this boot ought to attest to its quality, and we can't disagree with the thousands of hikers who've bought it. This is a well-balanced and versatile walking boot that offers a superb blend of comfort, protection and reliability.
A robust and protective hiking boot that performs well over rough terrain, with a durable build and a structured, supportive feel underfoot
Specifications
Weight (per boot):
539g / 19oz
Materials:
Suede and fabric upper with B-DRY waterproof breathable lining, dual-density EVA midsole with nylon shank, OFIT footbed, Sawtooth moulded outsole
Compatibility:
Three-season hiking and backpacking adventures including easier hill and mountain walks
Reasons to buy
+
Protective and robust
+
Supportive insole
+
Waterproof
Reasons to avoid
-
Distinctive styling may be divisive
-
Relatively heavy and chunky
If you spend a lot of time tackling rough and rocky trails, you'll likely love the rugged stability of the Oboz Sawtooth II Mid. They're regarded as some of the best cheap hiking boots among US hikers and backpackers, and we can see why. The extended height of the ankle cuff offers more protection than most mid-cut boots, and though they're not as nimble as the lightest trainer-hikers, they're sturdy and comfortable. The durable uppers and beefy outsole work with the cushioned midsole and structured footbed to fully encase the foot in an armored, supportive cocoon.
Underfoot, a tread pattern of the brand's own devising provides decent traction, and though the side bulges that protrude around the edge of the sole aren't the most graceful, they proved helpful on sticky mud and awkward scree slopes. Obviously, you don't get the contact grip of a dedicated approach shoe nor the all-terrain bite of a fell-running shoe, but as an all-round hiker, these perform well. A pronounced rocker angle to the sole also encourages a natural gait and walking rhythm – ideal if you're putting in long miles.
Their other stand-out feature is how planted and sturdy they feel. The downside, of course, is that you lose a little responsiveness and flexibility compared to a lighter and less-structured boot. But if you've struggled to find supportive but well-cushioned footwear, the Sawtooth II is a good choice. That solid feel underfoot is partly thanks to the high-quality insole, which is far less flimsy than that found in most boots, even some that cost twice this price. In fact, a lot of other brands should take a leaf out of Oboz's book in this regard.
This is also a well-built boot, combining a leather upper with fabric sections and an in-house B-Dry waterproof membrane. This certainly keeps the rain out, though it has to be said that the heavy-duty construction impairs breathability a little. They're not ideal for hiking on very hot days. On the other hand, they come in to their own in cooler weather and muddy conditions.
In terms of fit, the brand describes the Sawtooth II as a 'standard width', but they are proportionately wider in the forefoot than the heel, which suits a boot intended for general hiking use by allowing the toes to splay. They'll suit medium volume feet but should also work for you even if you have a slightly higher arch, thanks to that structured midfoot and instep.
A well-priced leather boot that feels robust and protective, while also providing good cushioning and all-round comfort
Specifications
Weight (per boot):
456g / 16.1oz
Materials:
Full grain leather upper with M SelectDRY waterproof liner, EVA midsole with nylon arch shank, M SelectGRIP rubber outsole
Compatibility:
Three-season walking on most non-technical trails
Reasons to buy
+
Great everyday walking boot
+
Protective
Reasons to avoid
-
Some durability concerns
An all-leather mid-cut hiker, Merrell's Forestbound Mid hiking boots are designed to prioritize comfort and protection, thanks to their quality leather uppers with a waterproof liner, plus plenty of ankle padding and generous underfoot cushioning. The midsole features a moulded nylon arch shank embedded in an EVA foam midsole for stability and flex. At under 500g in a men's size nine, they're lightweight for a leather boot too, which ought to further alleviate foot fatigue during long hikes.
This is a robust-looking boot, with upper metal lace hooks and minimal stitching. This generally means fewer potential failure points, though we did wonder about the placement of the forefoot seam, which runs across the inner section of the boot right at the point where the boot flexes, at the base of the toes. This might be a potential weak point. It's the only negative in terms of construction, however, as otherwise the boot is well-finished. We particularly liked the protective toe cap and heel counter, which prevent the leather from picking up too many scuffs and scrapes, while warding off trail debris.
Unsurprisingly given their affordable price tag, they make use of Merrell's own in-house waterproof membrane and rubber sole compound. The former doesn't always seem to have the best reputation, and some buyers have commented that their boots have leaked, but we didn't experience any issues on test. The brand's outsole impressed us too, offering dependable grip, with its chunky 5mm lugs biting in well, particularly on softer terrain. The angled grooves on the outer edge of the sole also seem to shed mud fairly well.
The fit is fairly neutral, neither narrow nor broad, though it certainly didn't seem to be as wide as some other Merrell footwear we've tested. It's a fit that should suit a wide range of people, though as ever, always try before you buy if you can.
Overall, we reckon this would be a great boot for countryside rambles, long forest walks and the odd hill day. It's fairly unusual to find a full-grain leather boot at this price point too, particularly one that is so light and comfortable, all of which secures the Merrell Forestbound Mid WP its place in this selection of the best cheap hiking boots.
How we test budget hiking boots
Our reviewers test budget hiking boots across varied terrain, including technical trails, in a range of conditions, with and without backpacks. We assess the materials used closely. Features (including foot and ankle support, toe and heel protection, cushioning, waterproofing, breathability, materials used, grip and general comfort) are tested against claims made by the brand, and we assess factors such as value for money, durability and environmental impact.
How to choose budget hiking boots
Everyone loves the thought of bagging a bargain, but when it comes to the best budget hiking boots, if you intend to actually use them on trails, you need to know they're going to walk the walk without failing or falling apart. The following features and factors are all well worth considering if you're shopping around for a new pair of hiking or hillwalking boots on a budget.
It also goes without saying that, where possible, you should always try boots on before buying, since fit is the single most important factor when it comes to footwear (see also: how to choose a pair of hiking boots). If that isn't possible, for example when buying online, look for a retailer with a fair exchange or returns policy, and wear the boots around the house for a couple of weeks to check the fit before venturing outdoors. If they're not right, don't compromise – send them back and keep hunting.
Price
Although some of the top brands out there might seem unaffordable, a tight budget needn't restrict you to the entry-level end of the hiking boot market. The secret to snagging a bargain is to shop savvy.
First up is the golden rule of buying outdoor kit: never pay full price. Ever! Always shop around for the best price. There are hundreds of outdoor boot retailers, from high-street chains and local independent shops to online web shops, so you should always be able to make a saving on the manufacturer's RRP.
Secondly, look out for discount codes and vouchers, which often give 10% (or more) off full-priced items. Often, something as simple as signing up to a mailing list will give you a voucher code. You can also get a discount (normally 10-20%) at many shops if you're a member of an organisation or group such as the National Trust, Ramblers, the BMC, Armed Forces or NHS. In addition, many outdoor retailers will price-match an item. You just need to prove that you can buy it cheaper elsewhere.
It's also worth taking advantage of sales, since just like high-street clothing brands, outdoor manufacturers produce new ranges from season to season. Products are usually released in spring/summer or autumn/winter collections. Time it right and you can make big savings on outdoor kit, when end-of-season products make way for new ranges. Sometimes, the only changes to products will be new colorways. Look out for boot bargains in the January sales, mid-season sales in March, summer sales in August/September and the 'Black Friday' weekend in November.
Fit
We said this up top, but it's worth repeating again: make sure that your boots fit well. This is the single most important consideration when shopping for outdoor footwear. If you can, try before you buy, and if you're visiting an outdoor shop, take a pair of hiking socks along with you.
A good retailer should be able to offer fitting advice and will usually encourage you to try on multiple pairs from different brands to find a pair that suits you. This is important, since boots are built on specific lasts (essentially, an artificial model of a foot), each of which will suit a different foot shape. However, general fitting advice for hiking boots is to ensure there is room in the toe box for your toes to flex and splay. Your toes shouldn't hit the end of the boot when you walk, as this can cause bruising and blisters.
The midfoot should cradle and support the foot, without feeling too tight or constrictive. Equally however, there shouldn't be too much space or volume inside the boots, as this can cause the boot to roll around the foot, reducing stability on uneven ground. Remember that the addition of a specialist insole can sometimes transform the fit of a boot, especially if you have particularly narrow or low-volume feet (see also: Hiking insoles: what they are and why you need them). Lastly, the heel of the boot should cup the foot without pinching. There should be minimal heel slippage when you walk.
One additional note: remember to lace your new boots up properly to get a sense of the ankle support they offer. A high boot provides maximum support and stability, ideal for technical terrain or backpacking, while a 'mid' boot balances ankle support and protection with freedom of movement.
Upper materials
Most budget or entry-level hiking boots tend to be made from fabric or synthetic materials, since these are generally cheaper than using nubuck, suede or full-grain leather. The bonus of this is that fabric boots usually offer better out-of-the-box comfort than leather boots, with no breaking-in period required. They also tend to be lighter and require less care and maintenance.
If you're buying boots for wet weather walking, it's a good idea to look for a pair that feature some sort of breathable waterproof fabric. If you're lucky, you might find a low-priced Gore-Tex boot, but most entry-level models use cheaper own-brand membranes or technology. These shouldn't be discounted, as they can still do a great job of providing functional waterproof performance.
For added durability, look for a boot with reinforced panels in high-wear areas. Some more technical boots have a protective toe cap or even a wraparound rand at the lower wear edge of the uppers, designed to protect from scuffs and scrapes on rocky scrambles and scree slopes.
Midsole
Technical hiking boots are constructed with a nylon, carbon fibre or metal shank embedded in a foam rubber midsole, made from either PU (polyurethane) or EVA (ethylene vinyl acetate). This element is sandwiched between the outsole and the footbed, to which the uppers are stitched. It provides stiffness as well as cushioning and is the 'heart' of the boot. Entry-level boots usually prioritize cushioning, since they aren't intended for highly technical terrain, and therefore don't require such a stiff platform. This means you'll usually get a short nylon shank or insert embedded in EVA foam – a combination that is known for providing trainer-like comfort.
Outsole
Improved grip and traction underfoot are among the main reasons that hikers often opt for boots over trainers, particularly on wet, muddy trails or slippery, rocky paths. For maximum traction in varied conditions, look for a boot with deep, widely spaced lugs (the tread pattern on the underside of the boot). Most hiking boots will have a lug depth of at least 4mm. An undercut heel breast or heel brake (just like the heel section on a formal shoe or work boot) is also a useful feature that helps downhill control and braking on steeper ground.
When it comes to outsoles, premium boots usually employ a proprietary technology such as Vibram, while the best budget hiking boots tend to use own-brand rubber compounds and tread patterns. Softer compounds tend to provide more grip, but harder compounds typically wear better.
All the latest inspiration, tips and guides to help you plan your next Advnture!
An outdoors writer and editor, Matt Jones has been testing kit in the field for nearly a decade. Having worked for both the Ramblers and the Scouts, he knows one or two things about walking and camping, and loves all things adventure, particularly long-distance backpacking, wild camping and climbing mountains – especially in Wales. He's based in Snowdonia and last year thru-hiked the Cambrian Way, which runs for 298 miles from Cardiff to Conwy, with a total ascent of 73,700 feet – that's nearly 2½ times the height of Everest. Follow Matt on Instagram and Twitter.