The best camping knife: everyday folding knives to take with you on all your outdoor adventures
By Matthew Jones published
Having the best camping knife is indispensable for those who revel in time spent outdoors, whether in camp or on an epic expedition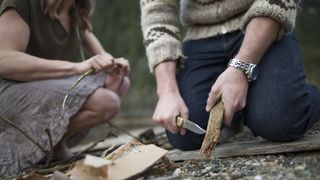 (Image credit: Getty)
The best camping knife can come in handy for all sorts of everyday tasks, particularly if you're heading out on the trail or off on a camping expedition. Now, before you get excited, we're not talking about gigantic "that's not a knife, this is a knife," Crocodile Dundee-style blade. All being well, you won't be fending off hungry giant reptiles on your next camping trip.
In our experience, the most useful and best camping knives are compact, non-locking, folding blades that can perform a multitude of fairly small but important tasks. A good blade is your best friend when cooking up a meal on the camping stove, as well as being a useful tool when carrying out repairs, opening food packets or as a vital addition to your first aid kit.
The finest camping knife is likely to be of higher quality than the blade on even the best multitool, so serious campsite cooks should definitely opt for the former, though both have their strengths when it comes to a successful expedition. With this in mind, a decent camping knife should be on your camping checklist. With the traditional good looks of models like the Böker Barlow 01 or the Fällkniven LTC, you'll certainly look the part around the campsite.
The best camping knife for all budgets
With its understated yet considered design, this slim and elegant knife aims for precision and simplicity in terms of both aesthetics and purpose. It delivers on both counts – the knife feels well-balanced in the hand, while lubricated ball bearings in the pivot reduce friction so that the satin-finished, stainless-steel blade clicks smoothly and crisply into place.
The long, thin blade has a high flat grind that is well suited to prepping food for camp cooking or taking on small whittling projects. Meanwhile, its low weight, compact folded dimensions and thin profile make it easy to carry in a pocket or slip into the side pouch of a rucksack. The secure carry pocket clip ensures it stays firmly in place. Given its premium look and feel, it also offers good value at this price.
The best camping knives offering a high-end steel blade
The Atlas is a compact US-made slipjoint folder from TRM (Three Rivers Manufacturing), a small but fast-growing knifemaker from Massachusetts. It is a clean and well-thought-out design with a stubby but very slicey blade made from high-end S35VN steel. It's a serious knife despite its compact dimensions, and one that is built for hard work. The blade also has an enlarged cut-out that can allow for one-handed opening, enabling quicker deployment. The handle fits snugly in the hand, incorporating a finger choil and slimmed down rear end for added comfort and dexterity.
Spine jimping also adds to an overall sensation of firm, reliable control in use, whether you're cutting cordage or whittling wood. Similarly, the very positive blade half stop feels reassuringly safe, and there is ideal tension on the backspring that means the blade snaps open and closed securely. The liners, backstraps and deep pocket clip are all machined from titanium, which is a great weight-saver. This is a very lightweight yet capable knife, ideal for 'fast and light' camping or backpacking trips.
The Manly Wasp is a tough and practical knife that offers superb value for money. It comes in two versions – one with a 14C28N steel blade, the other with premium S90V steel. 14C28N is a stainless steel from Sandvik that is basically a more corrosion resistant version of their well-known 13C26 steel. Despite not carrying the cult appeal of S90V, it is still an impressive mid-range steel that sharpens to a razor edge.
The handle scales of both versions are solid and chunky G10 fibreglass composite, finished with a repositionable deep carry clip. It is ideally suited to hard outdoor use, handling all sorts of general outdoor tasks with aplomb. The slipjoint mechanism features three blade stops, so it's extremely unlikely that the Wasp will close on your fingers, though it doesn't make for quick deployment. That quirk aside, there is little not to like about this compact but highly capable knife.
Swedish knifemakers Fällkniven are renowned as one of the outdoor knife brands. But the LTC (Legal to Carry) is a little different from their other offerings, which are mostly designed for hunting, bushcraft/survival and military/tactical applications. Instead, this is a small but supremely well-built penknife, made to sit unobtrusively in a trouser pocket.
The blade is short and narrow, but is forged from the brand's premium laminate powder steel, 3G. As such, it comes wicked sharp straight out of the rather attractive wooden box that it is packaged in, and though the blade doesn't lock, it has a stiff backspring plus nail nicks on both sides that make it useable for both right and left handers.
For such a compact knife, it cuts extremely efficiently. The scales are made from durable anodised aluminium and are punched through with a lanyard hole. This makes it easy to attach the LTC to a keyring for ultimate, take-almost-anywhere portability.
The Benchmade 318 Proper is a contemporary take on the traditional pocket-knife, with a Barlow-style clip point blade and mottled green scales that soon take on a weathered patina, despite being made from modern Micarta. Similarly, though the blade has an unmistakeable classic silhouette, the steel is a bang up to date CPM S30V.
Widely regarded as being among the best all-round high-end stainless knife steels available, S30V is known for its excellent edge retention and corrosion resistance, while also balancing hardness and toughness. This makes the Proper 318 a premium knife with impressive capabilities, which is reflected in the price. But it is made in the USA and is an undoubtedly classy blade – if you can afford to splurge, you won't regret it.
This sleek, minimalist and ultra-modern slipjoint knife has serious pocket appeal. It is incredibly light, thanks to the use of carbon fibre scales, and also very handsome. Black oxide steel hardware, a stonewashed blade finish and a blue anodised aluminium backspacer complete the package. It is extremely well balanced and sits comfortably in the hand, with a crisp action and a double detent system with a half-stop.
The blade is a Wharncliffe or sheepsfoot style with a full-width flat grind that allows precise, controlled cutting – ideal for all sorts of outdoor utility work. It uses CPM 20CV, a much-coveted 'super steel' with exceptional wear and corrosion resistance, not to mention excellent edge-holding ability. Real-world performance is hugely impressive: it keeps a sharp edge even after putting it through some serious hard work.
As an everyday carry piece it might be out of the reach of many, but will appeal to enthusiasts or those simply intent on buying the best camping knife they can get their hands on. We can also see dedicated ultralight backpackers with a taste for premium gear being drawn to the ZT 0230, not just for its lightweight build but also for its meticulously engineered design and technologically advanced materials.
The best camping knife for classic looks
With its rounded handle and long metal bolsters, this knife possesses all the classic features of a traditional Barlow pocket-knife. As such it will appeal to outdoors lovers who appreciate heritage kit. This particular model boasts nickel silver bolsters, natural canvas micarta scales and a clip-point blade made from O1 steel. This is a basic carbon steel that sharpens easily and is relatively tough, developing an appealing patina over time. It needs a little more care and attention than stainless steel versions in order to prevent rust though.
In use, the knife has a reassuringly stiff backspring with a pronounced half-stop for safety. It's a knife designed for deliberate, leisurely use rather than quick deployment. If that's also how you like to enjoy the great outdoors – we're thinking relaxed camping weekends in the countryside rather than ultralight mountain missions – you'll doubtless appreciate the old-world charm of this handsome knife.
The best camping knife for one-handed operation
US brand Spyderco has built a great reputation among outdoor users for its range of folding pocket-knives. The UK penknife (UKPK) is one such example, which was specifically developed to comply with UK knife laws for everyday carry. There are plenty of other reasons for its popularity too though. While it's not the most graceful knife – the design certainly prioritises function over aesthetics – the ergonomic design fits superbly well in the hand.
The shaped choil for the forefinger and the upper thumb ramp make it very precise when used for both fine and coarser cutting tasks. The leaf-shaped drop point blade is a versatile shape that adapts well to a multitude of uses, and the CTS BD1N alloy is a US-made stainless steel that balances hardness, edge retention and resistance to corrosion. It's often used in quality cutlery, so this is a great knife for all sorts of camp cooking jobs.
Lastly, this knife feels very safe and secure for a non-locking folder, thanks to a stiff backspring and a half stop that catches the blade at 90 degrees. For us, this is the pick of the bunch, and if you're looking for a lightweight folding knife to accompany you in the great outdoors, the Spyderco UKPK is a superlative choice.
The best camping knives for comfortable use
With a reputation for producing hunting, survival and military-tactical knives, as well as highly-regarded multitools, SOG is a brand that you might not turn to when looking for a discreet folder for camping, everyday carry and general outdoor use. But the Terminus is a well-made, well-designed knife that utilises a Carpenter CTS-BD1 steel blade, offering reasonable edge holding and easy sharpening.
The blade has a tapered drop point, plenty of belly up front and a straight edge behind. The hollow grind makes for a versatile blade with an easy cutting action. Blade centring is good, with little play. The backspring grabs the blade effectively when open, and though there is no half stop, the blade has a large, rounded kick just past the heel, protecting your fingers. A nail nick on both sides of the blade and a reversible, pocket clip make it suitable for left- or right-handers.
The G10 laminate fibreglass scales feel tough and durable in the hand, forming a solid, chunky handle that will work even for those with large hands. The texturing and grooved pattern on the scales is also excellent, providing secure grip and inspiring confidence, as does the pronounced jimping for the thumb on the spine of the blade.
Choosing the best camping knife for you
What constitutes the best camping knife for you will depend on a various factors – most importantly, when, where and how you intend to use the tool.
In this round-up we've focused on compact, non-locking folding knives, which are useful but still lightweight and give you more than enough cutting power to perform simple tasks in camp or on the trail, which combined with their multi-use qualities, makes them a real hiking essential.
Such knives are also legal as everyday carry in countries and states where knife laws are relatively strict, such as the United Kingdom. However, you should check the relevant legislation in your country if this is a concern.
When considering what would make the best camping knife for you, think about things such as the folding mechanism, and the quality and feel of the handle. Most importantly, though, decide which kind of blade will work best for your intended purpose, factoring in the following features.
The best camping knife: blade steels
The blade will define the usefulness of any knife, and the quality of the steel used in its composition largely determines the quality of the blade. Various components can be used in steel alloys, which will affect a blade's strength, durability, sharpness and functionality.
If you're intending to use your knife to do a spot of whittling, you'll need a higher quality blade than if you're just going to be chopping tomatos and chicken breasts. If your blade does start to look a little burred, blunt, or worn check out our guide on how to sharpen a camping knife.
The best camping knife: blade shapes
Knife blades come in myriad shapes, some of which are ideal for specific tasks. When it comes to pocket-knives, the most common types include Drop Point (an elegant blade a convex curve – a good all-rounder), Straight Back (a classic 'kitchen knife' shape, good for all cutting and slicing tasks, as well as piercing), Clip Point (traditional look, good for precision cutting), Tanto (distinctive, with two angled cutting edges and a strong tip, well suited for piercing), Spear Point (a distinctive symmetrical blade profile, ideal for slicing and cutting), Sheepsfoot (a 'safe' blade with a straight cutting edge, ideal for a multitude of tasks), and Wharncliffe (version of the sheepsfoot, offering excellent precision and control).
The best camping knife: grinds
The grind dictates how the cutting edge of a knife looks and performs. For pocketknives, the most common grinds are Flat grind (with a triangular profile that tapers from the spine towards the tip, making it very strong), Scandi grind (classic bushcraft blade, ideal for carving and splitting wood), Hollow grind (traditional concave blade with a very thin cutting edge, ideal for slicing and precision work). Chisel grind (bevelled on one side, good for slicing and very useful for those camping meals), and Convex grind (rounded towards the cutting edge).
An outdoors writer and editor, Matt Jones has been testing kit in the field for nearly a decade. Having worked for both the Ramblers and the Scouts, he knows one or two things about walking and camping, and loves all things adventure, particularly long-distance backpacking, wild camping and climbing mountains – especially in Wales. He's based in Snowdonia and last year thru-hiked the Cambrian Way, which runs for 298 miles from Cardiff to Conwy, with a total ascent of 73,700 feet – that's nearly 2½ times the height of Everest. Follow Matt on Instagram and Twitter.
All the latest inspiration, tips and guides to help you plan your next Advnture!
Thank you for signing up to Advnture. You will receive a verification email shortly.
There was a problem. Please refresh the page and try again.