The best camping knife: everyday carry folding knives to stash in your pack or pocket before heading outdoors
The best camping knife is an indispensable tool for anyone who spends a lot of time outdoors, whether in camp or on the trail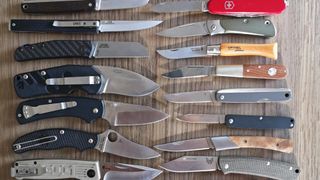 (Image credit: Matthew Jones)
The best camping knife can come in handy for all sorts of everyday tasks, particularly if you're heading out on the trail or going camping for the weekend. Now, before you get excited, we're not talking about strapping a giant bowie knife to your thigh in case you get caught up in some desperate Bear Grylls-style survival situation. Let's be honest, even the worst wild camping weekend is unlikely to go that disastrously wrong.
In our experience, the most useful and best camping knives are compact, non-locking, folding blades that can perform a multitude of fairly small but important tasks. Unlike the best multitools, most of these applications relate to food prep and cooking – like being able to open food packets without having to rip them open and spill the contents all over your tent, or dicing a hunk of chorizo, or slicing some cheese, or chopping fruit and vegetables.
But a small, single-bladed knife can also be handy for cutting thread, string, paracord or gear tape when making temporary field repairs to your tent, sleeping mat or rucksack. And it can be a versatile addition to a first aid kit, for cutting dressings or bandages to size. If you learn whittling skills, moreover, having the best camping knife can also bring you hours of fun practicing small-scale woodwork. In short, then, a camping knife is one of the most versatile and practical everyday carry essentials and hiking essentials there is.
The best camping knife for all budgets
An elegant slimline pocket-knife that's lightweight and easy to carry, with a versatile blade profile for everyday tasks
RRP: $55 (US) / £40 (UK) | Weight: 57g/2oz | Blade length: 7.4cm / 3in | Overall length: 17.8cm / 7in | Closed length: 10.6cm / 4in | Materials: 8Cr13MoV Stainless Steel blade and Glass Reinforced Nylon (GRN) scales | Features: Pocket clip / Flat grind / Drop point blade
Slim, lightweight design
Slips easily into almost any pocket
Smooth opening
No blade half stop
Perhaps a little 'dressy' for outdoors use
Single-sided nail nick and pocket clip do not particularly suit left-handers
With its understated yet considered design, this slim and elegant knife aims for precision and simplicity in terms of both aesthetics and purpose. It delivers on both counts – the knife feels well-balanced in the hand, while lubricated ball bearings in the pivot reduce friction so that the satin-finished, stainless-steel blade clicks smoothly and crisply into place. The long, thin blade has a high flat grind that is well suited to prepping food for camp cooking or taking on small whittling projects. Meanwhile, its low weight, compact folded dimensions and thin profile make it easy to carry in a pocket or slip into the side pouch of a rucksack. The secure carry pocket clip ensures it stays firmly in place. Given its premium look and feel, it also offers good value at this price.
A simple, robust, no-nonsense friction folder, built for hard use and very popular with all sorts of outdoor types, from farmers and foresters to fishermen
RRP: $23.45 (US) / £17 (UK) | Weight: 46g / 1.6oz | Blade length: 6.4cm / 2.5in | Overall length: 17cm / 6.7in | Closed length: 10.6cm / 4in | Materials: High carbon stainless steel blade, plastic polymer scales | Features: Convex grind / Drop point blade
Simple but effective design
Great value
No blade half stop
Basic fit and finish
Carbon steel susceptible to corrosion
A classic 'beater' knife, the Svord Peasant Mini peasant is cheap and cheerful. The super simple design has very few parts, so there isn't much to break or go wrong. Admittedly, it is a little rough around the edges, but this is still a very good knife for its price point. Besides, as a mass-produced tool for farm and field work, it would hardly be fair to compare and contrast the fit and finish with higher priced options here. So let's focus on the positives: the high-carbon stainless steel blade takes a decent edge and sharpens easily, while the textured plastic handle comes in a range of high-visibility colours, meaning you're unlikely to lose it in the undergrowth if you happen to put it down somewhere. The tang raises above the pivot when the knife is in the closed position, which actually makes it a pretty safe knife to use despite the non-locking, friction folder design. For an everyday, usable camp knife, it's a solid choice.
This diminutive penknife, designed to be legal for everyday carry in most countries, is a perfect pocket companion for daily life that also comes in handy for hiking and camping
RRP: $82.95 (US) / £60 (UK) | Weight: 33g / 1.16oz | Blade length: 5.9cm / 2.32in | Overall length: 13.8cm / 5.43in | Closed length: 8cm / 3.15in | Materials: 3G Laminate powder steel blade and anodised aluminium scales | Features: Flat grind / Spear point blade
Compact design
High quality finish
Superb blade steel
Too small for more demanding tasks
Swedish knifemakers Fällkniven are renowned as one of the outdoor knife brands. But the LTC (Legal to Carry) is a little different from their other offerings, which are mostly designed for hunting, bushcraft/survival and military/tactical applications. Instead, this is a small but supremely well-built penknife, made to sit unobtrusively in a trouser pocket. The blade is short and narrow, but is forged from the brand's premium laminate powder steel, 3G. As such, it comes wicked sharp straight out of the rather attractive wooden box that it is packaged in, and though the blade doesn't lock, it has a stiff backspring plus nail nicks on both sides that make it useable for both right and left handers. For such a compact knife, it cuts extremely efficiently. The scales are made from durable anodised aluminium and are punched through with a lanyard hole. This makes it easy to attach the LTC to a keyring for ultimate, take-almost-anywhere portability.
An everyday carry knife with striking looks and useful design touches, this versatile blade is well-suited to a multitude of outdoor tasks.
RRP: $72 (US) / £52 (UK) | Weight: 107g / 3.77oz | Blade length: 7.7cm / 3in | Overall length: 18.2cm / 7.2in | Closed length: 10.4cm / 4.1in | Materials: 440C stainless steel blade and G10 scales | Features: Hollow grind / Drop point blade
Thumb jimping on top of blade for good dexterity and control
Useful thumb stud for one-handed operation
Half stop and finger groove for safety
Reversible pocket clip
Questionable fit and finish
German brand Böker is a well-established knifemaker from Solingen, the so-called 'city of blades' due to the many renowned companies that historically produced fine swords, knives, scissors and razors from within its borders. The Böker Plus XS is no traditionalist though – this slipjoint folder combines contemporary looks with innovative design touches. It's a collaboration with knife designer Chad Los Banos, a full-time law enforcement officer, Kendo fighter and former bodybuilder from Hawaii who specialises in tactical pocket-knives.
The Plus XS certainly wouldn't look out of place clipped into the stab-proof vest of a SWAT team member. It combines chunky sculpted G10 scales in a sleek black finish with a drop point, 440c stainless steel blade. The knife also features a thumb stud for one-handed operation, with a reversible deep pocket clip for tip up carry. Underneath, a deep index finger groove gives plenty of control for closer work, enabling you to choke down on the blade if required. In conjunction with the half stop, this also makes it feel extremely safe and secure in use, especially for a non-locking folder.
The classic French pocket-knife, an Opinel is a simple, durable and charming thing to carry and own. The little No. 5 is a small blade, but it still makes a useful addition to your camping kit
RRP: $11 (US) / £8 (UK) | Weight: 14g / 0.5oz | Blade length: 6cm / 2.4in | Overall length: 14cm / 5.5in | Closed length: 8cm / 3in | Materials: XC90 carbon steel blade and beech-wood handle | Features: Full flat grind / Straight back blade
Compact and lightweight
Simple, timeless design
Easy to sharpen
No backspring
Too small for more demanding tasks
Carbon steel blade requires regular maintenance
The largest non-locking Opinel folding knife, the No. 5 is a modest size compared to some of his bigger brothers and sisters yet shares all the same hallmarks of the French brand's larger models. This version, with a classic carbon steel 6cm blade, requires regular maintenance to prevent corrosion but sharpens very easily. Look after it and it will look after you, in which case it is bound to become a favoured pocket companion. Lightweight, compact and inexpensive, it ticks plenty of boxes as an ideal everyday carry knife, and is probably the best camping knife out there for buyers on a budget. The one-piece handle is made from durable French orange beech wood, with minimal parts to ensure both simplicity of function and durability of construction. The blade has a slightly curved point and rounded cutting profile, ensuring it works effectively and precisely. It's even said that Pablo Picasso sculptured his figurines with the Opinel No 05...
The UKPK is a lightweight and compact but highly effective cutting tool that performs consistently well, whether employed as an everyday carry knife, on the trail or in camp
RRP: $110 (US) / £79 (UK) | Weight: 98g / 3.5oz | Blade length: 7.5cm / 3in | Overall length: 17cm / 6.7in | Closed length: 9.5cm/3.8in | Materials: CTSBD1N stainless steel blade and fibreglass-reinforced nylon (FRN) scales | Features: Flat grind / drop point blade
Lightweight
Thumb jimping on top of blade for good dexterity and control
Useful 'Spydie hole' for one-handed operation
Half stop and finger groove for safety
Reversible pocket clip
Divisive looks
US brand Spyderco has built a great reputation among outdoor users for its range of folding pocket-knives. The UK penknife (UKPK) is one such example, which was specifically developed to comply with UK knife laws for everyday carry. There are plenty of other reasons for its popularity too though. While it's not the most graceful knife – the design certainly prioritises function over aesthetics – the ergonomic design fits superbly well in the hand. The shaped choil for the forefinger and the upper thumb ramp make it very precise when used for both fine and coarser cutting tasks. The leaf-shaped drop point blade is a versatile shape that adapts well to a multitude of uses, and the CTS BD1N alloy is a US-made stainless steel that balances hardness, edge retention and resistance to corrosion. It's often used in quality cutlery, so this is a great knife for all sorts of camp cooking jobs. Lastly, this knife feels very safe and secure for a non-locking folder, thanks to a stiff backspring and a half stop that catches the blade at 90 degrees. For us, this is the pick of the bunch, and if you're looking for a lightweight folding knife to accompany you in the great outdoors, the Spyderco UKPK is a superlative choice.
The SOG Terminus works well for everyday carry on the trail as well as when put to use in camp. The blade gives decent performance, while the textured handle and thumb jimping enable good dexterity and control
RRP: $90 (US) / £66 (UK) | Weight: 83g / 3oz | Blade length: 7.5cm / 3in | Overall length: 18cm / 7in | Closed length: 10cm / 4in | Materials: CTSBD1 stainless steel blade and G10 scales | Features: Hollow grind / Drop point blade
Solid build
Comfortable to use
Thumb jimping on top of blade for good dexterity and control
Reversible pocket clip
No blade half stop
Slightly heavy
With a reputation for producing hunting, survival and military-tactical knives, as well as highly-regarded multitools, SOG is a brand that you might not turn to when looking for a discreet folder for camping, everyday carry and general outdoor use. But the Terminus is a well-made, well-designed knife that utilises a Carpenter CTS-BD1 steel blade, offering reasonable edge holding and easy sharpening. The blade has a tapered drop point, plenty of belly up front and a straight edge behind. The hollow grind makes for a versatile blade with an easy cutting action. Blade centring is good, with little play. The backspring grabs the blade effectively when open, and though there is no half stop, the blade has a large, rounded kick just past the heel, protecting your fingers. A nail nick on both sides of the blade and a reversible, pocket clip make it suitable for left- or right-handers. The G10 laminate fibreglass scales feel tough and durable in the hand, forming a solid, chunky handle that will work even for those with large hands. The texturing and grooved pattern on the scales is also excellent, providing secure grip and inspiring confidence, as does the pronounced jimping for the thumb on the spine of the blade.
Stylish yet understated, this US-made clip point knife is a premium slipjoint folder that employs a top-quality blade steel, giving superb all-round performance in all situations
RRP: $170 (US) / £163 (UK) | Weight: 60g /2.1oz | Blade length: 7cm / 2.75in | Overall length: 17cm / 6.7in | Closed length: 10cm / 4in | Materials: CPM S30V stainless steel blade and Micarta scales | Features: Flat grind / Clip point blade
High-quality steel blade
Classic looks but ultra-modern materials
Blade half stop for safety
Not the stiffest backspring or smoothest action
Expensive
The Benchmade 318 Proper is a contemporary take on the traditional pocket-knife, with a Barlow-style clip point blade and mottled green scales that soon take on a weathered patina, despite being made from modern Micarta. Similarly, though the blade has an unmistakeable classic silhouette, the steel is a bang up to date CPM S30V. Widely regarded as being among the best all-round high-end stainless knife steels available, S30V is known for its excellent edge retention and corrosion resistance, while also balancing hardness and toughness. This makes the Proper 318 a premium knife with impressive capabilities, which is reflected in the price. But it is made in the USA and is an undoubtedly classy blade – if you can afford to splurge, you won't regret it.
This minimalist, ultra-modern slipjoint is incredibly light but has serious cutting power: the perfect everyday carry outdoor knife for a dedicated ultralighter with a taste for premium gear
RRP: $245 (US) / £179 (UK) | Weight: 55g / 2oz | Blade length: 6.8cm / 2.67in | Overall length: 15.8cm / 6.22in | Closed length: 9.3cm / 3.66in | Materials: CPM 20CV stainless steel blade and carbon fibre scales | Features: Full flat grind / Wharncliffe blade
Premium build quality
Superb 20CV steel blade
Incredibly light
Minimalist, understated design
Blade half stop
Expensive
This sleek, minimalist and ultra-modern slipjoint knife has serious pocket appeal. It is incredibly light, thanks to the use of carbon fibre scales, and also very handsome. Black oxide steel hardware, a stonewashed blade finish and a blue anodised aluminium backspacer complete the package. It is extremely well balanced and sits comfortably in the hand, with a crisp action and a double detent system with a half-stop. The blade is a Wharncliffe or sheepsfoot style with a full-width flat grind that allows precise, controlled cutting – ideal for all sorts of outdoor utility work. It uses CPM 20CV, a much-coveted 'super steel' with exceptional wear and corrosion resistance, not to mention excellent edge-holding ability. Real-world performance is hugely impressive: it keeps a sharp edge even after putting it through some serious hard work. As an everyday carry piece it might be out of the reach of many, but will appeal to enthusiasts or those simply intent on buying the best camping knife they can get their hands on. We can also see dedicated ultralight backpackers with a taste for premium gear being drawn to the ZT 0230, not just for its lightweight build but also for its meticulously engineered design and technologically advanced materials.
Choosing the best camping knife for you
What constitutes the best camping knife for you will depend on a various factors – most importantly, when, where and how you intend to use the tool.
In this round-up we've focused on compact, non-locking folding knives, which are useful but still lightweight and give you more than enough cutting power to perform simple tasks in camp or on the trail.
Such knives are also legal to carry in countries and states where knife laws are relatively strict, such as Britain. However, you should check the relevant legislation in your country if this is a concern.
When considering what would make the best camping knife for you, think about things such as the folding mechanism, and the quality and feel of the handle. Most importantly, though, decide which kind of blade will work best for your intended purpose, factoring in the following features. (And for more information, see our detailed guide on how to choose a knife for camping.)
The best camping knife: blade steels
The blade will define the usefulness of any knife, and the quality of the steel used in its composition largely determines the quality of the blade. Various components can be used in steel alloys, which will affect a blade's strength, durability, sharpness and functionality. If your blade does start to look a little burred, blunt, or worn check out our guide on how to sharpen a camping knife.
The best camping knife: blade shapes
Knife blades come in myriad shapes, some of which are ideal for specific tasks. When it comes to pocket-knives, the most common types include Drop Point (an elegant blade a convex curve – a good all-rounder), Straight Back (a classic 'kitchen knife' shape, good for all cutting and slicing tasks, as well as piercing), Clip Point (traditional look, good for precision cutting), Tanto (distinctive, with two angled cutting edges and a strong tip, well suited for piercing), Spear Point (a distinctive symmetrical blade profile, ideal for slicing and cutting), Sheepsfoot (a 'safe' blade with a straight cutting edge, ideal for a multitude of tasks), Wharncliffe (version of the sheepsfoot, offering excellent precision and control).
The best camping knife: grinds
The grind dictates how the cutting edge of a knife looks and performs. For pocketknives, the most common grinds are Flat grind (with a triangular profile that tapers from the spine towards the tip, making it very strong), Scandi grind (classic bushcraft blade, ideal for carving and splitting wood), Hollow grind (traditional concave blade with a very thin cutting edge, ideal for slicing and precision work). Chisel grind (bevelled on one side, good for slicing), Convex grind (rounded towards the cutting edge).
An outdoors writer and editor, Matt Jones has been testing kit in the field for nearly a decade. Having worked for both the Ramblers and the Scouts, he knows one or two things about walking and camping, and loves all things adventure, particularly long-distance backpacking, wild camping and climbing mountains – especially in Wales. He's based in Snowdonia and last year thru-hiked the Cambrian Way, which runs for 298 miles from Cardiff to Conwy, with a total ascent of 73,700 feet – that's nearly 2½ times the height of Everest. Follow Matt on Instagram and Twitter.
All the latest inspiration, tips and guides to help you plan your next Advnture!
Thank you for signing up to Advnture. You will receive a verification email shortly.
There was a problem. Please refresh the page and try again.