The best running underwear: stay comfortable and avoid chafing while you're running trails, tracks or roads
By Gordon Lacey , Fiona Russell published
To get the most from your running, the best running underwear provides comfort while giving you the support you need. Here are our recommendations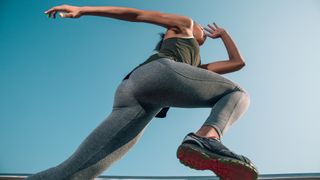 (Image credit: Getty)
What makes the best running underwear? That's opening a whole can of worms. There are few issues quite as divisive or subjective in the outdoor community, it seems, than the question of what – if any – underwear you should wear beneath trail running shorts, skorts and leggings.
Many of the best trail running shorts come with an integrated inner – either made of mesh in lighter weight products, or a lycra kind of material in garments where support has been prioritized over weight-saving properties. However, lots of shorts do not come with any such underlayer, and most leggings – which are making a regular appearance on the bottom half of runners now that we're into fall – also leave you with a question: should I go commando when I run, or should I wear undies?
If you decide to go for the latter, there's no point throwing on any old pair of underpants beneath a more technical over-garment, because if your base layer can't wick moisture away, or prevent chafing, or supply support where it's needed, it will only inhibit the performance of everything you wear over the top of it. So, what is the best underwear for running?
We've been out testing multiple pairs of running underwear, and following is our advice about the best available.
The best running underwear for men
SAXX Sport Mesh boxer briefs
Versatile underwear for sport and everyday activities with the advantage of a supportive "BallPark Pouch"
RRP: $25 (US / £19 (UK) | Gender specificity: Male | Style: Boxer | Materials: Polyester (89%), elastane (11%) | Colors: Graphite / Black / Graphite & Black / Black Digi DNA /Navy & City Blue / Navy Digi DNA / Blue Fangstatic / Red Code Graffiti / Graphite Digi Quake Camo | Sizes: 5in inseam available in XS / S / M / L / XL / XXL
Supportive
Moisture wicking
Color range
Pricey
SAXX Sport Mesh boxer briefs are created for a range of activities, from office to gym to running. It has a slim fit, from the butt to the thighs. Technology in these undies includes no-chafing, flat-out seams, four-way stretch and Three-D Fit for all-round comfort, plus moisture-wicking micromesh fabric and odor control.
What makes these boxers different, according to SAXX, is the BallPark Pouch, which is described as a 3D hammock-shaped pouch designed to keep everything under control. The brand say they have designed and created this patented piece of internal tech to reduce friction and 'keep your man-parts in place', no matter what adventures you're on. The BallPark Pouch also features a fly.
CORE XP men's underwear
Innovative design offers support at the waist, pouch and butt areas but without feeling constrictive
RRP: $30 (US) / £30 (UK) | Gender specificity: Male | Style: Boxer | Materials: Polyester (93%), Spandex (7%); silicone waistband grips | Colors: Black | Sizes: 3in inseam available in S / M / L / XL
Supportive
Lots of features
Sweat wicking
Price
Black only
A key feature of Core XP underwear is what is called 'C-Cut Technology', which the brand describe as a "first of its kind, multi-panel waistband that distributes pressure for optimal performance", claiming that it facilitates "controlled pressure on the skeletal system and reduced pressure on soft tissue".
Essentially, the underwear is neat fitting but not constricting, and it is meant to move with the body and help to give you a more stable core. The waistband is wide and sits higher than other shorts or boxer-style underwear, and it has internal grips made of silicone. The feel is comforting and supportive rather than being irritatingly high on the waist.
Other features include sweat-wicking fabric with four-way stretch, "ultrasonic" bonded seams (whatever that means) and an "ergonomic" pouch for optimal support.
Comfyballs Performance Long Boxers
Easy to wear and easy to like thanks to good support, lovely fabric and great colors
RRP: £30 (UK) | Gender specificity: Male | Style: Boxers | Materials: Polyester (84%), lycra (16%) | Colors: Sunset Orange / Crimson Rust / Ghost Black / Black Charcoal / Navy / Mellow Yellow | Sizes: S / M / L / XL / XXL / XXXL
Fit
Design
The brand's name!
Colors
Pricey
Comfyballs Performance Boxers are sold in a range of leg lengths, including regular, long and pocket long. They are designed for everyday wear, or for various sporting activities. The lightweight fabric is soft, quick drying, sweat wicking and thermo-regulating, so there is less potential for chafing and dampness.
The unique PackageFront technology is created to keep your equipment in place and comfortable, while being lifted away from the inside of the thighs. This helps to prevent chafing and unnecessary heating of the balls. The aim is to provide support without the squeeze. And, pleasingly, the broad color range means men don't need to have a drawer full of black pants.
Kelenji Men's Seamless Running Boxers
A simple design that is easy to wear, especially under sports clothing
RRP: £13 (UK) | Gender specificity: Male | Style: Boxers | Materials: Polyester (43%), polyamide (43%), elasthane (14%) | Colors: Black & Abyss Grey / Navy Blue & Whale Grey / Inkpot Blue / Fluo Lime Yellow | Sizes: S / M / L / XL
Seamless
Longer cut
Neat fit
Price
Small sizing
The design of these running boxers is simple and meant for the male physique. The boxers are made with a single piece of fabric to avoid too many seams. Consequently there is only one join, horizontally at the waist, and, cleverly, no seams at all along at the inner leg, where runners often suffer chafing (see also: How to stop chafing when running and hiking).
They have a longer cut to prevent the legs riding up and to offer further reduction in the risk of chafing by protecting a larger area of skin. The very stretchy fabric is designed to be supportive, as well as moisture-wicking and quick drying.
BAM Jersey Bamboo Briefs
Soft, breathable and simple styling for sport and everyday wear thanks to natural bamboo
RRP: £12 (UK) | Gender specificity: Male | Style: Briefs | Materials: Bamboo viscose (68%), organic cotton (28%), elastane (4%) | Colors: Black / Navy / Moss / White | Sizes: S / M / L / XL / XXL
Natural fabric
Soft feel
Eco friendly
Not specifically supportive
With all its natural properties, bamboo is a great product for outdoor-active people – it is breathable, thermo regulating, absorbent, comfortable next to skin and doesn't lead to painful chafing or the build-up of nasty odors. Bamboo works well in hot or cool weather, and keeps you cool and dry even when you're sweating
A softly elasticated, jacquard BAM waistband keeps the briefs in place without irritation. These are a classic shape and style briefs for men who like underwear to be simple but supportive and comfortable whether at the office, in the gym or out for a run.
The jersey bamboo fabric is similar to a wearing a cotton t-shirt, only it is softer and smoother and has support and a bit of stretch. Oh, and it is far better for the planet too – being biodegradable at the end of its useful life, and requiring far less land, water and chemicals to grow. BAM products also arrive in card or paper packaging, which can be composted or recycled, rather than plastic.
The best running underwear for women
Runderwear Women's Running Hipster
Underwear made specifically for runners with 360-degree seamless and chafe-free design
RRP: $29 (US) / £16.20 (UK) | Gender specificity: Female (Runderwear running briefs are a similar product for men) | Style: Hipsters | Materials: 92% polyamide (92%), elastane (8%) | Colors: Black / Blue / Pink | Sizes: S / M / L / XL / XXL
Designed for runners
Seamless
Bright colors
Choice of waistline
Only three colors
Runderwear Women's Running Hipsters are perfect if you're looking for underwear that sits lower on the waistline. (If you want undies that sit above the waistline choose the briefs.)
The brand pledges that you will be guaranteed to enjoy chafe-free running, thanks to 360° seamless technology.
These are pants that give ample coverage for good support and great comfort. The soft fabric is lightweight and technical with breathable and moisture-wicking properties.
Runderwear have also built in areas of micro-perforations for increased airflow so as to further reduce the potential to sweat, because if your underwear gets damp, you are more likely to suffer irritations such as chafing. The fabric is durable and long-lasting even after many washes.
Isobaa women's Merino 180 Hipster Shorts
An attractive and colorful pair of shorts made from runner-friendly merino wool
RRP: £35 (UK) | Gender specificity: Female (there is an Isobaa Men's version: 180 merino wool boxers) | Style: Hipster shorts | Materials: 180gm 18.5 micron superfine 100% merino wool | Colors: Mini-Stripe Wine & Fuchsia / Mini-Stripe Smoke & Charcoal / Mini-Stripe Petrol & Charcoal | Sizes: XS / S / M / L / XL
Snug fit
Natural wool
Eco credentials
Great colors
Pricey
Made from superfine 180gm merino wool, these hipster shorts offer all the benefits of a natural fibre, including moisture wicking, breathability and temperature control.
Merino wool is also quick drying, naturally odor resistant and sustainable. These are all plus-points for runners, as well as hikers.
Other features include flatlock stitching to reduce chafing, as well as no centre back seam and a jacquard brushed elastic waistband for comfort.
Thoughtfully, the care instructions are printed directly on to the garment to avoid scratchy labels, and the shorts are delivered in recycled packaging.
WUKA Perform Seamless period pants
The future is sustainability and reducing waste – and period pants for sporty women make complete sense
RRP: Light flow: $24 (US) / £20 (UK); Medium flow: $26 (US) /£22 (UK) / Heavy flow: $29 (US) / £24 (UK) | Gender specificity: Female | Style: Midi brief | Materials: Main: recycled nylon; Gusset: recycled nylon and cotton | Colors: Black | Sizes: XXS / XS / S / M / L / XL / XXL / XXXL
Sports fit
Eco-friendly
Innovative
Only available in black
WUKA stands for "Wake Up Kick Ass" and this is a company that is looking to a future where we reduce waste and behave more sustainably. Period pants are increasingly popular among women and the WUKA Perform Seamless period pants are aimed at sporty women.
The gusset area is designed to replace your usual sanitary wear. They come in three classes: light, medium and heavy flow. The heavy flow holds at least 20ml period flow or light leaks, which is roughly four tampons' worth.
They are made from eco-friendly recycled nylon with a lightweight seamless fabric that is claimed to be VPL-free (Visible Panty Line-free).
The fabric is also smooth and silky to the touch which gives them a more luxurious look than other sports pants. The midi brief style provides full coverage at the back without feeling bulky and gives good support whether you are running, at the gym or out for a hike.
For environmental reasons, the brand advise wearers to wash the underwear in cold water and they donate 1% of their sales to charity partner Surfers Against Sewage.
BAM Bamboo Seamless Classic Briefs
Supersoft, seamless and breathable briefs made with sport- and environment-friendly bamboo
RRP: £15 (UK) | Gender specificity: Female | Style: Briefs | Materials: Bamboo viscose (78%), polyamide (15%), elastane (7%) | Colors: Black / White / Oyster | Sizes: S / M / L
Supersoft
Seamless
Natural fabric
Limited colors
Bamboo is a great fabric for sporty people because it is soft, non-chafing, naturally breathable and thermo regulating, so you'll stay cool and dry even if you are sweating. The BAM Seamless Classic Brief also boasts seamless technology that extends to the whole design with no side, back or waistline seams so there is nothing to dig in, chafe or create a VPL (Visible Panty Line).
The briefs are made to a very simple design and feel so soft that you hardly know you're wearing them, yet you still feel comfortably supported.
BAM products are also 'climate positive'. Bamboo absorbs five times more carbon than hardwood trees. It needs half the land cotton requires to produce the same amount of fibre, and it doesn't depend on irrigation or pesticides. BAM products also arrive in card or paper packaging – which can be composted or recycled – rather than plastic.
Kalenji Running Boxers
Boxer style for good support and coverage with some thoughtful feature designs
RRP: £13 (UK) | Gender specificity: Female | Style: Women's boxer | Materials: Polyester (85%); elastane (15%) | Colors: Black & Coral Pink / Navy Blue & Lavender Blue | Sizes: XS / S / M / L / XL / XXL / XXXL
Thoughtful design
Supportive
Easy to wear
Good price
Limited colors
Kalenji's running boxer shorts for women are designed to combine comfort and support. A higher waist and fuller rear give good coverage while the leg cut, with minimal seams, allows for freedom of movement, especially on the thighs and groin area. Chafing is also reduced thanks to the minimal seams and there is the addition of a velvet feel on the skin at the top of the thighs.
A wide and soft fabric waistband adds to the clever design and airflow is maximized thanks to a wide strip of mesh "openwork" fabric at the front of the boxers.
Comfy Women's Performance hipsters
Stretchy, soft and "sculpted"
RRP: £16.90 (UK) | Gender specificity: Women's | Style: Hipsters | Materials: Polyamide (79%) / lycra (21%) | Colors: Blue / Black | Sizes: XS / S / M / L / XL / XXL
Fit
Design
Fabric
Eco credentials
Limited colors
The lightweight fabric of these women's performance pants is soft, fast drying and sweat wicking, while the design has minimal seams, except for the two front seams, for reduced chafing. The fit is called 'sculpted' and it is meant for wear while doing sport.
They offer good coverage for extra support, while a high lycra content means the pants are also stretchy. Other features include flat-lock seams, a soft 35mm waistband that is designed to stay in place.
The products are Oeko-Tex certified and, in addition, all Comfys are climate-neutral in collaboration with Climate Partner GmbH. This means the company has calculated a product's total carbon emissions from the start of the process until the garment is in the customer's hands, and have compensated for it.
But how come women don't get the same great range of colours as the men do?
How to choose the best running underwear
The best underwear for runners is the kind that you don't even know you're wearing. While many runners want their favorite performance knickers and pants to be perfectly fitted and supportive (in all the right places), you will also want to avoid the pain of chafing and the distraction of irritations.
Some running shorts have an in-built liner brief so you will probably prefer to go sans underwear with these. If you are wearing shorts only, a longer pair of shorts-style or boxer-style pants will help to prevent thigh chafing. Look for fewer seams as well for less skin rub potential.
Fabric
One important thing to look for in the best running underwear is fabrics and materials that are lightweight and allow sweat to easily evaporate. Quick-drying materials are a bonus, too.
Design
When it comes to male and female underwear, there are obvious differences. Many men look for good structure and support, especially at the front of the pants. Women generally like the support to be at the rear.
Styles
The best underwear for runners comes in a variety of styles of – and with different names – including briefs, boxers, boxer briefs, shorts and hipsters. Everyone has a preference, although it does depend on what running shorts, skorts or leggings that you plan to wear on top (see also: underwear when running).
All the latest inspiration, tips and guides to help you plan your next Advnture!
Thank you for signing up to Advnture. You will receive a verification email shortly.
There was a problem. Please refresh the page and try again.