How to choose a water bottle
We guide you through how to choose a water bottle so you can pick out the perfect vessel for all your outdoor hydration needs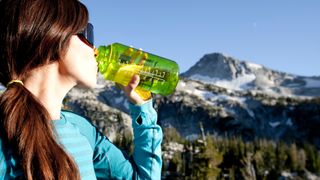 (Image credit: Getty)
In this day and age, we can all agree that water bottles are an indispensable piece of outdoor gear, and they're here to stay. Hydration is essential, hiking and trail running are thirsty work, and we need and want less plastic in our oceans and landfills, so whether you're hitting the trail or boarding a plane, you want to do so toting your own water.
A water bottle seems like a pretty simple item that doesn't require much thought – surely any cylinder with a screw on top will do? But if you've ever picked out the wrong one, you'll know that choosing the right water bottle requires a little more finesse. A water bottle that's too heavy, leaves a weird taste in your mouth or doesn't keep your drinks cool just ends up getting tossed in that drawer where water bottles and reusable grocery bags go to die. Never fear – we guide you through how to choose a water bottle so you can pick out the perfect vessel for all your outdoor hydration needs.
How to choose a water bottle: size
First, you need to consider what size of water bottle you want. Water bottles range from teeny tiny 6 - 8oz bottles that basically hold a glass of water at a time, to magnum-sized 64oz giants that could easily hold a couple of bottles of wine with room to spare. In between those two extremes, your regular-sized water bottles are anywhere from 20oz to 32oz.
Obviously, the bigger you go, the more weight and bulk you're taking on, but the more water you have on your person. If you're just bringing a bottle of water to a nearby crag for a day of climbing where it's going to sit on a rock between sips, you might go for an ultra sized chugger, but if you're hiking with it in your backpack, a 40oz stainless steel bottle filled with liquid could easily add a couple of unwanted pounds to your backpack. If you're carrying it any distance, you might want to size it down a bit, especially if you're able to refill along the way.
How to choose a water bottle: material
Next up, and this is a biggie, you'll want to seriously consider what material you want your water bottle to be made out of. There are four common options for water bottles:
Plastic
Stainless steel
Aluminum
Glass
Each one carries different implications. Plastic is lightweight and doesn't dent, but you want to make sure that it's BPA-free, like the Sigg Traveler. Regardless, however, plastic has negative implications for the environment and even when it's BPA-free, it breaks down with use and might start to disintegrate and shed microplastics into your drinking water, so you'll want to handle it with care and only use it for cold liquids. Plus this type of bottle can become smelly and hold the taste of other drinks you might put in your bottle.
Stainless steel is heavier than plastic, especially the larger you go, but still fairly lightweight and has none of the health implications of plastic. These bottles do dent if you drop yours, which over time can make them less stable to set down, but they won't break and are pretty durable, plus you can throw them in the dishwasher. Single-walled steel bottles transfer heat so you can't use them for hot liquids. Double-walled steel bottles can handle hot liquids, but are heavier and more expensive. Some stainless steel bottles can leave a metallic taste in your mouth when they're new, but most don't, and very few retain the taste of other beverages if you rinse them out after using them.
Aluminum bottles are really lightweight and cheaper than their stainless steel counterparts, but flavors do tend to cling to them, they dent more easily, and there may be some health risks posed by the lining of the bottle.
Glass bottles also have no health risks and leave zero taste in your water, but the obvious downside is that they can break easily (which can, in fact, pose a health risk). Many come with a protective rubber case which prevents them from breaking so easily but you'll still want to avoid these if you have butter fingers. You can chuck them in the dishwasher but they don't offer any insulation and they're heavy.
How to choose a water bottle: durability
By now, you've probably got an idea of the durability of different types of water bottle, with stainless steel holding up the best, glass being the most fragile and aluminum and plastic falling somewhere in the middle. Really, the question is what do you plan to do with it?
If yours is coming with you on scrambling adventures and anywhere you might be prone to dropping it on hard rock surfaces, you want as sturdy a water bottle as you can find. If it's mostly just sitting in your backpack until you need a sip, you might not be worried about it getting dented.
Further, if you know that no matter what kind of bottle you get, it's going to be covered in dents during your rugged adventures, go for stainless steel anyway since that won't leak anything nasty into your water.
How to choose a water bottle: temperature control
All water bottles hold water, but not all water bottles keep your water cold, or hot. Not all of us are picky about this, but if you really like your water to stay ice cold, or you like the occasional hot drink on a hike, your only real choice is a double-walled insulated stainless steel water bottle. For all other options, you'll want to use cold liquids only, and if you're hiking in hot weather, add ice and wrap it inside a shirt in your backpack to help it stay cool.
How to choose a water bottle: ease of use
A water bottle doesn't seem like a particularly high tech piece of equipment, and yet the size of the neck and the type of lid can make it effortless, or frustrating to use. Wide necks mean your bottle is easy to fill, empty and clean, but can also mean you end up dumping water all down your front every time you take a sip. There are solutions to this, however, such as the removable chug cap on the Yeti Rambler 26oz bottle.
Sports caps, nozzles and spouts make it pretty hard to spill water on yourself, but they can pick up dirt, are harder to clean, have a propensity to spill inside your bag and break more easily. Obviously, a solution to those spillages is a good screw on cap, but again you want one that's easy to remove and screw back on, so find one with larger ridges (these hold onto less grime, too). There are various other lid styles that screw on but have a flip up cap or spout which makes drinking easier. These can be a little more prone to breaking, but companies like Hydroflask and Yeti sell lids individually, which means you can pick out your favorite one and replace a broken one.
One final aspect regarding ease of use is how easy your bottle is to carry – if indeed you plan to carry yours in your hand. For a larger bottle that you can't get your hand around, make sure it comes with a carrying handle, and for smaller bottles look for a grip-friendly design.
How to choose a water bottle: price
Even though a water bottle won't usually be as big an investment as, say, a new pair of trekking poles, you might be surprised at how expensive they can be. Stainless steel water bottles can be pricey, especially if you go for a large size and double-walled insulation. Glass water bottles are moderately priced, but if you keep breaking yours they'll end up expensive, and plastic and aluminum bottles are affordable. Like any outdoor gear, the key is picking out a water bottle that will last a long time, and treating it with the respect it deserves to get your money's worth.
All the latest inspiration, tips and guides to help you plan your next Advnture!
Julia Clarke is a staff writer for Advnture.com and the author of the book Restorative Yoga for Beginners. She loves to explore mountains on foot, bike, skis and belay and then recover on the the yoga mat. Julia graduated with a degree in journalism in 2004 and spent eight years working as a radio presenter in Kansas City, Vermont, Boston and New York City before discovering the joys of the Rocky Mountains. She then detoured west to Colorado and enjoyed 11 years teaching yoga in Vail before returning to her hometown of Glasgow, Scotland in 2020 to focus on family and writing.