How to keep your bike safe when bikepacking: essential tips to avoid theft
Theft will bring your adventure to a premature end, so here's how to protect your faithful steed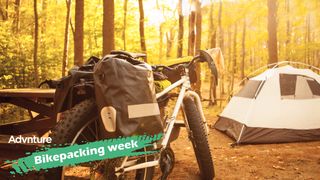 (Image credit: Getty)
Bikepacking is a great activity if you enjoy exploring and you are keen to get off the beaten track. Many bikepackers enjoy adventures that include a range of terrain, from blacktop roads to remote singletrack. It's also likely that during a bike packing adventure you will need to leave your bike at some point.
One question that many bikepackers will ask is is how to keep their bike safe while on a bikepacking trip. The answer is: It depends where you are.
Keeping a bike safe means ensuring that your mode of transport is still there when you return to it, perhaps after having a bite to eat in a cafe, while popping into a shop, or the next morning after staying in a tent or hostel.
Everyone would like to think that no one is mean enough to steal a bike but, of course, we all hear of regular bicycle thefts. It's important to proceed with a good dose of common-sense to keep your bike safe.
Where will you be bikepacking?
On a bikepacking trip that takes you to remote locations, the chances are the bike will be safest from theft. It's when you are cycling in more populated places that bike theft becomes much more of an issue.
It's a good idea to take a good quality bike lock with you when bikepacking. The issue is that you will be adding extra weight to your bike with a heavy duty lock, but if you are going to be leaving a bike in a busy place to use the facilities, such as a place to eat or shop, then it's worth doing.
There are many different types of locks, but a D-lock (or U-lock) is a favorite for a good reason, being both strong and relatively portable. Look out for one that's Sold Secure gold or diamond approved, and you won't go far wrong. Advnture's sister site Cycling Weekly recommends the Litelok X1 for lightweight, heavy duty protection.
When locking up your bike, make sure to leave as little gap between the frame and whatever you're locking it to as possible. This will make life difficult for anyone trying to get the lock off with bolt cutters,
If you are travelling as a pair or a group, you can take it in turns to carry the bike lock. Alternatively, you could decide that one of you shops while the other guards the bikes so you don't need a lock. However, this won't keep your bikes safe overnight when you can't be with them.
Keep bikepacking bags safe
It's also a good idea to take bikepacking bags with you if you are worried about the content of the packs. Most bikepacking bags will be quite easy to steal if targeted by a thief.
A good tip is to have one bikepacking bag or a backpack that includes most of your valuables. This will be the one bag or pack that you always take with you when away from your bike.
If you are leaving the bike for a longer period in a place where someone might be able to make off with your gear, it's advisable to remove all bags and packs and take them with you.
Keep your bikepacking bicycle safe
When bikepacking in areas where you are less likely to encounter lots of people, there is less chance of a bike being stolen. However, even then, it's a good idea to take precautions to protect your ride.
One tip is to remove the front wheel and take it with you. If you have battery powered gears, you can also remove the battery form the derailleur. By doing this, even if someone comes across the bike and decides to try to take it, they won't get very far.
Of course, it might be that a determined thief decides to walk off with you bike or parts of your bike but it's generally accepted that there are few such criminals roaming the great outdoors. I have heard of only a few examples in 20 years of riding my bike in remote areas of Scotland when someone has returned to their bike to find it has disappeared. Even so, if you have a lock with you, then use it. Lock bikes to a fence or similar if you can find one.
If you plan to camp, you can use the bike as part of your shelter. For example, you could attach a tarp to the bike frame and use it to cover your bivy sack. This way, you will be the first to know if someone tries to steal your bike!
More tips for keeping your bike safe while bikepacking
If you live in the UK, another tip is to add your bike packing bicycle to the Bike Register. The National Bicycle Database is a free service and a preferred place recommended by the police to register a bike. This means that if your bike is stolen it should be easier to trace.
Alternatively, make sure you add your surname and postcode to your bike with a permanent marker. If it is stolen, this can be very helpful in tracing the item.
You should also ensure your bike is insured against theft while away from the home.
This article is part of Advnture's Bikepacking Week 2023 (running from Monday 22 to Sunday 28 May), our ultimate guide to adventuring on two wheels including essential advice, gear, and features to help you plan the perfect expedition.
All the latest inspiration, tips and guides to help you plan your next Advnture!
Fiona Russell is a widely published adventure journalist and blogger, who is better known as Fiona Outdoors. She is based in Scotland and is an all-round outdoors enthusiast with favourite activities including trail running, mountain walking, mountain biking, road cycling, triathlon and skiing, both downhill and back country. Her target for 2021 is to finish the final nine summits in her first round of all 282 Munros, the Scottish mountains of more than 3,000ft high. Aside from being outdoors, Fiona's biggest aim is to inspire others to enjoy the great outdoors, especially through her writing. She is also rarely seen without a running skort! Find out more at Fiona Outdoors.