How to read a mountain weather forecast to enhance your hike and keep yourself safe
Knowing how to read a mountain weather forecast will make it an essential element of your pre-trip planning, help you enjoy your time on the hill more and keep you safe on the trails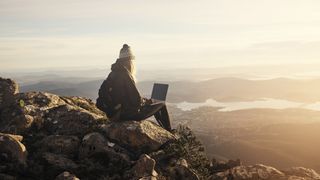 (Image credit: Getty)
Knowing how to read a mountain weather forecast is crucial, whether you are just heading out for a day hike or embarking on a wild camping expedition. For many, the mountains are the ultimate playground, a place to explore, test themselves and discover sensational scenery. And while escaping technology is the main draw for some, utilizing a mountain weather forecast before setting out is more than just prudent.
When it comes to planning any adventure in the mountains, you should always start with the weather forecast, even before you have chosen your route. This is especially critical in winter, when aspects like summit temperature, expected snowfall and wind speed and direction have a direct bearing on what you may or may not decide to do and where you decide to go.
Mountaineers purposefully seeking snowy conditions also have to bear the risk of avalanche in mind. All of these considerations then have to be taken into account when you choose your route, before you've even thought about grabbing your best hiking boots.
The mountain weather forecast should also informs what you will need to stuff into your hiking backpack. If you are unprepared for the conditions you are due to face, it could cut your adventure short, or worse. So, knowing how to read a mountain weather forecast is definitely a vital skill. Here's how to do it...
How to read a mountain weather forecast: forecast sourcing
No matter where you do your hiking, it's always worth checking at least two - but preferably three - forecasts, not just relying on one source. That's because some sources will give you a good general idea of the prevailing and anticipated weather for a particular region and, usefully, also tell you what the effects of the expected weather will be on you. This is hugely helpful when assessing wind speeds.
Other forecasts might provide more detailed information, such as changes in weather over three-hour intervals throughout the day or isolated info for more specific areas. Some of the best navigation apps – such as komoot (with a Premium membership) – give you live, on-trail weather, which is handy when making decisions on the fly. When these are used in conjunction, they can give you a pretty good overall picture of what's going on.
If you're heading to the mountains in winter conditions, forecasters like Avlanche.org, EAWS and SAIS are vital sources of information. They tell you about likely avalanche hazard areas and which slopes and aspects will have experienced snow loading, as well as assessing the overall condition and stability of the snowpack. If you're winter camping, this kind of info can be life-saving.
Obviously, where to look for mountain weather forecast info depends on where you are planning to venture.
Global mountain weather forecasts
No matter where you are in the world, these global forecasters are well worth adding to the trio of sources we recommend cross-checking before heading out on any hike:
Mountain Weather Forecasts - this outstanding mountain weather forecast service lets you search for forecasts by country, region, mountain range, or even the name of a peak (there are 11300 in the database). It also provides detailed weather maps and charts with forecasts for up to five different elevations as well as info on freezing level, wind speed and direction, and depth of the snowpack.
Meteoblue is a simpler, more user-friendly service that is ideal for hikers who want their forecasts in short, easily digestible format. It provides accurate forecasts for all mountainous regions worldwide, offers 7-day and 14-day forecasts, and has 5-day and 15-day Meteograms for those who want a little more detail.
Windy is a winner for forecast-seekers who want the ability to tailor their forecasts to their needs or activity type. This service lets you select from dozens of overlays, ranging from ocean currents and wind speed to snow depth, new snowfall, cloud height, and precipitation type. Windy is, moreover, probably the most reliable and accurate mountain weather forecast we've used.
US mountain weather forecasts
In the US, the best mountain weather forecast services include:
UK mountain weather forecasts
We'll start with an explanatory preamble for what follows:
The UK's mountains might not be the biggest in the world, but they are notorious for their fickle weather and Brits themselves, perhaps as a consequence, are also famously partial to all things related to the science of weather prediction. This being so, and because we're aware that many of our readers are UK-based, we've added a little extra info to help them make sense of the data supplied by the UK's mountain weather forecasters. In the UK, the three most popular mountain weather forecast sources are:
MWIS (Mountain Weather Information Service) provides a wealth of detailed information for visitors to the UK's upland regions. The site produces forecasts for 10 different UK mountain areas, 365 days a year. As such, you can read and download free daily forecasts for Scotland's Northwest Highlands, West Highlands, Southeastern Highlands and Southern Uplands as well as the Cairngorms National Park and Monadhliath. Similarly, forecasts are produced for the Lake District, the Peak District and the Yorkshire Dales & North Pennines in England, and for the Brecon Beacons and Snowdonia National Park in Wales.
Met Office Mountain Forecast provides forecasts for the main hill and mountain areas in the UK. Forecasts are issued in the afternoon before 6pm every day and cover the evening period, the full 24 hours from midnight to midnight for the next two days then a brief outlook for the following 3 days. They are updated in the early hours of each morning before 6am, so it is worth checking on the day of your trip for any updates to the forecast.
Scottish Avalanche Information Service is a third mountain weather forecast source that is invaluable if you are going winter hillwalking, mountaineering, climbing or ski touring in the Scottish mountains that are vulnerable to avalanche, namely Creag Meagaidh, Glencoe, Lochaber, Northern Cairngorms, Southern Cairngorms and Torridon. The site provides summaries of area hazards as well as detailed reports.
Mountain Weather Information Service (MWIS) Forecast
The MWIS forecast provides a general planning outlook for the whole of Britain, plus a daily summary and headline summary for each key mountain region. In addition, you can get three-day forecasts that predict summit windspeeds (and their effect on you), as well as information on how wet, cloudy and cold it is likely to be.
It's clear and straightforward – ideal for hillwalkers planning routes and deciding which kit they'll need to pack, as well as backpackers and wild campers who might be considering longer, multi-day routes and assessing potential places to pitch up for the night.
Met Office Mountain Forecast
The Met Office's specialist forecasts include a comprehensive range of information on various mountain regions of the UK. The mountain weather forecast homepage highlights areas for which mountain forecasts are available and displays a hazard symbol alongside the areas where there is a hazard risk:
Detailed regional forecasts then show any severe weather warnings in force along with a summary of the hazards and an associated risk level. In addition, they display mountain weather hazards, which apply at or above an altitude of 300m. These cover everything from blizzards to high UV exposure.
The forecast table for the day shows wind speed, direction and gust, air temperature and a 'feels like' temperature that accounts for wind chill. Below this table you will find the freezing level (the level above which snow is expected to settle, or the ground is expected to be frozen). By switching tabs near the top of the page, you can view detailed forecasts for the next two days, with the further outlook providing a brief forecast for the following three days.
The forecast also contains a meteorologist's view on prevailing weather, cloud and visibility, which often highlights particular areas of concern. Lastly, a location map shows summit-specific forecasts within the mountain region, which is especially useful if you're planning on bagging a particular mountain that day.
SAIS (Scottish Avalanche Information Service)
Scotland's mountains are the biggest in the UK. When they're in full winter conditions, some areas can carry considerable avalanche risk, and so SAIS provides daily forecasts of the avalanche hazard for the six most popular areas of Scotland for winter hillwalking, mountaineering, skiing and other winter sports.
The homepage has two tabs – one shows a map of Scotland, with colour-coded hazard alerts for specific areas. A second tab summarises the hazards and risks for each of the six areas:
Detailed avalanche reports then highlight the state of the snowpack and the avalanche hazard, considering risk factors like the formation of windslab on higher and steeper slopes. This is supplemented by an excellent visual diagram that shows the build-up of snow across all compass segments, making it clear which slopes are likely to be snow-loaded:
Local knowledge
As you can see, there is a wealth of accessible – and free – information on UK mountain weather, all of which has been designed to be clearly and easily understandable. Forecasts are compiled using a wide range of regularly updated data, sophisticated weather modelling software and of course interpretation from expert meteorologists with years of mountain experience.
There's a further source that is often worth checking out for a mountain weather forecast, though, and that's to ask a local. Many people's livelihoods depend on knowing the local weather patterns, from hill farmers to mountain guides, and they are likely to have intimate knowledge of the microclimate of particular mountain ranges or valleys. Popular hillwalking and climbing areas invariably have an array of outdoor gear shops too, and many stores post weather boards either inside or outside the shop, summarising the forecast. Staff might also be able to give you useful first-hand intel, and they generally like a chat!
Reading synoptic weather charts
Another way to really expand your mountain weather forecast knowledge is to learn to read a synoptic chart. These weather charts are full of lines, arrows, letters and numbers, but once you understand what they all mean, you'll be able to understand and even predict where and how pressure patterns, warm and cold fronts, wind direction and speed will change and evolve.
Pressure
The black lines on a synoptic chart are isobars. They join areas of the same barometric pressure – just like the contours on a map that show land areas of the same height. The numbers measure the atmospheric pressure in millibars. Isobars show pressure patterns as well as areas of high and low pressure. They can also tell us about wind direction, since air moves around high pressure in a clockwise direction and low pressure in an anticlockwise direction. Basically, the closer the isobars are together, the windier it is. The centres of high and low pressure areas are marked 'H' and 'L' respectively.
Warm and cold fronts
Coloured lines, triangles and semi-circles on a synoptic chart represent weather fronts, which are essentially boundaries between different air masses. These masses of warm, cold, dry and moist air originate from different parts of the globe.
A red line with semi-circles indicates a warm front, while a blue line and triangles shows a cold front. The front moves in the direction that the semi-circles or triangles point. Generally, fronts bring increased cloud and rainfall followed by either warm or cold air masses. Weakening fronts are marked with crosses.
Occluded fronts
Since cold fronts tend to move faster than warm fronts, over time they mix and create an occluded front. This is shown as a purple line with alternating semi-circles and triangles along its length. Air trapped between warm and cold fronts often brings low cloud and showers.
Troughs
Bold black lines on a synoptic chart indicate troughs, or areas where the air is particularly unstable. They often indicate rainfall.
Assessing the conditions
Knowing what kind of weather to expect on any given day in the hills can also inform the plans you make. For example, winds over 35mph will affect the balance of even a fit, strong walker, which may mean you decide to avoid exposed summits and ridges. Similarly, strengthening overnight winds should help you make a sensible decision about where to pitch up if you're planning on camping out – seek out sheltered locations or lose height to negate the effects of wind (and ensure you get a better night's sleep!).
Scattered showers and even steady rain need not necessarily deter a well-equipped hillwalker, though it might put you off attempting certain scrambles and climbs, since slick rock can be dangerous. If your route involves stream or river crossings, remember that heavy rain can cause rivers to run in spate, raising water levels and making some fords or crossings impassable.
Conversely, on warm, sunny days you may need to considering carrying or finding extra water in order to stay hydrated. It's also worth packing sunblock and a hat to minimise exposure to damaging UV rays.
Lastly, remember that temperatures generally decrease with height. A 1,000m (3,280ft) summit can be 6.5°C colder than sea level, and that's without accounting for windchill.
There is no shame in altering your plans due to the weather, either before you set out or once you're in the mountains. Keep a weather eye out throughout the day – or practise what outdoor instructors call a 'dynamic assessment of conditions'. And if the weather closes in, remember that the mountains aren't going anywhere: there's always another day to bag that summit.
All the latest inspiration, tips and guides to help you plan your next Advnture!
An outdoors writer and editor, Matt Jones has been testing kit in the field for nearly a decade. Having worked for both the Ramblers and the Scouts, he knows one or two things about walking and camping, and loves all things adventure, particularly long-distance backpacking, wild camping and climbing mountains – especially in Wales. He's based in Snowdonia and last year thru-hiked the Cambrian Way, which runs for 298 miles from Cardiff to Conwy, with a total ascent of 73,700 feet – that's nearly 2½ times the height of Everest. Follow Matt on Instagram and Twitter.