Climbers narrowly escape death in Cairngorms rockfall
A trio of climbers was on the third pitch of the Aladdin's Couloir route in Scotland's Cairngorms mountain range when a massive rockfall came tumbling down the route, narrowly missing all three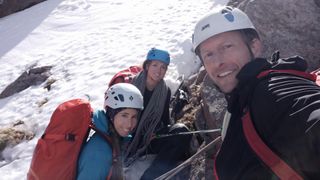 (Image credit: Kieran Cunningham)
At 2:30pm on Saturday, 24 April, three climbers got "really f***ing lucky" and narrowly escaped with their lives after a large section of the ridge above Corrie an t-Sneachda in Scotland's Cairngorms mountain range collapsed. It sent car-sized boulders hurtling down the 600-foot gulley in which they were climbing.
Advnture's Camping and Hiking Channel Editor, Kieran Cunningham, was among the trio of climbers.
"Bit of a mental day in Aladdin's Couloir," he said on his Facebook page. "Started raining car-sized boulders halfway up. Nobody seriously hurt; everybody seriously spooked."
Footage of the rocks tumbling into Corrie an t-Sneachda was captured by mountain guide Ron Walker of Talisman Mountaineering, who has assisted with rescues and recoveries in the area in the past and was near the base of the corrie when the rocks fell.
Kieran was with two Edinburgh-based climbers at the time of the incident.
"We decided to rope up and climb the route in pitches," he said, "because it was the first winter route one of our party had climbed and the first time me and my other rope partner, Rosa, had wielded axes since last winter. It was a glorious day and we were all looking forward to getting on some snow and ice before the last of it melts."
At the top of their third pitch, however, things very nearly took a turn for the tragic.
"I was belaying from the edge of the gulley and heard a scream from below. One of my rope partners, Theresa, had already finished the pitch and was beside me at the belay, sheltered by the gulley wall, but our partner, Rosa, was 50 metres below and in the direct fall line of a shower of huge boulders that were flying over the cliff above us. I thought she was a goner, but she huddled down and the biggest rock, which was not much smaller than my car, bounced a foot or so in front of her and then over her head. A smaller rock hit her arm and she had to climb the rest of the route one-handed, but she's okay."
Climber Rosa Fappiano said of the incident: "I saw a few small rocks coming down just as I was getting ready to climb. I stopped and shouted to warn my partners, but then I saw bigger and bigger rocks falling and eventually a huge boulder coming directly towards me. That's when I realized I was in serious trouble. I jumped behind some rocks for shelter and remember feeling fairly calm – simply thinking 'there's no more I can do'. Then I heard the boulder bouncing off the rock just above me and flying over my head. That was a good feeling. Considering the number of rocks that came down, and the size of them, I think I got really f***ing lucky!"
On the British Backcountry Facebook page, Ron Walker wrote: "We expected to see bodies coming down or a major rescue given there was a party of three climbing. It only takes a small fist size rock to cause serious injuries or worse or cut a rope and some of these blocks were massive!"
Asked if there's anything he and his partners could have done differently, Kieran said: "I hold my hands up – we were probably up there too late in the day, and too late in the season, simply because we were desperate to get out there after so many months stuck at home. If anything, the experience drives home the importance of acknowledging just how fickle the mountains can be. While we'd chosen an easy route and are always diligent as regards minimizing subjective hazards, the objective ones can surprise you at any time. The rewards are huge, but the risks are always there."
All the latest inspiration, tips and guides to help you plan your next Advnture!
In a previous life, Richard spent over a decade on market-leading sci-fi/fantasy magazine SFX, where he talked movies, TV and books with some of the biggest names in the genre. Having swapped Star Wars and Star Trek for the great outdoors, he's worked on Advnture since it launched in July 2020, and looks after the day-to-day running of the site.