Delaware proposes National Park built over a highway
Officials, citizens are hoping to reunite neighborhoods with a new park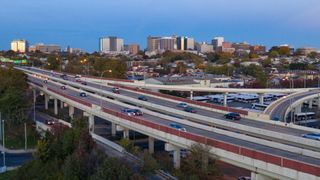 (Image credit: Getty)
There's a movement in the state of Delaware to build a National Park on top of Interstate 95 to reconnect neighborhoods that were divided by the busy highway more than 50 years ago.
And they are going to ask US President Joe Biden – a longtime resident of Delaware – for help.
Delaware and the US Department of Transportation are jointly renovating Interstate 95 where it cuts through Wilmington, the largest city in the state. Local citizens, city officials and park enthusiasts are hoping a unique urban park can be built over sections of the highway to foster racial equity and help restore the West Wilmington neighborhoods that were hurt by the construction of the interstate, according to a recent article in DelawareOnline.
It's not the first time that officials have considered the idea of a park over I-95, but getting financial support for the idea has proven to be the major obstacle.
City and state officials are hoping to get support from President Biden's "Build Back Better" plan, which is trying to spur the economy in part through greener infrastructure. They're going to ask the federal government to pay for a portion of the park to make it a national example of positive urban revitalization and change.
"What we could ultimately do is bring communities together that were divided by I-95 running right through the city of Wilmington prior to many of us being born," US Representative Sherry Dorsey Walker (D-Wilmington), told DelawareOnline. She's one of the officials behind the nascent project and believes the park could also foster environmental justice.
Plans are in the early stages, and it's unclear exactly what Wilmington's park would look like, where exactly it would be, when it would be built or how it would be paid for.
Officials are considering building it through a public-private partnership, Dorsey Walker said. It's also unclear how much it would cost.
The park would potentially be built in Wilmington's West Side where the interstate runs through 6th, 7th and 8th streets to connect the Cool Spring, Quaker Hill, Trinity Vicinity, Hilltop, Tilton Park and West Center City neighborhoods, Walker said.
The park would be similar to the Klyde Warren Park that spans over the Woodall Rodgers Freeway in Dallas, Texas, and would be a place where people could commune and really appreciate the beauty of the city of Wilmington, Walker added.
A similar park is underway in Philadelphia, where officials are planning on building their own cap over I-95 at the waterfront by 2024. Other urban parks built over existing infrastructure include New York's High Line Park and Chicago's 606 Park — both developed on the site of former elevated rail lines.
Several cities across the US include national park sites, according to the National Park Service. Delaware's only national park is the First State National Historical Park, which consists of seven individual sites, including Old New Castle, that are spread throughout the entire state.
In 2004, former Wilmington Mayor Jim Baker suggested a similar Wilmington park proposal, but it never came to fruition.
"I still think that Wilmington has the potential of being a great city," said Baker, who is not involved in the latest proposal. "I just hope they can make it (the park) because it's a great way of using space, and not wasting it with some doggone highway that should never have been built through the city in the first place."
All the latest inspiration, tips and guides to help you plan your next Advnture!
Brian is an award-winning journalist, photographer and podcaster who has written for Runner's World, The Times, Outside, Men's Journal, Trail Runner, Triathlete and Red Bulletin. He's also the author of several books, including Kicksology: The Hype, Science, Culture and Cool of Running Shoes. He lives in Boulder, Colorado, and loves to run, bike, hike, camp, ski and climb mountains. He has wear-tested more than 1,500 pairs of running shoes, completed four Ironman triathlons, as well as numerous marathons and ultra-distance running races.