Full steam ahead on the Great Redwood Trail
Planning begins in earnest on North California's Great Redwood Trail, the proposed hiking and biking trail would be the longest rails-to-trails route in U.S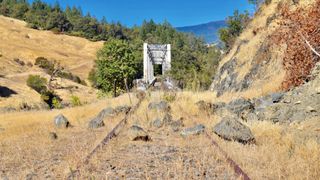 (Image credit: Josh Buck courtesy of Great Redwood Trail)
Plans to turn a section of dormant Northern California railway line into the longest rails-to-trails route in the US are gaining momentum.
After nine months without any action or news, planning for the proposed 320-mile Great Redwood Trail is back in motion. Stretching from San Francisco Bay to Humboldt Bay, the proposed trail would open up wild and scenic landscapes to hikers, runners and cyclists, passing through California redwoods, running alongside oak woodlands and vineyards, and winding through the vast Eel River Canyon.
Some small sections of the route have been in use as a pedestrian and cycling path for a few years, but it was thought making the entire length usable would likely take 20 years.
During a recent virtual town hall discussion attended by more than 1,000 citizens, North Coast State Senator Mike McGuire announced the North Coast Railroad Authority (NCRA) board of directors' decision to 'railbank' a significant section of the former railbed of the Northwestern Pacific Railroad between Humboldt and Mendocino Counties, bringing the trail one step closer to reality, according to an article in the Times-Standard (opens in new tab).
Essentially, railbanking allows for an out-of-service rail corridor to be used as a trail until the corridor is needed for rail service at some future time.
"Imagine a strip of land roughly 50 feet wide and running for 320 miles," said McGuire, asking the town hall participants to envision the sprawling proposed trail. "From the edge of the San Francisco Bay in Marin County through the vineyards of Sonoma County, showcasing the stunning beauty of Mendocino County through the redwood and oak-studded hills of the Eel River Canyon, and then you're going to end your hiking adventure on the fog-shrouded shores of Humboldt Bay."
While some segments of the multibillion dollar trail are already in use, its final completion is probably decades away. The next step, McGuire explained, will be the formation of a master plan, a 2- to 3-year process that will determine what the trail will look like in different places: paved bike paths in some sections, gravel and single-track in others.
The California Legislature formed the NCRA in 1989 to save the Northwestern Pacific Railroad from total abandonment. NCRA purchased the Eureka Southern in 1992 and leased the line to the newly formed North Coast Railroad, which operated until late 1996, when severe flooding of the Eel River led to widespread landslide damage and destruction of roadbed which remained unrepaired as of 2020.
The Northwestern Pacific Railroad still covers the 62 miles (100 km) stretch between the towns of Schellville and Windsor with freight and commuter trains. But it was formerly a regional railroad network that served the entire North Coast of California with a main line of 271 miles (436 km) from Schelleville to Eureka. Much of the defunct unused line is overgrown and in hazardous disrepair.
Financial disarray and legal troubles beginning before 2000 have caused the North Coast Rail Authority to fall out of favor with state officials and the public, who moved to replace the length of the former railroad with pedestrian trails. California's 2018 Great Redwood Trail Act includes detailed plans for investigating and resolving the Authority's debts, dissolving the NCRA, and converting its rights-of-way to a rail trail.
Working adjacent the NCRA is the Great Redwood Trail Alliance, a collection of individuals and organizations that support the Great Redwood Trail and its vision of connecting communities and providing world class recreation in Northern California. The Alliance is led by a steering committee that includes one individual representing each of the four counties the trail will run through. The steering committee manages the Great Redwood Trail Fund at Humboldt Area Foundation.
Along with providing a hiking and biking pathway through the scenic North Coast, McGuire said the trail will financially benefit the rural communities it passes through.
"It's going to become an incredible economic driver for all the rural communities, many of them economically depressed, that surround the trail," McGuire said in the town hall meeting. "California's outdoor recreational economy is one of the fastest-growing sectors in the Golden State. It generates over $93 billion a year, is responsible for nearly 700,000 jobs, over $30 billion in wages, and brings over $6 billion in tax revenues back to state and local communities."
Rails-to-Trails Conservancy (opens in new tab) regional director Laura Cohen confirmed the Great Redwood Trail will be the longest rail-trail in the United States.
"We know that that's going to be an incredible draw to people from all over," Cohen said. "The bottom line really is that trails attract visitors and visitors spend money and this is what we consistently find. A lot of towns recognize the value of this and want to market themselves as destinations and there are several programs in the country that basically help communities market themselves as trail destinations."
Brian is an award-winning journalist, photographer and podcaster who has written for Runner's World, The Times, Outside, Men's Journal, Trail Runner, Triathlete and Red Bulletin. He's also the author of several books, including Kicksology: The Hype, Science, Culture and Cool of Running Shoes. He lives in Boulder, Colorado, and loves to run, bike, hike, camp, ski and climb mountains. He has wear-tested more than 1,500 pairs of running shoes, completed four Ironman triathlons, as well as numerous marathons and ultra-distance running races.
All the latest inspiration, tips and guides to help you plan your next Advnture!
Thank you for signing up to Advnture. You will receive a verification email shortly.
There was a problem. Please refresh the page and try again.