Hottest month for more than 100 years at Death Valley
Hikers warned as extreme summer heat continues at popular national park destination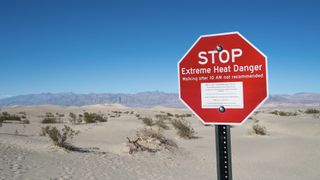 (Image credit: Getty Images)
Hikers are being warned of "extreme summer heat" in a national park already renowned for the world's hottest temperatures.
Death Valley National Park, located on the California and Nevada border, had the hottest June on record, with an average day/night temperature of 102.9°F. The previous record was beaten by 1.1°F.
The normal average June temperature is 95°F, for records extending back to 1912. Every June over the past decade has exceeded this average.
The latest heatwave peaked at 128°F in Death Valley on June 17, which broke the daily record by six degrees. Seven days in the month set new daily records for high temperatures.
Nights brought little relief from the heat. On June 29, the lowest temperature was 104°F at 3:00am.
The extreme heat warnings continue, with temperatures of 110F to 120F forecast this week.
Extreme heat and landscape in Death Valley
Death Valley's landscape is dramatic ranging from 282ft below sea level to 11,049ft above. Clear and dry air, as well as low plant coverage means there is little to block the sun from heating up the ground.
Heat radiates from the ground back into the air. Hot air rises, but is trapped by the steep mountains and recirculates to the valley floor, part of which is 282ft below sea level. The heating up cycles round and round to cause extreme temperatures.
Safety tips and warnings for hikers
Hikers and visitors come to the park to experience the heat and park rangers report it is possible to visit Death Valley safely in the summer. However, people should be cautious. It is advised that people drink plenty of water and carry extra (see: Water for hiking).
Hiking is not recommended after 10am and people should limit their heat exposure by not walking more than five minutes from an air-conditioned vehicle.
Drivers are advised to stay on paved roads, where vehicle recovery is possible in case of break down. There is no cell phone service in most of the vast park.
In the case of a heat-related illness, visitors are told to find a cool place and seek help as soon as possible. For more on this, see our guide to hiking injuries and ailments and check out What to wear hiking in hot weather.
The best time for hiking the Death Valley trails is in the cooler months of September to March.
All the latest inspiration, tips and guides to help you plan your next Advnture!
Fiona Russell is a widely published adventure journalist and blogger, who is better known as Fiona Outdoors. She is based in Scotland and is an all-round outdoors enthusiast with favourite activities including trail running, mountain walking, mountain biking, road cycling, triathlon and skiing, both downhill and back country. Her target for 2021 is to finish the final nine summits in her first round of all 282 Munros, the Scottish mountains of more than 3,000ft high. Aside from being outdoors, Fiona's biggest aim is to inspire others to enjoy the great outdoors, especially through her writing. She is also rarely seen without a running skort! Find out more at Fiona Outdoors (opens in new tab).