Covid-19 causes U.S. camping boom: expert advice to avoid the rush in 2021
It's not too early to book the best campsites for 2021. Our expert tips will help you secure a great camping spot next spring and summer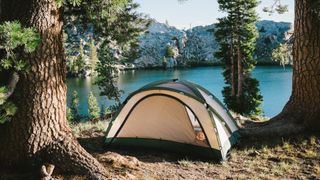 (Image credit: Getty)
If you're in the United States and thinking of a camping holiday for 2021, you should already be checking out the best campsites if you want to stay in a dreamy or popular location next spring and summer. We recommend you start searching for campsites to reserve soon or be willing to consider less popular camping areas (some of which are detailed in our guide to the least busy national parks).
Given the massive surge in camping activity across the U.S. in the summer and fall of 2020, national and state park reservations for spring and summer 2021 are expected to sell faster than ever before. While some U.S. national park and state park sites have been available to book without restrictions, thousands of campsites are continuing to become available on an ongoing basis daily.
Although year-end federal and state park visitation reports for 2020 won't be available for several months, there was an estimated 30 to 40 percent surge in camping during the peak summer season, according to various reports. Once the initial Covid-19 lockdown restrictions were lifted last May, many parks and public land agencies experienced an overwhelming volume of campers, backpackers and day hikers.
If you want to go camping, you'll need some shelter: our guide to the best tents will show you where to look
You'll also want to stay warm with the best sleeping bags
Aside from reservable sites in state parks, national parks and other federal properties, the first-come, first-served sites offered by the various park and land agencies – for example, the Bureau of Land Management (BLM) sites in Moab, Utah, and the U.S. Forest Service (USFS) throughout Colorado – were also gobbled up quickly in 2020. In some cases, communities were overrun by campers, hikers and mountain bikers disregarding land agency regulations.
"Yes, we had a very busy year," says Claire Comer, an interpretive specialist with Shenandoah National Park near Elkton, Virginia. "When Shenandoah National Park was dedicated, Franklin Roosevelt said 'we are dedicating this park to this and future generations for the recreation and the re-creation they will find here. And it has never been truer than it was this year."
Even though the pandemic is still raging in the U.S., the surge in camping popularity is expected to continue through 2021. That likely means popular campgrounds in the most popular National Parks Service properties available through recreation.gov – including Grand Canyon National Park, Rocky Mountain National Park, Zion National Park, Great Smoky Mountains National Park and Blue Ridge Parkway – will be harder than ever to come by. However, a quick recent search revealed a handful of springtime sites are still available at each of those properties.
Some national and state parks in the U.S. have been temporarily closed or have had reduced availability due to the Covid-19 pandemic or wildfire damage and will continue to operate on a limited basis for the foreseeable future. Many parks, including Yosemite National Park, have eliminated first-come, first-serve availability and are requiring reservations for everyone who will be camping in 2021.
Many popular US national park campgrounds – such as the North Rim Campground in Grand Canyon National Park – already have limited availability for the spring, though new dates are becoming available on a rolling basis. Dates for many reservable campsites in national parks and other federal land agencies are being released for registration up to six months in advance at recreation.gov and through various state registration portals. The federal and state reservations systems are expected to be especially busy beginning November 28 because that corresponds the six-month lead time into the popular Memorial Day Weekend.
However, there are ways to book slightly in advance on some state reservation sites. For example, at reservecalifornia.com, you can avoid the reservation crush for in-demand sites during a popular holiday period, like Memorial Day Weekend, by booking extra days in advance and continuing your reservation into your desired timeframe.
How far in advance can you book an extended campsite? "It depends on the park and the maximum days the public can stay at a park," said Jorge Moreno, an information officer at California State Parks told the San Francisco Chronicle.
For instance, you could book your campsite a day or two early, on November 26 (and reserve for May 26, a Wednesday) or November 27 (for May 27, a Thursday) and then continue the reservation through Memorial Day Weekend, May 28-31. That's one way to beat the odds and the surge of traffic the morning reservations open and snag the campsite of your dreams.
For Fourth of July weekend, make your reservations on January 2 for Friday, July 2, and extend your booking through the weekend. For Labor Day weekend, plan to book on March 3 for Friday, September 3, and extend your reservation through the night of September 5.
If you miss out on the epic spots that everyone covets, don't lose hope. Instead, consider a less popular park for your camping adventures. For example, a quick search shows some springtime availability at Pinon Flats Campground at Colorado's Great Sand Dunes National Park & Preserve and Gorge Lake Campground in Washington's North Cascades National Park.
Keep searching
Don't give up. There are always places to camp, even if you have to change your variables a bit. You might have to settle for whatever dates are available, pick a different location, consider a mid-week camping trip or just venture to a remote area.
For starters, be relentless with your search engine sleuthing skills. For example, many campsites at Virginia's Shenandoah National Park won't become available for spring reservations until after January 1, but there are currently spring spots available at the Dundo Group Campground. Also, Seawall Campground and Schoodic Woods Campground in Acadia National Park are only available to reserve three months in advance beginning on March 15.
Also, backcountry sites at many national parks are not able to be reserved through recreation.gov. Instead, many of the parks with backcountry campsites – including Grand Canyon National Park, Rocky Mountain National Park and Teton National Park – accept and vet out applications through their backcountry offices. (The deadline to apply for the Grand Canyon National Park backcountry sites are December 1 for April 2021 dates and January 1 for May 2021 dates. But you can only apply by sending a fax – that's right, a fax! – with all of your information and possible dates requests to 928-638-2125.)
Lastly, seek out the less popular state parks in your region or consider BLM, US Forest service sites or private campgrounds. For first-come, first-served sites, plan on showing up at least a day earlier than you might have in the past.
"It seems like this year, because of Covid, everyone wanted to get away and go camping," says Steve Hughes, a Denver-area resident who camped in his adventure van numerous times in 2020. "It was crazy how crowded some places were and how hard it was to find campsites. The first-come, first-serve sites were booked by Wednesday night or early Thursday instead of Friday afternoons as in previous years. Campsites were a lot harder to find this year, but it wasn't impossible."
Canadian camping reservations on hold
Meanwhile, Parks Canada is postponing the opening of its reservation system for summer 2021 bookings until early April in light of the uncertainty brought by the Covid-19 pandemic. Reservations for summer bookings at national parks, historic sites and marine conservation areas managed by Parks Canada typically open in January, but the agency decided to delay the launch so visitors can make plans and bookings based on more up-to-date restrictions and guidance.
"It will also provide Parks Canada additional time to monitor the ongoing Covid-19 pandemic and make any necessary changes to the campsites and experiences that can be reserved for the 2021 visitor season," the Parks Canada said in a statement.
The opening of reservations will be staggered throughout April. Visitors will be able to make bookings for dates between May 2021 and March 2022.
For Canadian national parks where winter camping is available, visitors can currently make reservations through the end of March. April bookings for winter camping and early spring sites can be made as of December 16.
All the latest inspiration, tips and guides to help you plan your next Advnture!
Brian is an award-winning journalist, photographer and podcaster who has written for Runner's World, The Times, Outside, Men's Journal, Trail Runner, Triathlete and Red Bulletin. He's also the author of several books, including Kicksology: The Hype, Science, Culture and Cool of Running Shoes. He lives in Boulder, Colorado, and loves to run, bike, hike, camp, ski and climb mountains. He has wear-tested more than 1,500 pairs of running shoes, completed four Ironman triathlons, as well as numerous marathons and ultra-distance running races.