Hiker spends 24 hours on Colorado peak because he didn't recognize calls from rescue team
By Julia Clarke
A man who spent 24 hours on Colorado's highest peak eluded his own rescue team because they called from an unknown number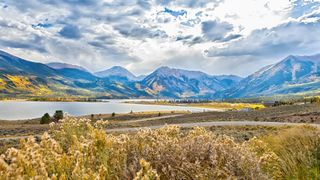 (Image credit: Ruth Peterkin)
A hiker who spent 24 hours on Mount Elbert, a 14er in Colorado, eluded his own rescue by ignoring calls from search and rescue because he didn't recognize the number.
The man, whose name has not been released, had set out for Colorado's highest peak from the South Trailhead at 9 am on October 18 when he lost the trail around nightfall. He was reported missing to Lake County search and rescue after failing to return to his lodging and a team of five were dispatched at around 10 pm to search for him. The team repeatedly called and sent text messages, all with no response, and searched "high probability areas" until 3 am but failed to locate the hiker.
The following morning at 7 am the team resumed their search but learned a couple of hours later that the man had arrived safely at his lodging around 9:30 am. According to an official statement by Lake County search and rescue, the man "spent the night searching for the trail, and once on the trail, bounced around onto different trails trying to locate the proper trailhead, finally reaching their car the next morning, approximately 24 hours after they'd started their hike."
When asked why he hadn't responded to calls and texts, the man advised that he had ignored the calls because he hadn't recognized the number. The SAR team appealed to hikers to not only follow basic mountain safety, but to answer their phone if lost.
"If you're overdue according to your itinerary, and you start getting repeated calls from an unknown number, please answer he phone; it may be an SAR team trying to confirm you're safe!"
Mount Elbert is the highest summit of the Rocky Mountains at 14,438ft above sea level and the highest 14er in Colorado. Though the trail to the summit is relatively easy, making it a popular hike near Denver, at this time of year the trail above treeline is obscured by snow.
All hikers are reminded to advise others of their plans, carry navigational tools like a map and compass and consider a sturdy smartphone that will hold up to alpine conditions in case of an emergency.
Find out what happened we did our best to break the supposedly outdoors-proof Motorola Defy...
Julia Clarke is a staff writer for Adventure.com. She is an author, mountain enthusiast and yoga teacher who loves heading uphill on foot, ski, bike and belay. She recently returned to her hometown of Glasgow, Scotland after 20 years living in the USA, 11 of which were spent in the rocky mountains of Vail, Colorado where she owned a boutique yoga studio and explored the west's famous peaks and rivers. She is a champion for enjoying the outdoors sustainably as well as maintaining balance through rest and meditation, which she explores in her book Restorative Yoga for Beginners, a beginner's path to healing with deep relaxation. She enjoys writing about the outdoors, yoga, wellness and travel. In her previous lives, she has also been a radio presenter, music promoter, university teacher and winemaker.
All the latest inspiration, tips and guides to help you plan your next Advnture!
Thank you for signing up to Advnture. You will receive a verification email shortly.
There was a problem. Please refresh the page and try again.