New River Gorge named America's newest National Park
West Virginia's New River Gorge has been upgraded from National River to National Park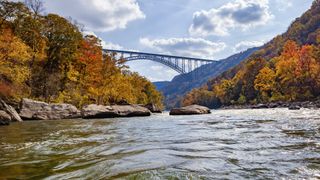 (Image credit: Getty Images)
The New River is one of the oldest rivers in North America, and since 1978 has been protected as one of America's four National Rivers. It has now been officially named a US National Park as part of the Covid-19 stimulus package, making it the 63rd National Park in the US.
Located in the Appalachian Mountains in southern West Virginia, the park will cover 703,000 acres of land along 53 miles of the New River, from Bluestone Dam to Hawk's Nest Lake. The gorge itself is also the largest found in the Appalachian Mountains.
Contained within the New River Gorge National Park are 1000-feet high walls, creating 1500 climbing routes, as well as a 12.8 mile trail route for mountain biking and hiking, created by the Boy Scouts. The river also provides the perfect settings for both experienced and beginner rafters.
Congress has redesignated New River Gorge National River as New River Gorge National Park and Preserve. This new name better highlights the park's outstanding qualities and traditional recreational opportunities, as well as allows for access expansion. https://t.co/fcoFhovaL5 pic.twitter.com/8hh8Thap7vJanuary 21, 2021
Of the 73,000 acres of the park, 7,021 acres will form around the heart of the gorge, with already developed trailheads and a visitor centre welcoming tourists. The remaining acres will be designated a national preserve to allow for backcountry hunting.
"The visitor will be confronted with spectacular scenery that certainly makes this place worthy of being included in our national park system," say the the National Park Service.
"Being a National Park is a gold stamp of approval and excellence," US Senator Shelley Capito said in a press conference.
"People are coming here from places that are busy and congested, and I think they appreciate that quiet," Capito adds. "When you get down into the gorge, you're removed from what's going on in modern America. And it's very unspoiled. We call West Virginia 'wild' and 'wonderful,' and this certainly is."
Park Superintendent Lizzie Watts also echoed the importance of achieving National Park status: "It does state we are one of the more significant natural resources. When you become a National Park you're one of the more significant areas in the country."
There has been some opposition to the new status, with fears of overcrowding that National Park status creates, as well as the protest of the loss of hunting grounds within the park. However, the designation of the park has been largely welcomed, due to being afforded the highest level of protection.
"It brings me great joy to know that the rivers, forests, lakes, and canyons will forever be protected and preserved," says Roger Wilson, CEO of Adventures on the Gorge, one of the largest rafting companies operating inside what will be the newly anointed park.
All the latest inspiration, tips and guides to help you plan your next Advnture!