Hikers use turbans to save man from drowning in a dangerous rockpool
By Julia Clarke published
Five men made a rope from their turbans to haul a hiker to safety who had slipped and fallen into a waterfall pool at a popular British Columbia hiking spot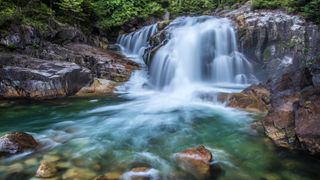 (Image credit: P_L_photography)
Five hikers used their turbans to save a man from drowning in a dangerous waterfall pool in Golden Ears Provincial Park in British Columbia, Canada.
According to local news sources, Ridge Meadows Search and Rescue received a call that two hikers were in trouble at Lower Gold Creek Falls, a popular hiking spot in the Park. One of the hikers had slipped and fallen into a pool above the waterfall and was unable to get out.
Before Search and Rescue arrived on scene, however, five Sikh men came across the distressed hiker and quickly devised a plan to tie their turbans together and fashion a long rope to haul him out. Together, the quick-thinking men were soon able to pull the barefoot hiker to safety as seen in a video of the rescue which has gone viral.
One of the rescuers, Kuljinder Kinda, told NBC News that the Sikh principle of helping others, known as "sewa", was more important than the tenet that Sikh men should not remove their turbans in public.
"In Sikhi, we are taught to help someone in any way we can with anything we have, even our turban," Kinda said.
Five hikers used their turbans to save two men who unexpectedly fell into a pool below a waterfall."In Sikhi, we are taught to help someone in any way we can with anything we have, even our turban," Kuljinder Kinda said.https://t.co/qPU4iF4PvwOctober 24, 2021
Lower Falls leads hikers to Gold Creek Falls via a wide and easy trail, however hiking boots are recommended for this trail due to the steep descent as you get closer to the falls. Search and Rescue manager Richard Laing told NBC News that the rock face leading down to the water is steep and slick and there are signs advising hikers to stay away from the edge.
"The rocks there are quite slick and it can be really difficult to get back out of it, especially if you are wet and cold," said Laing. "So, they were fortunate that these five young men happened by and were able to get him out and back up to the trail."
In addition to drowning, Laing added that hypothermia was a major risk for the hiker, as well as injuries sustained by being swept over the falls, where several people have been killed or injured in recent years. Trail users should be aware of trail etiquette in particular regarding the dangers of hiking.
Julia Clarke is a staff writer for Adventure.com. She is an author, mountain enthusiast and yoga teacher who loves heading uphill on foot, ski, bike and belay. She recently returned to her hometown of Glasgow, Scotland after 20 years living in the USA, 11 of which were spent in the rocky mountains of Vail, Colorado where she owned a boutique yoga studio and explored the west's famous peaks and rivers. She is a champion for enjoying the outdoors sustainably as well as maintaining balance through rest and meditation, which she explores in her book Restorative Yoga for Beginners, a beginner's path to healing with deep relaxation. She enjoys writing about the outdoors, yoga, wellness and travel. In her previous lives, she has also been a radio presenter, music promoter, university teacher and winemaker.
All the latest inspiration, tips and guides to help you plan your next Advnture!
Thank you for signing up to Advnture. You will receive a verification email shortly.
There was a problem. Please refresh the page and try again.