Suunto unveils new 9 Peak sports watch
Battery longevity, watch size and weight plus several other new features come with latest running and hiking gadget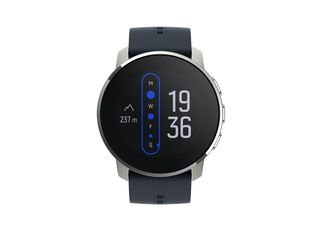 (Image credit: Suunto)
Battery longevity has been a strong focus of the best GPS watches in recent times. As technology improves and the battery size reduces, of course, the brands are keen to include "better and longer" in their gadgets.
In addition, the likes of Suunto and Garmin have spotted a trend from consumers who are running, hiking and cycling longer distances. Ultra runners, in particular, require a sports watch that can tell them distance covered, pace, direction, elevation and heart rate etc, while also staying charged for the length of a long training session or race.
Suunto's newest product, the Suunto 9 Peak, provides up to 170 hours of GPS battery life in "Tour mode". A firmware upgrade in March updated all Suunto 9 sport watches, including the Suunto 9 Baro, to have the Tour mode, which means you can utilise turn-by-turn navigation (powered by Komoot) and still have the benefit of a long battery charge.
Note, this is not mapping navigation, as with other Suunto and Garmin watches, although you are able to follow routes, see your points of interest and the breadcrumb trail on the watch screen in relation to your own location. In general terms, it's the use of GPS mapping that drains a battery.
Furthermore, the Suunto 9 Peak is claimed as being the brand's "thinnest, smallest and toughest watch". Compared to the Suunto 9 Baro, the Suunto 9 Peak is 37% thinner and 36% lighter and "designed to fit under a sleeve and not to catch on clothing or packs".
Another innovative feature is the "Snap to Route" functionality, which means GPS tracks will be perfectly aligned to planned routes and also the pacing and distance data will match that of a course. This could be useful when using the watch when GPS signal is poor.
More features of new Suunto 9 Peak watch
Suunto reveals the watch also offers wearers a blood oxygen measurement, via an SpO2 sensor, which is another on-trend feature.
Many more people now understand the connection between blood oxygen levels and good health, because of the Covid pandemic.
Sports people have long been interested in the wellness indicator of the amount of oxygen that our red blood cells are carrying around our body. If levels dip too low, you can become unwell or it is an indicator that you have not recovered sufficiently from a hard training session.
Suunto suggest that the blood oxygen level sensor is most useful for determining an athlete's acclimation levels at higher altitudes. Note that the sensor may well be questioned by medical experts, especially as it is generally accepted that the better way to track blood oxygen levels is with a pulse oximetre.
The Suunto 9 Peak comes with all of the industry leading features the Suunto 9 family is known for, such as 80-plus sport modes, including those for running, hiking, mountain biking, skiing and swimming; customisable screens to show the most relevant data for your exercise; an "intelligent battery management system"; wrist-based heart rate monitoring; weather insights; and navigation capabilities.
Other details include: A fully charged battery in an hour; integration with the Suunto app; double speed syncing between watch and app thanks to Suunto's "Bluetooth 5"; and barometric altitude. More new features of the 9 Peak are adaptive screen brightness and over-the-air update.
Technical details:
Weight: Titanium version 52g including strap; steel version 62g with strap.
Size: Diameter 43mm, depth 10.6mm.
The Suunto 9 Peak is available for order from May 26 and will be on sale from June 17 in the two styles with four nature-inspired colours: Granite Blue Titanium and Birch White Titanium, made with sapphire glass and grade 5 titanium at $699 (£629) and All Black and Moss Gray, made with sapphire glass and stainless steel at $569 (£519). See Suunto.com (opens in new tab).
All the latest inspiration, tips and guides to help you plan your next Advnture!
Fiona Russell is a widely published adventure journalist and blogger, who is better known as Fiona Outdoors. She is based in Scotland and is an all-round outdoors enthusiast with favourite activities including trail running, mountain walking, mountain biking, road cycling, triathlon and skiing, both downhill and back country. Her target for 2021 is to finish the final nine summits in her first round of all 282 Munros, the Scottish mountains of more than 3,000ft high. Aside from being outdoors, Fiona's biggest aim is to inspire others to enjoy the great outdoors, especially through her writing. She is also rarely seen without a running skort! Find out more at Fiona Outdoors (opens in new tab).
All the latest inspiration, tips and guides to help you plan your next Advnture!
Thank you for signing up to Advnture. You will receive a verification email shortly.
There was a problem. Please refresh the page and try again.