Vango releases new product range made from recycled plastic bottles
By Pat Kinsella
Vango's new Earth Collection is a range of sleeping bags, furniture and backpacks created from a revolutionary new material made from rescued single-use plastics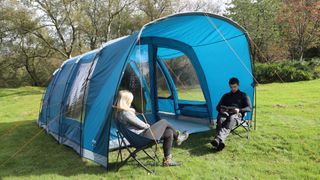 (Image credit: Vango)
Popular camping brand Vango has begun putting landfill-destined rubbish to a very novel use – they have designed and produced a whole range of tents, sleeping bags, camping furniture (including camping chairs) and backpacks made entirely from recycled single-use plastic.
The just-released Earth Collection is all made from newly developed Sentinel Eco fabric – a revolutionary material created 100% from rescued PET single-use plastics, widely used in water bottles.
The process sees the plastic made into pellets and then spun into a thread. This thread is then woven into a fabric, which Vango have turned into tents, sleeping bags, camping chairs and backpacks. Genius.
And, whereas clothing such as fleece jackets made from recycled plastic remain problematic – because they shed microfibres into the ecosystem every time they are washed – this isn't an issue with furniture, tents and packs, because they're washed far more rarely, and not in the same way.
The 2021 Earth Collection features both AirBeam and poled tents, ranging from the Osiris 500, a 5-person poled tent, to the palatial Vango Joro Air 600XL, which has a large living space as well as a queen-sized, 'Nightfall' main bedroom inner tent.
Though recycled, Sentinel Eco Fabric remains high-performing. The 70D weather-resistant fabric flysheets have a hydrostatic head rating of 3000mm, which means they a highly waterproof, while the inners feature fully taped seams, so you have no fear of groundwater finding its way in.
Beyond tents, the collection includes two ranges of sleeping bag, the Evolve and the Era (which is available as a double), plus several chairs – such as the Osiris arm chair and the Joro bucket-style chair – and the Mica backpack, available in 20L and 25L sizes.
You can browse the entire Earth Collection on the Vango website.
In total, it is forecast that some 300,000 discarded plastic bottles will be retrieved and repurposed in the first year of the collaboration between one of Britain's leading camping and outdoor equipment brands and Europe's largest conservation charity.
The sleeping bags in the National Trust collection feature a 100% recycled filling made from used plastic bottles that are reprocessed and turned into a polyester fill. Both the tents and sleeping bags are adorned with an iconic oak-leaf print, synonymous with the National Trust's logo.
"We are delighted to have collaborated with Vango on this eco-friendly collection," said Clare Brown, head of brand licensing and retailer development for the National Trust. "We know that the more connected people feel with nature the more likely they are to care for it. Camping is probably the closest anyone can get to nature, therefore this collaboration was an obvious one for us.
"Alongside offering supporters the chance to buy these tents for their own adventures, we are also setting up pre-pitch camping options in some of our National Trust tent campsites. These include Wasdale in the Lake District, Dolaucothi in Wales – the location of the only gold mine in the Trust's care – and Highertown Farm in Cornwall."
All the latest inspiration, tips and guides to help you plan your next Advnture!
Thank you for signing up to Advnture. You will receive a verification email shortly.
There was a problem. Please refresh the page and try again.