How dope dyeing is making your outdoor gear more sustainable
We take a look at what dope dyeing is, and how it's getting us one step closer to reducing our carbon footprint while we adventure outdoors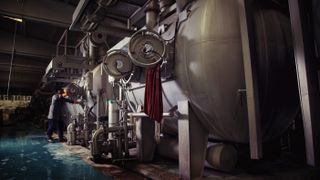 (Image credit: baytunc)
The colorways of outdoor clothing have gone a little wild in recent years. I test outdoor gear for a living and lately I've spotted ski jackets and hiking pants coming in baffling colors like Bungee Cord, Bipartisan Brown and Gull and Marmalade – the latter sounding like something that would definitely wreck a good day at the beach. Sure, they're fun, but the dyeing process that creates these soft pastels and psychedelic fluorescents is one of the biggest offenders when it comes to the carbon footprint of outdoor gear.
Alongside the fashion industry, the outdoors industry leaves a significant carbon footprint on the environment, and one of the biggest problems is synthetic dyeing, which accounts for a substantial portion of the water consumption generated by the textile industry. Basically, synthetic dyes typically used to create the eye-catching gear we love to hike and run the trails in are toxic. Massive amounts end up in our water supplies, even turning Asian rivers black and have a significant impact on aquatic microorganisms, according to a 2022 review on the subject.
That's why, when I was recently testing out the new GORE-TEX membrane, I was pleased to hear that the company is now using dope dying, a different method of coloring their fabrics, which go into hiking boots and clothing manufactured by dozens of top outdoor brands around the globe. Let's take a look at what dope dyeing is, and how it's getting us one step closer to reducing our carbon footprint while we adventure outdoors.
What is the difference between dope dyed and piece dyed?
The difference between dope dying and piece dying comes down to which stage in the production process the coloring occurs, and how it is done. In piece dyeing, or traditional dyeing, undyed yarn is first woven into a fabric, then that entire sheet of fabric is dyed using so-called dye baths using large amounts of water and lots of rinsing.
With dope dying, the yarn is colored during its manufacturing process, which involves blending polymer with a colorant then heating and stretching it to create a colored yarn that is then woven or knitted to create the fabric. The finished piece, therefore, is already colored upon construction with no traditional dying required.
What are the advantages of dope dyeing?
There are three chief advantages of dope dying over conventional dyeing:
1. It uses less resources
In terms of resources, dope dyeing requires zero water during the coloring process. Water is a limited resource and the methods of sourcing, treating and transporting water for industrial manufacturing all impact carbon emissions. Additionally, the dope dyeing process requires fewer chemicals, which further reduces its environmental impact according to one 2022 academic review.
2. It's more efficient
Besides utilizing less resources in production, the entire process of dope dyeing is faster and more efficient, because there's no additional coloring process required at the end of production, which means from start to finish that it uses less energy, further reducing the carbon footprint. By comparison, piece dying is energy intensive and uses massive amounts more dye than ends up on clothes, with most of it ending up in the world's water sources instead.
3. It has staying power
Dope dying produces a durable color, which doesn't fade even after you've washed that waterproof jacket for the millionth time. The means you'll be happier with your garment, and less likely to replace it, which again reduces the environmental impact.
Is dope dye sustainable?
Dope dyeing uses less resources and energy, and lasts longer, all of which points to a more sustainable production process, but can we actually call it sustainable, or is this yet more greenwashing?
Certainly, by the metrics of resources used, energy consumed and lifespan of a product, you can tentatively say that a jacket made with dope dyed yarn is more sustainable than one dyed after the fabric has been produced – assuming the manufacturers aren't changing any other elements of production.
That said, it's important to note that dope dyed yarn is by nature a synthetic structure, made using plastics. That dope-dyed jacket in your closet is still made from synthetic fabrics that don't biodegrade, meaning at the end of their life cycle, they become permanent waste in the giant landfill we call Planet Earth.
The most sustainable method would obviously be to make clothing made using natural materials that aren't dyed at all, but that of course means sacrificing the joys of hiking 14ers in hues of Quantum Mauve and Triple Espresso. Since we doubt that everyone is ready to give up colorful clothing and explore the wild in shades of Granny Pants Gray and Boring Beige, probably the best we can say is that dope dyeing is a big step in the right direction.
All the latest inspiration, tips and guides to help you plan your next Advnture!
Julia Clarke is a staff writer for Advnture.com and the author of the book Restorative Yoga for Beginners. She loves to explore mountains on foot, bike, skis and belay and then recover on the the yoga mat. Julia graduated with a degree in journalism in 2004 and spent eight years working as a radio presenter in Kansas City, Vermont, Boston and New York City before discovering the joys of the Rocky Mountains. She then detoured west to Colorado and enjoyed 11 years teaching yoga in Vail before returning to her hometown of Glasgow, Scotland in 2020 to focus on family and writing.