"It's better to buy once, and buy well" – pro tips for extending the life of your gear
We speak to the vice president of Arc'teryx's circularity program to find out how you can keep your gear out of the landfill for longer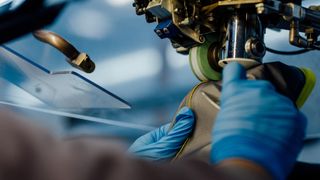 (Image credit: Arc'Teryx)
On a sunny afternoon in lively Chamonix village, the folks at the ReBIRD stall are busily working behind their sewing machines, mending Gore-Tex gear that's been well loved in the mountains. A man named Mathieu, from Lyons, presents a waterproof jacket that's seen better days – the zipper is broken and there's a slash across the chest that he says is from the edges of his skis, or maybe his ice axe, he can't remember. He hands the jacket over to a gear pro who will revive it so it can go back in his closet for more adventures, then disappears into the throng to watch the bouldering comp.
"Arc'teryx is truly leaning into the circular economy, and embedding circularity into the heart of what we do. We've always been known for creating durable, long-lasting products, but through the ReBIRD platform we're making it easier than ever for our guests to keep their gear in play," says Dominique Showers, Vice President of ReBIRD.
Refreshing gear that might otherwise end up in the landfill is at the heart of what ReBIRD, Arc'teryx's circularity program, has been doing since 2021. Like several leading outdoor brands seeking to offset the impact of their manufacturing on the environment, Arc'teryx launched the program to help extend the life of their gear. Hikers and mountaineers tend to put their gear under a lot more duress than street clothing, and as a result, research shows that nature sport participants had the highest carbon emission levels.
To help curb the collateral damage of manufacturing, ReBIRD takes back salvageable used gear online, cleans and mends it and sells it on at a discounted price. Consumers can easily find all the information they need to look after their gear on their ReCARE hub – from step-by-step re-waterproofing guides, to understanding how to wash down products. They also moonlight at the Arc'teryx Academy, a series of mountaineering events such as the one at Chamonix, where they'll offer on-site services for free.
Their work is one part of a larger puzzle that really involves you, the consumer, helping to solve the problem of enjoying the outdoors without accidentally destroying it. Here's Showers' advice on what we can do to ensure our best gear, from rain pants to down jackets, stays out of the landfill, and it all begins at the point of purchase.
1. Consider used gear
Buying a new fleece or ski jacket is always cause for excitement, but just because you need a piece of gear doesn't mean you actually have to get it fresh off the production line, says Showers.
"When considering any new purchase, the first question to ask would be – do I need to buy new? Can I fix up an existing item? Can I buy second-hand? Good gear, well-cared for, can last much longer than a single user, so it's always worth seeking out used gear."
Much like buying a used car, if you're willing to put in a little effort, you can get something really good at a significant discount. If you're new to the world of buying used gear, check out our tips in our article on how to shop for second hand outdoor gear and win.
2. Invest in quality
If you do need to buy new gear, then Showers advises you invest in well-made and durable gear rather than skipping on quality for a more budget-friendly option, which turns out to be a false economy.
"It's better to buy once, and buy well, than to seek out short-term options which need replacing every season."
Spending more money up front might seem daunting, but in the long run, so long as you choose your gear well, you'll actually save money, which is good news for your wallet and the planet.
3. Love your gear
Obviously you love your best gear, but you want to love it with your actions and not just your heart. Once you've bought that new jacket, make a commitment to taking really great care of it.
"We know that the bulk of the climate impact in the life of a jacket comes during manufacturing and end-of-life periods, so the longer we can keep gear in play, the better."
You might assume that this involves arduous tasks such as darning your hiking socks and replacing zippers yourself, and sometimes that's the case, but oftentimes, it's much simpler than that – keeping your gear clean, for example.
"Sweat and oils from your skin can degrade the fabric and cause it to delaminate, so don't be afraid to wash it. Lots of people are scared of washing technical gear, but it's a simple process."
Showers recommends using technical wash like Nikwax, or unscented detergent, to clean your gear after every few uses. The same goes for cleaning your hiking boots after each walk, and knowing when and how to wash a sleeping bag and other camping gear.
"Keeping up this simple routine will have a huge impact on the lifespan of your clothes," promises Showers.
4. Re-proof
Of all the perfectly good gear that ends up in the landfill, waterproof clothing is probably top of the list. Showers explains that waterproof jackets and rain pants are coated with a waterproofing product called DWR, which causes water to bead off rather than pooling on the surface. Over time, DWR starts to wear out, and the water stops beading off, which misleads a lot of consumers into thinking it's time to replace their clothes, but Shower has great news for those of us who live in rainy climates.
"Lots of people assume this means that the products are no longer waterproof, but the membrane is still totally intact! To restore that satisfying beading effect, just wash your jacket, reapply DWR and throw it in the dryer or use a hairdryer to activate. Your jacket will be back to its beady, crunchy best – just like new."
For full instructions, read our article on how to waterproof a jacket, and plan on keeping yours around for the long haul.
5. Recycle
Though the goal is to keep your gear going for years, or even decades, at some point it may have completed its journey and have one too many rips from good adventures. To be sure, Showers recommends taking it into the store and having the professionals determine whether you're looking at small issues or functional end-of-life problems.
If it has indeed reached the end of its life, you can recycle some outdoor gear, though it's sadly not as easy as dropping your plastic milk bottles and aluminum cans off at the recycling center.
Arc'teryx will take select items and reward you with an in-store credit, then refurbish your gear and sell it on at a reduced price. Garmin's Product Recycling Program will take back old GPS watches. Nike has a takeback program for well-worn running shoes. Searching for what you want to recycle and the name of your town will most likely reveal local gear stores that can help. With a few keystrokes and a little effort, you can keep your gear out of the landfill, and help the planet you love exploring.
All the latest inspiration, tips and guides to help you plan your next Advnture!
Julia Clarke is a staff writer for Advnture.com and the author of the book Restorative Yoga for Beginners. She loves to explore mountains on foot, bike, skis and belay and then recover on the the yoga mat. Julia graduated with a degree in journalism in 2004 and spent eight years working as a radio presenter in Kansas City, Vermont, Boston and New York City before discovering the joys of the Rocky Mountains. She then detoured west to Colorado and enjoyed 11 years teaching yoga in Vail before returning to her hometown of Glasgow, Scotland in 2020 to focus on family and writing.