The 11 best National Parks for backpacking
The 11 best National Parks for backpacking offer a multitude of wilderness escapes from crowded paths into remote interiors and across long, serpentine trails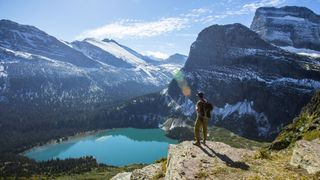 (Image credit: Jordan Siemens)
America's National Parks easily offer some of the most magnificent hiking terrain on the planet, and for that reason, they're not always the quietest of places. That's why we've outlined lots of crafty guides for escaping the crowds at National parks, such as the 15 least crowded National Parks and the best National Parks to visit in winter. For those of you with strong legs and a keen sense of adventure, we've now compiled this list of the best National Parks for backpacking, where you can escape the most popular trails and enjoy some of the most wild and wonderful sights anywhere.
The best National Parks for backpacking take you from lush coastal rainforests and world-famous canyons to one of the highest peaks in the country. Some are easily accessible by road while others are extremely remote. Backpacking in National Parks always requires a wilderness or backcountry camping permit, and the process for this varies according to the park, so it's best to check ahead and plan your trip well in advance to avoid disappointment.
Each park on our list has abundant backpacking opportunities, from linking up shorter day hikes as you travel between different campsites to epic treks along serpentine long trails, and while we've noted some of the most spectacular trails in each park, there are plenty more to choose from. Dust off your sturdiest hiking boots, load up your best backpack and lightest tent, and check out the best National Parks for backpacking.
1. Olympic, Washington
Few if any of America's National Parks offer as diverse a landscape as Washington's Olympic National Park, which protects a vast wilderness on the Olympic Peninsula and boasts three distinct ecosystems. Olympic National Park has four regions each with a distinct flavor. To the west are temperate old-growth rainforests, and to the drier eastern side are pine forests. The Pacific coastline region protects 70 miles of rocky shoreline and the alpine area has high snow-capped peaks offering views of the Olympic interior.
There are few roads in the park's interior and the best way to discover it is on one of their heart-stopping wilderness trails. In the southwest portion of the park, the Hoh River trail is a 34-mile out-and-back canopied trail that winds along the river from the visitor center all the way to Glacier Meadows and you can experience abundant giant ferns and moss thanks to the 12 feet of rain this area receives on average each year.
For rugged beaches and rocky cliffs framed by coastal forest, head to the Olympic coast where you can hike for miles. It's about 20 miles from Shi Shi Beach to Rialto Beach, one of the most iconic – and photographed – spots in the park, where you'll find a rocky shoreline, glistening rock pools and rugged sea stacks. You'll need to be prepared for beach camping and understand how to read a tide chart, but there are few experiences on the planet quite like hiking this trail.
2. Sequoia and Kings Canyon, California
Sequoia and Kings Canyon National Park has a lot to boast about. Nestled in the Sierra Nevada mountain range, it is home to the tallest mountain in the contiguous United States, Mount Whitney, as well as the largest tree on earth. The vast majority of this park is wilderness and the only way to explore it is on foot. With over 800 miles of hiking trails, you won't be disappointed whether you're seeking high alpine wonders or lush treks through deep canyons.
The High Sierra Trail is a 72-mile trail covering the highest elevation in the park – and in fact, the Sierra Nevada – and takes you over the Great Western Divide to the Kern River drainage and to the summit of Mount Whitney. If that isn't enough for you, it eventually connects to the John Muir Trail and the Pacific Crest Trail so you can keep going for months of the backpacking bug really bites you.
3. Yosemite, California
At the heart of Yosemite National Park, Yosemite Valley cuts 3,500ft deep into the earth and is walled by massive granite summits like El Capitan and Half Dome. Yosemite sits on the western slope of the Sierra Nevada mountain range in California, so it boasts plentiful high country, but most of the park's main attractions lie deep in two valleys carved out by Tuolumne River, which leads to the gorgeous Tuolumne meadow at the foot of the El Capital, and the Merced River which forms Yosemite Valley. Its tributaries are responsible for plunging waterfalls like Yosemite and Bridalveil.
Incredibly, all of this is just a four-hour drive from San Francisco, which explains why it's also one of the busiest National Parks in the country. However, the majority of the visitors are down in the valley and you can escape the crowds with a backpacking permit and head on a multitude of exhilarating adventures. Hike Half Dome or walk on part of the John Muir Trail or the Pacific Crest Trail, both of which run through the park. You can also head up to the high country from Tuolumne Meadows or, for the best views of the park's main features without the crowds, hike south from Tioga Road.
4. Glacier, Montana
With over 700 miles of hiking trails and 65 backcountry campgrounds, Glacier National Park offers stupendous backpacking, from vast, glacier carved valleys to rugged peaks. Glacier covers over 1500 square miles of largely untouched wilderness where native species of plants and animals thrive, including 700 lakes and hundreds of waterfalls. Set in Montana's Rocky Mountains all the way up at the northern border, and surrounded on all sides by National Forests, Indian reservations and Canada's Waterton National Park, Glacier is a true paradise for anyone seeking solitude in the wilderness, and awesome wildlife viewing from imposing grizzly bears to timid mountain goats.
If it's wildlife sightings you're after, head for the epic 65-mile North Circle Loop, which takes in some of the park's best features including the Highline Trail, Stoney Indian Pass, the Ptarmigan Wall and Ptarmigan Tunnel, the Many Glacier area and Piegan Pass. For a shorter adventure, Gunsight Pass is only 20 miles but delivers glaciers, snowfields, crossing the suspension bridge of St Mary river and of course, views for days.
5. Grand Canyon, Arizona
Grand Canyon National Park is 277 miles long and up to 18 miles wide, making it one of the biggest canyons in the world. It is located in Arizona and is about a three-and-a-half hour drive from Phoenix, four-and-a-half from Las Vegas. This iconic spot is easily one of the most photographed places in the world, but there's nothing quite like standing on the canyon rim and taking it all in with your own eyes. The canyon was carved by the Colorado River on its journey from the Rockies to the Gulf of California, though at over a mile deep you can rarely see it. You can, however, hike down to it, which is a serious – but unforgettable – endeavor.
The Bright Angel Trail begins just west of the Bright Angel Lodge and descends 4,380ft to the river over ten miles of desert hiking with an average grade of 10%, and when you get to the bottom, there isn't an elevator ride back to the top. With a camping permit, you can turn this into an unforgettable overnight trip. Alternatively, the North Kaibab Trail is the only maintained trail into the canyon from the North Rim, beginning about two miles north of Grand Canyon Lodge with delightful views, waterfalls and plenty of physical challenge.
6. Grand Teton, Wyoming
Just thirty miles south of Yellowstone, Grand Teton National Park centers around the extraordinary 40-mile Teton mountain range which forms a distinctive jagged horizon that's unlikely any other mountain range. The near-pristine ecosystem of the park is home to wildlife and flora that can be traced back to prehistoric times and dotted with crystal clear lakes and rivers.
Hundreds of miles of hiking trails provide access to backcountry camping areas, and the Teton Crest Trail is undeniably the best backpacking experience here. Stretching for up to 45 miles, depending on your route, this high alpine trail rarely drops below 8,000ft as it winds through the Jedediah Wilderness Area, Bridger-Teton and Caribou-Targhee National Forests as well as the park.
7. Mount Rainier, Washington
Just 45 minutes from Seattle, Mount Rainier dominates the surrounding landscape with its hulking 14,410ft of elevation. This active volcano is the most glaciated peak in the country and the source of five major rivers so it's no doubt the crown jewel of the park, which has several distinct sections: Paradise, which is known for its wildflower meadows, Sunrise, which at high elevation offer spectacular views of Rainier, Ohanapecosh and Carbon River which boast old-growth rainforest and Mowich Lake.
Climbing Mount Rainier itself is a serious pursuit, with over 9,000ft of elevation required over nine miles. However, there are lots of other terrific trails to be had here, including the Wonderland Trail which encircles the mountain over 93 tough miles that wind from wildflower-blanketed lowland valleys to alpine terrain.
8. Great Smoky Mountain, North Carolina and Tennessee
Straddling the border between North Carolina and Tennessee, the sprawling Great Smoky Mountains National Park houses endless acres of lush old-growth forests, cascading waterfalls, rocky bluffs and ancient mountains. Great Smoky Mountains is the most visited National Park in America, giving you all the more reason to get a wilderness permit and head off piste to explore the backcountry.
With over 800 miles of hiking trails to choose from, you can take your pick, but a you'll find a fine long walk in the 71-mile stretch of the world-famous Appalachian Trail which stretches through the park from Fontana Dam to Davenport Gap, taking you over Clingman's Dome and passing Charlie's Bunion and Rocky Top.
9. Redwood, California
Redwood National Park is located in northern California, close to the border with Oregon, and encompasses about 139,000 acres and protects almost half of all remaining old-growth coastal redwoods. Coastal redwoods are an evergreen tree that lives 1,200 to 2,200 years or longer and reach up to 379 ft in height and 29ft in diameter. These trees are also among the oldest living organisms on Earth. Discover rare solitude in almost any hike in Redwood National Park, which is far from any population center.
On the hiking trails here, you can wander among temperate rainforests, ancient fern-lined canyons, waterfalls and even along rugged coastline. A couple of trails such as the James Irvine Trail and Redwood Creek trail can be done in one long day, but they make for delightful overnights.
10. Denali, Alaska
Denali National Park preserves North America's highest mountain in addition to an astonishing six million acres of surrounding wilderness in Alaska's interior. The terrain encompasses tundra, glaciers and forests and abundant wildlife over an area about the size of the state of Vermont.
However it doesn't have many established trails at all, despite being popular for hiking and mountaineering, and backcountry permits are only issued in-person, so the best approach is to check in with the park rangers about your plans when you arrive, know how to read a map and bring a compass and a keen sense of adventure.
11. Isle Royale, Michigan
Isle Royale is an island in the middle of the enormous Lake Superior that you can only reach by boat or small plane and is only open from April to October. The island is 45 miles long and 9 miles wide and surrounded by 400 smaller islands. A three-hour ferry ride gets you to this rugged island where you can explore some 170 miles of hiking trails, which visit pristine shoreline, swamps, boreal forests, glacial lakes and several small mountains.
Several long trails exist here, including the Greenstone Ridge Trail which takes you from one side of the island to the other over 40 miles, the 30-mile Feldtmann Loop Trail, or you can circumnavigate the entire island which takes about two weeks.
All the latest inspiration, tips and guides to help you plan your next Advnture!
Julia Clarke is a staff writer for Advnture.com and the author of the book Restorative Yoga for Beginners. She loves to explore mountains on foot, bike, skis and belay and then recover on the the yoga mat. Julia graduated with a degree in journalism in 2004 and spent eight years working as a radio presenter in Kansas City, Vermont, Boston and New York City before discovering the joys of the Rocky Mountains. She then detoured west to Colorado and enjoyed 11 years teaching yoga in Vail before returning to her hometown of Glasgow, Scotland in 2020 to focus on family and writing.