What are Ordnance Survey maps? Plus, their history, future and main competitor
What are Ordnance Survey maps? We delve into the great British institution of the Ordnance Survey, taking a look at its maps, history, future and its main competitor, Harvey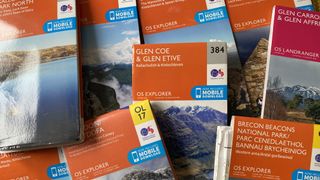 (Image credit: Alex Foxfield)
What are Ordnance Survey maps (OS maps), I hear you ask? In a nutshell, Ordnance Survey are to British mapping what the BBC is to British television. They are a public owned organisation, a national treasure, a historic and pioneering institution that's part of the very fabric of Great Britain. Like the BBC, they have had a long standing remit and serve a wide audience. Down the years they've produced various types of maps that have catered for the military, walkers, the government, cyclists and road users (just to name a few) in the countryside and in our cities.
All good and well, but what are Ordnance Survey Maps exactly, and what makes them special? Where we outdoorsy folk are concerned, an OS Map is a scale topographical map that can be used to navigate effectively across a given region. Their iconic orange Explorer and pink Landranger map series cover the entirety of Great Britain and have been a mainstay on British trails for many years. The sight furrowed brows as walkers pore over an OS map, studying every detail of a planned route, is something most Brits witness at some point.
The orange Explorer maps are 1:25 000 scale, perfect for those who like to strap on their best hiking backpack and head for the hills. Every square kilometre in Great Britain is represented by a 4cm grid square and there are a whopping 403 Explorer maps, covering everywhere from Land's End to John o' Groats. It's even possible to order your own Custom Made map for an area that's of particular interest to you. Regions of greater interest, such as national parks or Areas of Outstanding Natural Beauty, are usually featured on a double-sided OL (Outdoor Leisure) sheet, which covers a larger area.
Landranger maps are smaller scale, at 1:50 000, making them ideal for navigation on longer expeditions or cycling trips. They are unsurprisingly less detailed than Explorer maps and don't show quite as many minor footpaths, but armed with your best compass, you can still effectively navigate on a standard hike with a Landranger map.
OS maps are paper based and can get totally ruined by wet weather or tear relatively easily when the wind decides you've spent too long studying the contour lines. In answer to this, OS created the Active Map series, which feature the same Explorer and Landranger regions but are laminated and weatherproof. They are more expensive, but they're worth it for their durability and practicality – plus, you don't need to stow them in a dry bag.
However, there's much more to Ordnance Survey than topographical maps. The institution has a long and distinguished history, as well as a potentially exciting future where hiking technology is concerned…
What are Ordnance Survey Maps? The history
It seems fitting that the Ordnance Survey was born out of a necessity to map the marvellous Scottish Highlands. This need arose during the Jacobite Rising of 1745 and is where its rather military-sounding name comes from, as the Board of Ordnance (the defence ministry) was tasked with surveying the land.
The job fell to young engineer William Roy who, along with his team, created the Great Map, a 1:36 000 representation of the key Highland region. Before this, maps had been sorely lacking the accuracy and detail to plan effectively for military campaigns.
Later, Roy was tasked with settling an argument about the relative positions of the Royal Observatory in Greenwich and its Paris counterpart. He tasked pioneering instrument maker Jesse Ramsden with the creation of a theodolite to assist his work and he used the creation, along with trigonometry, to measure between the observatories. On 21st June 1791, the Board of Ordnance bought a new and improved Ramsden theodolite to start to map out the entirety of Britain in light of the threat of French invasion. This was the day the Ordnance Survey was born.
Starting with the English South Coast, they utlised redundant warning beacons as trig points and mapped out the land. The first OS map, for Kent, was published in 1801. Fast forward a hundred years and 20th century Britain had great demand for maps for all manner of purposes. In 1935, the Retriangulation of Great Britain began, with trig pillars built on many of Britain's highest mountain and hill summits to serve as ideal triangulation points. Around 6,500 trigs were installed, many of which still stand proud today and feature in countless photographs of hikers holding their trekking poles aloft in triumph – so called "trig bagging" is now a popular pastime among hikers and runners
The Ordnance Survey website states that trig pillars were built on 'inhospitable' peaks, yet they never managed – or perhaps never attempted – to install any on the summits of Skye's challenging Black Cuillin, other than on the relatively easy to reach apex of Bruach na Frithe. The Cuillin remained a difficult region to accurately map for many years, adding to the mystique and danger of Britain's most challenging mountain range.
As computing technology and photography developed, the Ordnance Survey continued to evolve, becoming a civilian and commercial operation post-Second World War, with the last military presence leaving in 1983. The OS website was launched in 1995 and all its maps were digitised, ushering in a new age of data. The new millennium saw the launch of the OS Maps app, still one of the best navigation apps around today.
What are Ordnance Survey Maps? The future
Amazingly, today the digital side of the Ordnance Survey accounts for 90% of its turnover, showing the power behind the data the agency now holds. They serve business, government and consumers with their products.
But what about the future of OS mapping for activities like hiking, mountaineering and cycling? Today, a Premium OS Map app subscription gives you instant access to all of the Explorer and Landranger maps, allows you to find or plot routes, use AR Viewer to pan across wilderness regions and visualise routes in 3D to discover points of interest.
In effect, the AR capabilities of the app create digital twins to real world landscapes. Perhaps one day, we will don our VR headset and go for a walk in Snowdonia from the comfort of our bedroom…
Harvey Maps: the alternative to Ordnance Survey
Hikers in the UK are blessed by two topographical mapping choices: OS Maps and the excellent Harvey maps. If OS Maps are the BBC of mapping, then Harvey maps are perhaps Channel 4: sophisticated and a little more niche, with a particular audience in mind.
Harvey maps are designed specifically for hikers, cyclists, mountaineers, fell runners and climbers and their coverage reflects this. You won't find a Harvey map for London or Birmingham, but you will find at least one type of Harvey map for the any of the UK's upland regions.
Harvey are endorsed by the British Mountaineering Council and Mountaineering Scotland and are the map of choice for Skye, Lochaber, Glen Coe, Kintail, Killin, Ochil and Lake District mountain rescue teams. So, if you're a bit of a mountain lover, choosing Harvey maps is equitable to when you're on holiday and decide to choose your restaurant based on the one all the locals seem to frequent.
Harvey maps boast many features that make them appealing to outdoorsy folk. First of all, they're made from durable, tear-resistant, waterproof polyethylene, which means no more soggy maps or awkward plastic cases – plus, they're cheaper than OS' laminated Active Maps. They do away with detail that's unnecessary for mountain goers and there's increased detail and labelling on crags and ridges, while the way the mountains are shaded makes the topography clearer than on OS Maps.
There are four types of Havey map for hikers: British Mountain Map series, Superwalker series, Ultramap series and Trail Map series.
Their British Mountain Map series features all the UK's primary upland areas. Each is mapped to a 1:40 000 scale and there are larger scale maps on the reverse for key mountains, as well as bucket loads of information on things like a region's geology, specific advice, safety information, navigation tips, climbing routes and more.
Harvey's Superwalker series is the equivalent to OS' Explorer series in terms of scale, at 1:25 000 (1:30 000 in Ireland). As with the British Mountain Maps, the reverse provides a treasure trove of information about the mapped region, as well as larger scale depictions of popular objectives.
The 1:40 000 Ultramap series is designed to be compact enough to slip into a small pocket in your down jacket and is printed on both sides of the sheet, perfect for days on the trail.
Also featuring a 1:40 000 scale, the Trail Map series features all of England and Wales' National Trails, as well as the Scottish Great Trails, an ideal companion for a long-distance hiking adventure. Information for seeking accommodation, campsites and food is included, as well as an introduction to the trail and advice on weather, clothing and other hiking essentials.
All the latest inspiration, tips and guides to help you plan your next Advnture!
Alex is a freelance adventure writer and mountain leader with an insatiable passion for the mountains. A Cumbrian born and bred, his native English Lake District has a special place in his heart, though he is at least equally happy in North Wales, the Scottish Highlands or the European Alps. Through his hiking, mountaineering, climbing and trail running adventures, Alex aims to inspire others to get outdoors. He is currently President of the London Mountaineering Club, training to become a winter mountain leader, looking to finally finish bagging all the Wainwright fells of the Lake District and hoping to scale more Alpine 4000ers when circumstances allow. Find out more at www.alexfoxfield.com