10 backpacking essentials: the ultimate checklist
Our list of the 10 backpacking essentials for any overnight hiking trip includes crucial kit that should go without no matter where you're going, what season and how experienced you are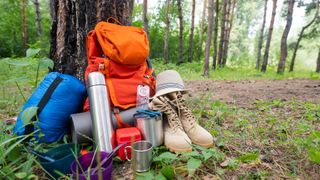 (Image credit: inside-studio)
Few adventures are as wild and wonderful as a backpacking escape. Out there, no two days are ever the same. The weather will change constantly and every trail and viewpoint is unique, and that's why you keep pulling on your best hiking boots and exploring. It's also why you need to be prepared for practically any eventuality – what would be a straightforward hike in benign conditions can feel like a battle with Mother Nature herself when an expected storm descends. Our list of the 10 backpacking essentials for any overnight hiking trip includes crucial kit that should go without no matter where you're going, what season and how experienced you are. Never set foot on the trail without this gear...
1. A waterproof shell jacket
Top of our backpacking essentials is the best waterproof jacket you can get. Even if there is no rain forecast, you should carry a lightweight, waterproof shell jacket.
First of all, no matter if you're in the mountains or the forest or along the coast, a surprise rain shower is a constant possibility and you're always better safe than sorry. Secondly, a waterproof shell jacket can protect you from the wind and generally keep you warmer than a wind shell if the temperature drops. Lastly, you can sit on your waterproof shell on dewy grass and wet ground to keep from soaking your bum. Advanced, high-end lightweight jackets aren't cheap, but they're a great investment that can last for many years.
Word to the wise: don't bother with a water-resistant jacket when you go backpacking, only opt for a fully waterproof jacket. Not sure of the difference? We explain in our article on waterproof vs water resistant.
2. Sturdy footwear
It used to be that everyone wore staunch leather hiking boots on backpacking trips. They were heavy and stiff, but they were also sturdy, secure and durable. However, materials, trends and backpacker preferences have evolved over the past two decades, allowing for a wider range of types of hiking shoes, including even vegan footwear.
You should still demand good traction and some level of support in your shoes, but depending on what kind of terrain you'll be on and how fast you'll be moving, you might opt for heavy boots, your best hiking shoes as a mid-weight option, or lighter trail running shoes. But you'll still want to pack a pair of lightweight flip flops for moving around the campsite, too. (They make it much easier to scurry into the woods in the middle of the night when nature calls.)
While there are still great classic waterproof backpacking boots available, there are also some unique, new designs, and variations of lighter and more flexible trail running shoes if you want a more athletic vibe out on the trails.
3. The right size of backpack
If you're going backpacking, you'll need to carry a lot of stuff: extra layers of clothes, food, a camping stove and a wide range of equipment (best sleeping bag, tent, headlamp, camping utensils and more) all need to fit in your pack. The longer you're planning to be the trail, the more gear you'll require and the bigger the pack you'll need. Having the appropriately sized pack for the length of your adventure is especially important to maximize your experience, comfort and, of course, what you can or can't bring.
Generally speaking, there are three sizes of backpacking packs based on the duration of the intended trip:
Weekend packs are for one to two nights of backpacking and have roughly 30 to 50 liters of storage capacity.
Multiday packs for three- to five-night excursions are typically in the 50- to 70-liter range.
Packs for extended trips can be as large as 65 to 85 liters in size, and allow for a lot of gear, apparel and food you'll need for long excursions in all types of weather.
Learn more in our article on what size backpack you need for your adventures.
4. A bright, long-burning headlamp
High on our list of backpacking essentials is a headlamp. Once the sun goes down and darkness sets in, you need an artificial light source to perform key tasks around your campsite. While a handheld flashlight can be great and pack a lot of power, a bright, long-burning headlamp can be much more useful. The hands-free operation of a headlamp can be crucial in helping you set up your tent, making dinner, cleaning up and walking into the bush in the middle of the night when you have to pee. The advent of high-powered LED lights and rechargeable batteries has resulted in smaller, lighter and more powerful headlamps.
Once you're confident with your headlamp, you might even opt to go night walking. This is good training if you have ambitions of tackling mountains in winter – or in the Rockies, Alps or Greater Ranges – when pre-dawn starts are common.
5. Extra hiking socks
There's nothing worse than getting wet feet while you're hiking, but it happens. That's one of the reasons why dry socks are one of our backpacking essentials. Tricky stream crossings, dewy grass, unavoidable snowfield crossings and unexpected rain showers are among the many obstacles that can make your feet wet. Knowing how to stay dry while hiking will see you facing even wet conditions without a second thought and will enhance your enjoyment greatly.
Having a second pair of hiking socks that are kept dry – perhaps by packing them in a dry bag – will not only keep you warm and comfortable, but can help prevent blisters and improve your whole mental outlook. Make sure you wear socks that rise above the top of your shoes, have extra padding and no-slip features so they stay in place. Some brands' socks are made from antimicrobial materials that wick moisture away from your skin to help keep your feet dry and stop them getting cold or stinky. Waterproof socks are also an option you might want to think about.
(If your original pair of socks get wet, try to dry them after you take them off, either by carefully placing them next to a camp stove or campfire or by hanging them so the sun or breeze can help reduce the moisture content. If your other socks get wet, the original pair will still feel better if they're at least partially dry.)
Need some new socks? Our guide to the best hiking socks can help.
6. Good food and beverages
Trail mix is a great snack, and you should always have a hearty helping of your favorite variety at arm's reach. But if you're backpacking for multiple days, you'll want to load up your pack with nourishing dehydrated freeze-dried meals. These lightweight, cook-in-the-bag meals are simple to make with boiling water and are available in a variety of scrumptious varieties. You can buy them in single- or double-serving sizes or opt for multi-day, multi-person packs. It's also a good idea to to learn how to make coffee when camping and bring a hiking flask that will keep the coffee you brew up in the morning hot by the afternoon.
7. Warm hiking gloves
A warm pair of hiking gloves are an absolute backpacking essential. Even if it's sunny and warm during the day, cool weather, rain or a breeze in the morning or at night will make your hands cold. If your fingers get cold, you'll lose the dexterity needed to do nimble tasks related to setting your tent, preparing meals and making coffee in the morning. Always make sure you have a heavier pair of gloves to keep your digits warm in the coldest possible temperatures and also provide a good amount of grip. You can also wear featherweight liner gloves during the daytime.
8. A solar-powered battery charger
Let's face it, there are a handful of helpful devices we typically take into the backcountry, whether it be a flashlight, head torch, smartphone or a Bluetooth speaker. A portable solar charger that can quickly charge small- to medium-sized devices, lights and other camping tech is an excellent thing to have on board for longer adventures. Alternatively, you can get portable battery packs that you charge in advance of your expedition.
9. First aid kit and sanitary gear
If you're wondering why take a first aid kit, the sad truth is that accidents are bound to happen in the backcountry. It makes good sense to carry a basic first aid kit so you can treat basic maladies like cuts, blisters, sprains, headaches and more. Insect repellent is a must for certain regions, such as for fending off midges in the Scottish Munros in summer. Likewise, knowing how to remove a tick safely and having a tick removal device (often known as a tick twister) is important as, if you don't carefully and properly remove these nasty hitchhikers, it can lead to Lyme's Disease.
While you can clean up with water from a nearby lake or a flowing stream, it's not a good practice to drink or cook with water from those sources unless you treat it. Untreated water can lead to giardiasis and cryptosporidiosis intestinal infections caused by microscopic parasites and pathogens that can thrive in what appear to be freshwater sources, often related to heavy animal traffic (wildlife or livestock) upstream. To avoid those impossible-to-see things that can lead to fatigue, nausea, cramping, gas, bloating, vomiting and diarrhea, take a water purifying filter. And always pack a roll of toilet tissue for every three days you plan to be backpacking.
10. Your phone
While most of us like to disengage from the digital world when we're hiking and backpacking, a smartphone can be a very helpful tool when you're out in the wild – even if you don't have cellular service. At the very least, you should download digital maps (.gpx files) of where you'll be ahead of time so you can keep track of your location via GPS signal.
But if you do have cellular service, you can check a weather app to keep tabs on changing conditions and also call or text for help if you get injured or get into an emergency situation. (Lastly, you can also fall asleep listening to an audio book.) Key apps you should consider downloading are komoot, The Hiking Project, All Trails, Gaia GPS, Spyglass, PlantSnap and Peakfinder. And have a look at our guide to the best navigation apps.
All the latest inspiration, tips and guides to help you plan your next Advnture!
Brian is an award-winning journalist, photographer and podcaster who has written for Runner's World, The Times, Outside, Men's Journal, Trail Runner, Triathlete and Red Bulletin. He's also the author of several books, including Kicksology: The Hype, Science, Culture and Cool of Running Shoes. He lives in Boulder, Colorado, and loves to run, bike, hike, camp, ski and climb mountains. He has wear-tested more than 1,500 pairs of running shoes, completed four Ironman triathlons, as well as numerous marathons and ultra-distance running races.