The best field watches 2023: robust timepieces for wild expeditions
With military origins, the best field watches are tough enough to tell the time no matter the conditions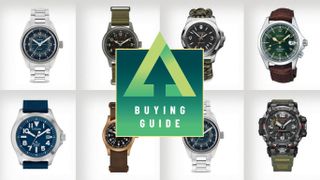 (Image credit: Future)
The best field watches are all about back to basics beauty and expedition ready robustness. Now, when we say basics, we're not talking about a lack of quality. The best field watches are painstakingly constructed and designed to be virtually indestructible. These are premium analog watches that are just as at home in the office as in the backcountry.
Field watches have a history that dates back to the First World War, when troops in the trenches needed reliable timepieces to organise their attacks in unison. Since, their clean and simple design, coupled with mallet-proof durability, has made the best field watches solid choices for explorers and adventurers.
So, why the term back to basics beauty? Well, even the most feature-heavy analog watch can't compete with the mind-boggling functionality of the best GPS watches. With a field watch, you sacrifice the ability to track your exertions, you forego access to topographical mapping on your wrist and you lose out on various other handy features too.
However, there's no doubting that the best field watches have a style factor that smartwatches can't provide. Plus, there's very little chance of them failing you in extreme conditions and you won't need to carry a USB power pack in your hiking backpack. A quality field watch is a shrewd purchase for the seriously stylish adventurer.
Best field watches overall
1. Elliot Brown Canford Mountain Rescue Edition
A robust and clear field watch for challenging outdoor adventures
Specifications
Dimensions:
44mm across (excluding crowns) x 54mm to tip of case shoulders
Movement:
Swiss Made 5-jewel Ronda 715 quartz
Water resistance:
ISO 2281 and individually tested to 20ATM / 200m
Materials & features:
Solid marine-grade 316L stainless steel case / Domed & anti-reflective coated glass / SuperLuminova coated indices & hands / EPDM black rubber strap with wide tongue buckle
Reasons to buy
+
Easy to read
+
Virtually indestructible
+
Classy looks
+
Proceeds goes to Mountain Rescue
+
Swiss 5-jewel Ronda 715 quartz movement
+
Inner rotating bezel for timing events
Reasons to avoid
-
Heavier than many field watches
-
Less subtle than other iterations
There's no doubt about it, the Mountain Rescue Edition of the Canford has a bold appearance. Enlarged hour batons, luminous markings and bright white hands filled with green SuperLuminova makes for outstanding visibility. Even in low light, it's easy to instantly read the time.
The reason for this bold and bright design is the collaboration between Elliot Brown and Mountain Rescue England & Wales. But how about what's beneath the surface of this smooth yet practical operator? In its engine room, you've got a Swiss 5-jewel Ronda 715 quartz movement, which is protected by a housing that's surrounded by shock-absorbing elastomers. So, in other words, you've got a highly durable and accurate mechanism that will withstand a hell of a lot of abuse.
The watch is also water-resistant to the ISO 2281 standard and pressure tested to 200m for 10 minutes. In short, this is timepiece that can join you on your wild swims, river crossings and hikes through Scottish deluges. All in all, the Canford is a classy, robust and easy to read field watch that's totally at home in the city, yet excels when hiking in the mountains. Virtually indestructible, it won't fail you no matter how extreme your adventure – there's a reason mountain rescue members wear them.
Combines great specs and top-notch build quality with a rugged but unassuming style
Specifications
Dimensions:
46mm (lug-to-lug) x 40mm (case diameter)
Movement:
Japanese Citizen Eco-Drive solar quartz
Water resistance:
300m / 990ft
Materials & features:
Brushed super titanium monobloc case with crown guards; flat anti-reflective sapphire crystal; signed, knurled screw-down crown; kevlar woven strap
Reasons to buy
+
Extremely robust build
+
Battery free Eco-Drive movement
+
Superlight, anti-magnetic and hypoallergenic titanium case
+
Japanese Eco-Drive solar quartz movement
Reasons to avoid
-
Nondescript looks
-
Stiff and unforgiving strap
We'll admit that as a piece of wrist candy, this watch isn't perhaps the most striking-looking timepiece out there. It's definitely a function-first design, with a matte dial, large numeric indices and a simple handset, all housed in a compact monobloc case.
But the watch's specs and build quality are seriously impressive. The case is made from "Super Titanium", which is lightweight yet extremely strong, with excellent anti-magnetic, hypoallergenic and corrosion-resistant properties. It has an impressive water resistance of 300m, while a flat sapphire crystal offers plenty of scratch resistance. Even the strap incorporates Kevlar fibers – the same stuff used in bulletproof vests – to further emphasize its hard-as-nails credentials.
Inside, it runs on Citizen's famous Eco-Drive movement, a solar quartz assembly powered by sunlight that is a great choice for off-grid adventures and means never having to worry about replacing a battery.
Being compact and lightweight yet rugged and robust, the Promaster Titanium Tough ticks all the boxes for a field watch. The dial is easily readable by both day and night, thanks to an anti-reflective coating on the crystal and generously applied lume on the dial, which ensures excellent legibility in low-light situations.
All in all it's a great multi-activity watch for use in the water or on land, and one that feels as solid as a G-Shock or a Victorinox INOX, despite being half the price of either of those rivals. The Citizen is also significantly lighter and smaller on the wrist, which arguably makes it an even more practical proposition for many activities.
Read our full Citizen Promaster Titanium Tough field watch review
Best classic field watches
A modern field watch with an adventure-ready titanium case and useful second time zone functionality
Specifications
RRP:
$235 (US) / £177 (UK)
Dimensions:
48mm (lug to lug) x 40mm (case diameter)
Movement:
Swiss quartz, Ronda 515.24H
Water resistance:
100m/330ft
Materials & features:
Sapphire crystal; titanium case; screw-down titanium caseback; signed, knurled crown; choice of leather, nylon, NATO webbing or Goma rubber strap
Reasons to buy
+
Superlight titanium case
+
Full lume dial offers fantastic low-light legibility
+
GMT function can track a second time zone
Reasons to avoid
-
Quartz movement means occasional battery changes
-
100m water resistance is slightly less than some rivals
Momentum is an up-and-coming Canadian watch brand, and we think the Wayfinder is of their most attractive and adventure-ready timepieces. It's a military-inspired titanium field watch that is tough and legible but also handsome, with a purposeful dial and rugged-looking matte titanium case. The specs and functionality are good too – you get a Swiss-made quartz movement with a GMT function and a date window, plus a sapphire crystal and a decent 100M of water resistance. In short, there's plenty of bang for your buck here.
We particularly like the GMT function, which means the watch has a fourth pointer hand that can be set to track a second time zone via the inner 24-hr track on the dial. This is a useful feature for travellers and adventurers. If you were on a trip or expedition abroad, you could set the standard hour hand to local time and the GMT hand to the time in your home country. Then, if you got the opportunity to use a sat phone or send emails and messages back at basecamp, you'd know precisely what time it was for the folks back home.
The watch is also an ergonomic and comfortable companion on the wrist, as well as being extremely lightweight. The 40mm case is slightly larger than most classic field watches, but this gives plenty of room to accommodate the date window and fourth GMT hand without the dial feeling cluttered. Low-light legibility is great too, particularly if you opt for the white full lume option. The dial literally glows in the dark, making this a great choice for camping and night hiking. All in all, this is a great little tough, rugged and handsome timepiece for modern adventurers.
The no-nonsense appeal of a tool watch with refined design flourishes for a touch of class
Specifications
Dimensions:
46.5mm (lug to lug) x 39.5mm (case diameter)
Movement:
Japanese Seiko 6R35 automatic
Water resistance:
200m / 660ft
Materials & features:
Stainless steel case with crown guards; internal rotating compass bezel; anti-reflective sapphire crystal with cyclops date window; screw-down exhibition case back; knurled crowns; stainless steel bracelet
Reasons to buy
+
Compact and wearable proportions
+
Shock protected automatic movement with long power reserve
Reasons to avoid
-
Slightly dressy looks
-
Fairly thick case
Although the Alpinist isn't a military-derived field watch in the strictest sense, it has plenty of authentic outdoor heritage. The design first appeared in the 1960s and was inspired by Japanese Yama-Otoko 'mountain men'. As its name suggests, it was intended to be a robust tool watch for use at high altitudes.
It is a compact and wearable piece, even if you don't have huge climbers' wrists. It's also surprisingly elegant, with some dressy design flourishes. The latest version also has upgraded specs such as a highly scratch-resistant sapphire crystal with a cyclops date window, as well as Seiko's in-house 6R35 automatic self-winding movement, which boasts an impressive 70-hour power reserve.
Then there's the internal compass bezel, a distinctive feature which is operated by a secondary crown positioned at 4 o'clock. And despite being primarily made for use on terra firma, the watch still has an excellent water resistance rating of 200m – as good as many of the brand's specialist divers' watches.
The build quality is as solid as you'd expect from Seiko, too. So, this is a reliable outdoor companion, but one that's far more than just a tool, with an eye-catching dial that offers both style and elegance. In that sense, this is a versatile watch that could go easily from office work wardrobe to adventurous weekend wear.
Read our full Seiko Alpinist review
A faithful reinterpretation of arguably the most iconic field watch around, with a touch of magic
Specifications
Dimensions:
47mm (lug-to-lug) x 38mm (case diameter)
Movement:
Hamilton H-50 hand-wound mechanical
Water resistance:
50m / 5 ATM
Materials & features:
CuSn8 bronze alloy case (92% bronze and 8% tin); screw-down titanium case back with unique serial number; single dome sapphire crystal; Aged Super Lumi-Nova; Leather NATO strap
Reasons to buy
+
Slim, elegant and lightweight
+
Compact proportions
+
Swiss-made mechanical movement
+
Authentic field watch heritage
Reasons to avoid
-
Inherently more delicate than quartz rivals
-
Not the best lume
This Swiss-made field watch is already a bona fide classic. But with this latest release, Hamilton have sought to add another dimension to the iconic Khaki Field Mechanical. This version has a gorgeous bronze case that will develop a unique patina the more you wear it, as the metal darkens and oxidizes with age. It means that the watch on your wrist will do more than tell the time – it will also tell a story of all your adventures too.
Of course, with its vintage looks and hand-wound mechanical movement, this watch is undeniably a bit of a throwback. But it's still surprisingly practical: the dial is highly legible, while the movement has an impressive 80-hour power reserve, meaning when fully wound, it'll run for just over three days before you'll need to wind it again. The sapphire crystal is highly scratch-resistant, and that bronze case is fairly tough yet very light. A titanium case back cuts further weight.
In short, it's a great-looking piece with plenty of heritage appeal. If you're attracted to the idea of owning a mechanical watch and are willing to splurge a little on a daily wearer with oodles of charm and character – one that'll dress up for the office or down for weekend adventures – this little Hamilton will be a cherished companion.
Read our full Hamilton Khaki Mechanical Bronze review
This handsome little field watch combines wartime heritage with modern materials and a robust automatic movement
Specifications
Dimensions:
46mm (lug-to-lug) x 38mm (case diameter)
Movement:
Japanese Miyota 82SO automatic
Water resistance:
30m / 100ft
Materials & features:
Stainless steel case with gunmetal PVD coating; domed mineral crystal; screw-down steel case back; signed, knurled crown; leather one-piece strap
Reasons to buy
+
Small and wearable dimensions
+
Authentic field watch heritage
+
Robust automatic movement
Reasons to avoid
-
Fairly thick case
-
Limited water resistance
-
Mineral glass crystal
The Bulova Hack is a modern update of an authentic military-spec field watch that was originally issued to US soldiers back in World War Two. It retains the compact proportions and vintage looks of the original, but now has a modern automatic movement housed in a stainless-steel case with a handsome gunmetal finish.
If you're wondering why it's called the Hack, the name is a tribute to a feature that was once an essential prerequisite for a military issue field watch: a hacking movement. This means that when you pull the crown out, the seconds hand stops. In wartime, this was vital, since it enabled soldiers and officers to synchronize their watches when planning coordinated attacks.
Given its bona fide wartime heritage, it should come as no surprise that the Hack works pretty well as a modern field watch too. The high contrast dial is simple yet functional, with a 24-hour military time track and a luminescent finish to ensure good nighttime readability. It feels unobtrusive on the wrist, making for easy everyday wear. But the watch is still hefty enough to deliver good wrist presence, aided by a high-quality leather strap that is both comfortable and stylish.
All in all, it's a well-built, good-looking timepiece that carries similar vintage military appeal to the Hamilton Khaki, without such a steep price tag.
Read our full Bulova Hack field watch review
Best tough field watches
The Mudmaster may lack the charm of a classic field watch, but in all other respects it outperforms most of the competition
Specifications
Dimensions:
61.2mm (lug-to-lug) x 54.4mm (case diameter)
Water resistance:
200m / 20 ATM
Materials & features:
Carbon Core Guard case with steel crown and steel-forged carbon bezel; stainless steel case back; world time, date, alarm, stopwatch, timer, altimeter, barometer, thermometer and compass functions; sapphire crystal; resin strap
Reasons to buy
+
Ultra rugged and robust
+
Fully featured
+
Solar powered movement
Reasons to avoid
-
Thick, chunky and heavy
-
Expensive
Okay, whether it's technically a field watch is debatable, but the G-Shock Mudmaster is arguably the archetypal outdoor watch. And it is much loved by military types, so it has probably seen more field service than most rivals. Plus, the latest flagship model in the Mudmaster series, the GWG-2000, is tougher than ever and ought to outlast even the most rugged smartwatch – as will its solar quartz movement, which will run for up to six months even in total darkness.
And while it's not quite as clever as a GPS-equipped smartwatch, it's still pretty sophisticated, with a host of built-in tools such as a compass, altimeter, barometer and thermometer. The burly case is made from carbon fiber resin, providing impressive shock and impact resistance as well as water resistance up to 200m / 20ATM.
Admittedly, it's a bit of a brute on the wrist, and there are few concessions to style or looks, though the overbuilt design will undoubtedly appeal to some. It might also carry more functionality than many users will need. But if you want all the features of its on-board tech and appreciate its über-tough build, then there's probably no better all-round outdoor watch out there.
Read our full G-Shock Mudmaster GWG-2000 review
This Swiss-made beast is a tough, modern tool watch that has been designed to survive over 130 endurance tests, including being driven over by a 64-ton tank…
Specifications
Dimensions:
52.8mm (lug-to-lug) x 43mm (case diameter)
Movement:
Swiss-made Ronda 713 quartz
Water resistance:
200m / 660ft
Materials & features:
Brushed stainless steel case with crown guards; fixed steel bezel with polished highlights; flat anti-reflective sapphire crystal; screw-down steel case back; signed, knurled screw-down crown; braided paracord strap
Reasons to buy
+
Extremely robust
+
Swiss made quartz movement
Reasons to avoid
-
Thick and chunky
-
Fairly heavy
Swiss brand Victorinox certainly didn't hold back when creating this rugged yet thoroughly modern tool watch. Want proof? Well, during the design process it was subjected to over 130 endurance tests, including being driven over by a 64-ton tank and tested in extreme temperatures ranging from -57C to 71C (-70F to 160F).
With its stainless-steel case (or inoxydable in French, hence the INOX designation), sapphire crystal, screw-down crown, shock-resistant movement and 200m / 660ft of water resistance, it's intentionally overbuilt, ensuring it is suitable for any adventure, no matter how demanding.
As you might expect then, the result is a watch with rugged, no-nonsense looks and a chunky, muscular appearance. That won't suit everybody, but while it may not be the most elegant timepiece out there, it should withstand a lifetime of hard knocks.
And if you're looking for an utterly dependable and unapologetically rugged watch with genuine Swiss-made heritage, look no further.
Read our full Victorinox INOX Autumn Spirit review
This compact and classy field watch is tough yet stylish, finished with an eye-catching dial to help it stand out from the pack
Specifications
Dimensions:
47mm (lug-to-lug) x 38mm (case diameter)
Weight:
74g (160g with steel bracelet) / 2.6oz (5.6oz with steel bracelet)
Movement:
Seiko NH35/NH38 automatic, regulated in four positions
Water resistance:
100m / 10 ATM
Materials & features:
316L stainless steel case; screw-down case back with unique serial number; single-dome sapphire crystal with anti-reflective coating; Swiss Super Lumi-Nova: Premium grade BGW9; screw-down, signed crown; steel bracelet
Reasons to buy
+
Stylish looks
+
Compact dimensions
+
Robust build
Reasons to avoid
-
Small date window
-
Steel bracelet design not perfect
If you're looking for a field watch with a difference, it's worth turning away from the major watch brands and instead checking out some of the offerings from up and coming independent watch 'microbrands'.
The Sector Field from US manufacturer Nodus is a case in point. It's a robust and readable daily wear timepiece, but with stylish and eye-catching looks too. However, despite its modern flair, it's built just as tough as the original field watches that inspired it. The case is made of 316L stainless steel with an unusual, stepped bezel surrounding a flat sapphire crystal.
The dial is full of color, texture and depth thanks to its sandwich-construction 'sector' design. Hands and indices have an attractive blue lume at night. The watch has a screw-down crown and case back too, giving the Sector Field a practical water resistance of 100 meters or 300 feet.
It is powered by a Japanese automatic movement that is known for being reliable, shock-resistant and inexpensive to maintain. And every Nodus watch has also been regulated to improve its accuracy. That shows impressive care and attention to detail from the LA-based brand.
In fact, with the Sector Field, Nodus has crafted a fresh and modern-looking watch that has all the practicality of a traditional field watch. Compact and wearable, with great dial legibility, a water-resistant construction and a 24-hour military time track, it's well worth a closer look.
Read our full Nodus Sector Field Marina review
How we tested these field watches
We wore each watch for at least two weeks straight, both day and night. They came with us on a variety of outdoor adventures, from hiking and hillwalking to wild camping, scrambling and climbing. Where a watch guaranteed a minimum water resistance of 100m (10 Bar or 10 ATM), which is generally considered to be the benchmark for a surface-water swimming watch, we also plunged into various lakes and rivers.
Though we didn't set out to test each watch to destruction, daily use came with an inevitable series of bumps and knocks. We assessed how well the watches fared when subjected to such typical use, paying particular attention to durability of the case, strap and crystal, as well as general timekeeping performance.
Swipe to scroll horizontally
Best field watches comparison table

| | | | |
| --- | --- | --- | --- |
| Field watch | RRP | Weight | Water resistance |
| Elliot Brown Canford Mountain Rescue Edition | £385 | 133g / 4.7oz | 200m / 20ATM |
| Citizen Promaster Titanium Tough | £299 (UK) | 133g / 4.7oz | 300m / 990ft |
| Momentum Wayfinder GMT | $235 (US) / £177 (UK) | Not stated | 100m / 330ft |
| Seiko Alpinist | $725 (US) / £650 (UK) | 84g / 3oz | 200m / 660ft |
| Hamilton Khaki Mechanical Bronze | $825 (US) / £720 (UK) | 65g / 2.3oz | 50m / 5 ATM |
| Bulova Hack | $316 (US) / £289 (UK) | 67g / 2.36oz | 30m / 100ft |
| G-Shock Mudmaster GWG-2000 | $800 (US) / £699 (UK) | 106g / 3.7oz | 200m / 20 ATM |
| Victorinox I.N.O.X. "Autumn Spirit" | $650 (US) / £549 (UK) | 133g / 4.7oz | 200m / 660ft |
| Nodus Sector Field Marina | £450 (UK) | 74g (160g with steel bracelet) / 2.6oz (5.6oz with steel bracelet) | 100m / 10 ATM |
How to choose the best field watch
All of the best field watches are designed to provide rugged and reliable timekeeping. Some clearly draw on the field watch's military heritage, being faithful to original early 20th-century designs, while others present a more modern take on the field watch concept. But every watch is slightly different – and wears differently too, depending on its case size, weight, movement and functionality.
Price
When it comes to watches, prices vary greatly. Luxury watches can cost thousands, tens of thousands or even hundreds of thousands of dollars. However, we've capped our selection of best field watches at $1,000, recognizing that most adventurers probably won't be making for the mountains with a luxury timepiece strapped to their wrist.
How much should you spend? Only you can decide that, but without trying to sound cliché, in general you get what you pay for, in terms of build quality, finishing and also residual value. But bear in mind that most field watches ought to last you a lifetime, and they start to look like a very good investment.
Movement
The watch's movement is another one of the key factors to consider. This is the internal mechanism that operates the watch. Movements can be either quartz or mechanical. Quartz movements are very accurate and powered by a long-life battery, with few moving parts. This means they are usually more rugged than most mechanical movements. Typical battery life for a quartz watch is two to three years.
Some watches use solar quartz movements, which feature solar cells embedded into the dial to power the watch. This eliminates the need for battery changes and makes solar-powered watches a great choice for outdoor adventurers.
A more traditional alternative is a mechanical watch. Mechanical movements use energy from a mainspring to power the watch. This spring stores energy and transfers it through a series of gears and smaller springs. Mechanical movements can be manual (hand-wound) or automatic (self-winding). In theory, provided you wear it or wind it regularly, a mechanical watch will run forever – though in practice, they'll usually require servicing every three to five years.
An easy way to tell a quartz from a mechanical movement is by looking at the seconds hand. Quartz watches have a regular "ticking" seconds hand, while mechanical watches have a smooth, sweeping seconds hand. All modern movements, quartz or mechanical, are usually shock-resistant, designed to pass a minimum standard, which is to survive a drop of 1m onto a hard floor. But additional shock absorbing components can be added to further protect the movement from more extreme impacts.
Water resistance
Remember that most field watches were primarily designed for use on terra firma. Many have modest or even good water resistance, but if you spend a lot of time in or on the water, you might be better served by the other classic tool watch – a dive watch. After all, a watches place in on your wrist, not in a dry bag. On the other hand, if you like the rugged, no-nonsense military aesthetic of a field watch, and their generally modest and wearable proportions, they make a great "daily driver".
Parts of a watch
Case
The case or body of a field watch is usually made from a strong material such as stainless steel. The most common choice is 316L or marine-grade steel, which provides good resistance to corrosion, as well as being anti-magnetic. However, lightweight alternatives to steel include titanium, which has an incredibly high strength-to-weight ratio, and even carbon fiber, though impact-resistant thermoplastics and other metals such as bronze are sometimes used too.
Traditionally, field watches are relatively slim and compact, so they are lightweight and unobtrusive on the wrist. This usually means a case diameter of between 36mm and 42mm. There are exceptions to this, of course, and overbuilt watches like the ubiquitous G-Shock are known for their large proportions.
Caseback
Though they're primarily designed for use on terra firma, most field watches usually have a screw-down or bolt-down case back with an inner waterproof seal or gasket to ensure some degree of water resistance.
Crystal
The transparent face of a watch is called the crystal. Most are made of either acrylic, mineral glass or synthetic sapphire. All have different benefits – acrylic tends to bend under pressure rather than cracking or shattering, but scratches easily. Glass, especially hardened mineral glass, is more scratch-resistant and highly impact-resistant. Sapphire crystals are the most expensive, generally reserved for premium watches. It is an incredibly hard material, which makes it highly scratch-resistant. All crystals are usually finished with an anti-reflective coating to reduce glare and reflection, enabling you to see the dial even when viewed from oblique angles.
Bezel
The bezel is a metal ring surrounding the watch face that protects the crystal. On tool watches, it often has additional timekeeping functionality, for example with 0 to 60 or 24-hour scales.
Crown
The crown is used to set the time and date, and also to wind a mechanical watch. Field watches usually have an easy-grip crown, but it is often recessed or protected by crown guards to avoid damage. In addition, a screw-down crown may be fitted, typically with internal gaskets to boost water-resistance.
Dial
The primary function of a watch is to tell the time, obviously. Field watches are designed to be clearly legible and readable even in low light conditions or in bright sunshine. This usually means a high-contrast dial with few decorative elements. Field watches often have a 24 hour scale too, reflecting their military origins. Lumed or backlit dials also ensure good nighttime performance, enabling you to see the time even in pitch black.
All the latest inspiration, tips and guides to help you plan your next Advnture!
An outdoors writer and editor, Matt Jones has been testing kit in the field for nearly a decade. Having worked for both the Ramblers and the Scouts, he knows one or two things about walking and camping, and loves all things adventure, particularly long-distance backpacking, wild camping and climbing mountains – especially in Wales. He's based in Snowdonia and last year thru-hiked the Cambrian Way, which runs for 298 miles from Cardiff to Conwy, with a total ascent of 73,700 feet – that's nearly 2½ times the height of Everest. Follow Matt on Instagram and Twitter.