How to choose a GPS device for hiking
Our guide on how to choose a GPS device for hiking provides all the info you need to find the best option for your budget and adventure type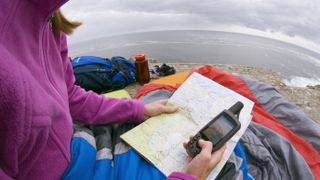 (Image credit: Getty)
Old-school outdoors-goers are always keen to point out the limitations of newfangled tech designed for backcountry use. In the case of a GPS device for hiking, the most common contentions are that the devices are too heavy, subject to electrical or mechanical failure, water damage, or battery death. While all of the above detractions can't be denied, there's also no doubting that GPS device for hiking can do an awful lot that a standard map and compass simply can't, including backtracking, providing barometric altimeter readings, heart rate monitoring, and relaying a wealth of information that lets you do your navigation on the hoof, without having to waste time fiddling around with cumbersome topo sheets, taking bearings, triangulating, and remembering to adjust for magnetic declination.
So, while we'd always recommend you learn how to read a map and carry the best compass (and learn how to use a compass) as either a backup or primary navigation system, a GPS is a worthwhile investment for anyone who's a fan of tech (if that's you, see our best hiking technology), data, or simply likes to do their navigation with a minimum of fuss.
Having established that a GPS device for hiking is something worth having, all that remains to do is choose the best model from the veritable smorgasbord of options available. In this article, we aim to help you with this by providing the lowdown on all the features and attributes that go into the making of a great GPS device for hiking.
How to choose a GPS device for hiking: features and factors to consider
Extensive lists detailing all of the specifications and features on a GPS device for hiking can be intimidating. To simplify your search, we're narrowed our criteria down to the most important factors: weight, ease of use, battery life, screen size, and functionality.
Weight
One of the main drawbacks to carrying a GPS device for hiking in addition to your map and compass is the added heft. While a map and compass will weigh you down by no more than an ounce or two, a hand-held GPS can weigh anything from 5 ounces (141g) up to 8 ounces (225g) without batteries, which is around the same weight as a large cell phone.
When buying, the most important thing to keep in mind is that added weight usually means added functionality and/or a more eye- and finger-friendly interface. As such, it's a good idea to draw up a list of must-have features and decide which of these you're willing to forgo or compromise on in order to keep weight to a minimum.
Ease of use
Buttons or touchscreen? While this is largely a matter of personal preference, we'd recommend a touchscreen unit if you want to be able to able to access data and navigate quickly and a button-operated unit if you plan on using the device on winter hikes, when using a pair of the best hiking gloves will make operating a touchscreen device tricky, if not impossible without removing the gloves.
Battery life
The battery life of handheld GPS devices ranges from circa 20 hours to circa 40 hours. For day hikers or weekend adventures, those at the lower end of the scale will suffice; if you plan on heading further afield, consider buying a model with a longer battery life or factor in the weight of spare batteries when weighing up the options and creating a shortlist.
Screen size and display quality
The screen size and display quality you'll need in a GPS device very much depends on your eyesight! Some basic models, like the Garmin eTrex 10, offer only monochrome visuals, 128 x 160 pixels, and a screen measuring 2.2 inches diagonally, which is about a quarter of the size of your average modern smartphone. The Garmin Montana 700, on the other hand, offers a full-color display with 480 x 800 pixels and a screen measuring 5 inches, all of which makes at-a-glance reading far easier and saves you having to squint at the screen. As you might have guessed, the difference in RRP between these two models is sizable, so finding the ideal GPS device for your needs may ultimately come down to how much you're willing to pay for superior visuals.
Features
Some of the non-standard features to look for when buying a GPS device for hiking include the following:
Barometer/altimeter: All GPS units give altitude readings based on data provided by satellites. However, those with a barometer/altimeter feature offer more accurate readings by combining satellite data with barometric data. A barometric altimeter also gives you a heads up on changes in the weather: if it displays a higher altitude than the actual one, then the air pressure has dropped, which means weather conditions are deteriorating; if it shows a lower altitude than the actual one, then air pressure has increased and the weather's improving; if it stays the same, then weather conditions are stable.
Digital camera: While rarely a dealmaker or dealbreaker, this handy feature could allow you to save weight by leaving your regular camera at home and also comes in handy for geotagging.
Electronic compass: When you're on the move, any GPS unit will be able to tell you the direction in which you're traveling. When you stop, however, only those with an electronic compass will be able to tell you which way you are facing. While this might not seem like a big deal, it allows you to plan the next stage of your journey, take bearings, or cross-check your GPS's data with a spot of triangulation (see: how to triangulate).
Geocaching features: Many GPS devices have geocaching capabilities that let you tag the caches you've located and take photos to prove you've found them.
Memory: This is usually measured by the number of waypoints the device can store. In short, the more data it can store, the less time you'll have to spend deleting routes to make room for new ones.
Preloaded maps: All handheld GPS devices for hiking come with some form of basemap, though the detail that basemap provides can vary significantly from model to model. Some devices also include detailed topographical maps with the purchase, so be sure to factor in the additional cost to buy these separately if not included (warning: they ain't cheap!).
Third-party maps and software: GPS maps made by GPS device manufacturers can set you back over $100 per region. This being so, many GPS users opt to go down the third-party map route. This involves trawling the net for free or low-cost digital software in the form of GPX files (What is a GPX file?). The downsides to using third-party maps and software are that they require a working knowledge of tech to upload and doing so could void your device's manufacturer warranty.
Two-way messaging: If you plan on venturing off the grid, this feature will let you roam deep into the wilds without losing contact with your loved ones. Satellite communicators like the Garmin inReach Explorer+ also have an SOS function that lets you call for help if things go south while out getting your wander on. While this can add a hefty whack to the RRP, for many hikers – and their families – it's worth having for the added peace of mind.
Wireless data transfer: This lets you share data (tracks, waypoints, photos, and routes) with other wireless-enabled GPS devices – ideal if you belong to a crew of tech-loving hikers.
How to choose a GPS device for hiking: FAQs
Do I need a GPS for hiking?
It depends. We always recommend carrying a map and compass as your primary navigational tools, but carrying a GPS device will allow you to stash these in your backpack as a backup and navigate while you're on the move. In short, carrying two navigational tools is always the safest option. If one of these is a map and compass, a GPS device is a better pick for a second than a cell phone app, mainly because, unlike cell phones, GPS devices don't lose signal in remote terrain, are more robust, and use batteries that can be changed in the field, which will save you having to carry a large (and heavy) powerbank.
How does GPS work?
GPS devices for hiking use information relayed by multiple satellites to determine your location. Simply put, the GPS device transmits a signal to the satellites, and then the satellites compute latitude, longitude, and altitude by triangulating your position on the Earth's surface.
Is it worth getting a GPS?
This depends on where you plan on doing your hiking and how long you plan on spending on the trail. As mentioned above, the main benefit of a GPS device for hiking over a map and compass is that a GPS lets you navigate on the go, without having to stop and set your map, take bearings, or triangulate your position (more on these in how to triangulate and how to take a bearing), which brings a sizable upgrade in terms of convenience. In a head-to-head with cellphone navigation apps (see our list of the best navigation apps), GPS units are standout winners owing to their superior ruggedness, longer battery life, and ability to receive a signal in remote terrain. That said, if you do all of your hiking in areas with good signal and rarely venture on any all-day epics, then an app on your phone should suffice – as long as you don't drop the phone or get it wet!
All the latest inspiration, tips and guides to help you plan your next Advnture!
Former Advnture editor Kieran is a climber, mountaineer, and author who divides his time between the Italian Alps, the US, and his native Scotland.
He has climbed a handful of 6000ers in the Himalayas, 4000ers in the Alps, 14ers in the US, and loves nothing more than a good long-distance wander in the wilderness. He climbs when he should be writing, writes when he should be sleeping, has fun always.
Kieran is the author of 'Climbing the Walls', an exploration of the mental health benefits of climbing, mountaineering, and the great outdoors.