Best hiking shirts 2023: stay comfortable, warm and dry on the trail
Our pick of the best hiking shirts are breathable, moisture wicking, quick drying and insulating to ensure comfort on any adventure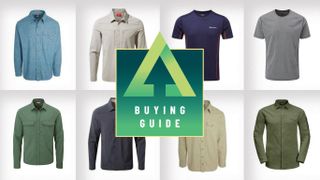 (Image credit: Future)
The best hiking shirts for men should keep you dry and comfortable in all conditions. Whether you're on a mountain adventure or leisurely saunter, a hiking shirt is always in contact with your skin. Choose wrong and there's no escaping the discomfort.
A good hiking shirt should be breathable, quick drying and moisture wicking. Odor control is also highly beneficial on longer walks and multi-day hikes. If you're the kind of person who typically slips on a cotton t-shirt before heading on a walk, it's time to think again. Hiking is a challenging physical activity that requires high-performance clothing.
In this buying guide, we look at some of the best men's hiking shirts on the market (we also have a buying guide for the best women's hiking tops). From technical tees to button-up shirts with collars, hot weather performers to cool weather insulators, odor-controllers and UV protectors, classic cuts and fashionable looks – you will find a shirt for every hike and taste. While this guide covers a range of price brackets and styles, all these hiking shirts have one thing in common: trail performance. If you're going to splash out on the best hiking boots, you shouldn't skimp on your shirt, either.
We tested these men's hiking shirts in early autumn, a good time of year for such purposes, in various landscapes and with the weather conditions leaping haphazardly between winter and summer, heavy rain and strong wind, cool mornings and mild evenings, all garments were put through their paces.
Long-sleeve hiking shirts
An elegant and stylish hiking shirt that feels like wool but is made from recycled bottles and crushed oyster shells
Specifications
Fabric:
Cotton (54%), recycled SeaWool (43%), spandex (3%)
Sizes:
S / M / L / XL / XXL
Weight (men's large):
410g / 14.5oz
Colors:
Rathee Blue /Tamur River
Reasons to buy
+
Very comfortable
+
Moisture wicking
+
Insulating
+
Anti-chafing seams
+
Sustainable
+
Ethical
+
Stylish
Reasons to avoid
-
Expensive
-
No odor control
-
Not suitable for vegans
The Sherpa Geluk is an elegant, stylish and supremely comfortable shirt (available in the UK from Alpine Trek (opens in new tab)) with a host of performance features. Named after the Buddhist principle of the 'virtuous way', the shirt is made from SeaWool fibre (opens in new tab), an innovative blend of crushed oyster shells and polyester recycled from consumer bottles. The result is a shirt that feels and looks like a traditional wool mix that wicks moisture away quickly whilst insulating in colder conditions.
Design features include off-shoulder seams to prevent chafing under a pack strap, a single chest pocket with button closure and UPF 50+ sun protection. Rambling on a chilly fall afternoon, the shirt performed well under a waterproof and equally well as a standalone when the sun came out and the going got tough. Furthermore, for every product sold, Sherpa provides a day of education for a child in Nepal.
This shirt would not look out of place in Piccadilly Circus, the Pyrenees or on the trails of Pikes Peak, and would perform perfectly well in all settings.
A high-wicking, quick-drying, odor-resistant and temperature-regulating hiking shirt
Specifications
RRP:
$79.99 (US) / £64.99 (UK)
Fabric:
Thermocore polyester (95%), spandex (5%)
Sizes:
S / M / L / XL / XXL
Weight (men's large):
375g / 13.2oz
Colors:
Nemo / Stirling / Brick
Reasons to buy
+
Very comfortable
+
Good insulation
+
High wicking
+
Quick drying
+
Odor control
Reasons to avoid
-
Too warm for some conditions
The Alpkit Woodsmoke is a seriously comfortable shirt that looks great and performs extremely well on the trails. Made from Thermocore polyester, the shirt traps more air for increased insulation. The blended fabric is also high-wicking and quick-drying and feels as comfortable as cotton against the skin.
Hiking through rolling countryside, we found the shirt kept the chilly morning winds of fall at bay but also effortlessly breathed away heat and sweat when climbing in the afternoon sun. The Woodsmoke is treated with Polygiene odor control, which means it will not get smelly on multi-day hikes.
While we perhaps wouldn't recommend this for hot days, it does come with UPF 50 protection and is a great choice for varied conditions. The fastenings are all press studs, including on the two spacious chest pockets and the cuffs, which have two fastenings so tightness can be adjusted. The active cut and an articulated fit across the back give good freedom of movement, too.
3. Craghoppers NosiLife Pro IV
A lightweight high-performer with tons of features and protection from biting insects
Specifications
RRP:
$120 (US) / £75 (UK)
Fabric:
Polyester (87%), elastane (13%), trim: polyester (100%)
Sizes:
S / M / L / XL / XXL
Weight (men's large):
220g / 7.8oz
Colors:
Parchment / Woodland Green / Steel blue
Reasons to buy
+
Lightweight
+
Breathable
+
Moisture wicking
+
Quick drying
+
Insect protection
+
Comfortable
+
Sun protective collar
Craghoppers have really delivered the goods with the NosiLife Pro IV. Boasting lightweight fabric and contemporary styling, this hiking shirt looks great and feels even better. While climbing, this breathable shirt ventilated well and quickly wicked away sweat. Once hiking backpacks were removed to admire the view, any under pack moisture that remained soon dried.
The headline feature here is the NosiLife anti-insect treatment. Using Permethrin, a synthetic pyrethroid, it effectively repels biting insects and lasts for the lifetime of the garment. Other features include a solarshield collar which can be pulled up to cover your neck with UPF 40 protection (the whole shirt offers the same level of protection), odor control, a fastener tab so you can roll-up sleeves, two reasonably sized zip-up chest pockets and a sunglasses wipe.
The Craghoppers NosiLife Pro IV is an excellent shirt for hot weather, especially when biting insects are active.
A high-performance hiking shirt with green credentials and fashion focus
Specifications
RRP:
$90 (US) / £75 (UK) / €80 (EU)
Fabric:
Polyamide (82%), polyester (13%), elastane (5%)
Sizes:
S / M / L / XL / XXL / 3XL
Weight (men's large):
243g / 8.6oz
Colors:
Moss / Night Blue / Black
Reasons to buy
+
Breathable
+
Lightweight
+
Moisture wicking
+
Sleeve roll-up tabs
+
Great green credentials
+
Comfortable
Combining superb comfort, high performance, odor control technology and even a dash of urban fashion, the shirt is a great choice for all conditions.
Made from a blend of polyamide, polyester and elastane, the fabric is extremely breathable, feels lightweight, affords plenty of movement and is fast drying. The mesh lining plays a vital role in the shirt's moisture management capabilities, wicking sweat away from the skin quickly.
The shirt has a host of nifty features too, including a handy zip-up sleeve pocket, perfect to slide maps or navigation devices into, and a fastener tab so you can roll-up sleeves in warmer conditions. Furthermore, the lightweight shirt affords UPF 40+ protection. Plus, with a host of green credentials, you can rest assured that this shirt helps to protect the very landscapes you explore while wearing it.
A chic yet highly comfortable shirt made from an ethical bamboo blend
Specifications
Fabric:
Viscose bamboo (35%), organic cotton (32%), lyocell eucalyptus (30%), elastane (3%)
Sizes:
S / M / L / XL / XXL
Weight (men's large):
440g / 15.5oz
Colors:
Nordic Sky / Chestnut / Charcoal / Moss
Reasons to buy
+
Very comfortable
+
Fast wicking
+
Stylish
+
Natural odor control
+
Great green credentials
Combining style, green credentials and outdoor performance, UK brand BAM has become a firm favorite in the outdoor community. Its new 'Climate Positive' range has offset all carbon emissions associated with running the business – and even the first 50 washes after you buy a product. Furthermore, the bamboo-based clothing has natural odor control and can last multiple days on the trail without needing to be washed.
The BAM Evolution Active is made from an innovative blend of viscose bamboo, organic cotton, lyocell eucalyptus and elastane. The fabric is soft, stretchy and feels lusciously soft against the skin. Testing on an overcast and humid day, the shirt performed well and was very comfortable. Even when sweat patches were visible, they were quickly wicked away from the skin and were hardly noticeable.
Practical features include a chest zip pocket so you can keep essentials to hand. However, this could be larger. Looks-wise, the shirt is super chic. Whether you're in the hills or at a restaurant post-walk, the Evolution Active won't look or feel out of place.
Short-sleeve hiking shirt
Comfortable and classic-looking short-sleeve hiking shirt that wicks away moisture quickly
Specifications
Fabric:
Nylon (94%), elastane (6%)
Sizes:
S / M / L / XL / XXL
Colors:
Shark / Ancient Fossil / Stone Green / Bluestone
Reasons to buy
+
Fast wicking
+
Lightweight
+
Breathable
+
Comfortable
+
Lots of handy features
Reasons to avoid
-
Large fit not for everyone
This timeless and classic-looking hiking shirt is a good choice for hiking in hot weather and sunny conditions. The Columbia Newton Ridge boasts Omni-Wick technology, which helps to move moisture away from the skin quickly and disperse it across the fabric for rapid evaporation.
Made from a blend of nylon and elastane, this short-sleeve hiking shirt is extremely comfortable to wear and feels lightweight against your skin. Some might find the fit a little baggy, but this assists with the breathability (consider sizing down if you're borderline or prefer a tighter fit). It has a host of features including decent sized breast pockets, a handy zip-up security pocket, nicely tailored back vents and a patch of soft material to wipe your sunglasses. Columbia pitches this as perfect for trails and the city.
However, we found it didn't quite have enough chic for trendy urban hotspots but was a great performer on the trails.
T-shirts for hiking
7. Zero Ice Cirro-Cool T-Shirt
A highly impressive hot weather performer that does exactly what it promises to
Specifications
Fabric:
Front: polyester (100%), side panels and lower back: polyester (94%), elastane (6%)
Sizes:
S / M / L / XL / XXL
Weight (men's large):
145g / 5.1oz
Colors:
Black / Black Heather / Bright Gold / City Grey Heather / Bluestone / Collegiate Navy Heather
Reasons to buy
+
Fast drying
+
Lightweight
+
Breathable
+
Moisture wicking
+
Keeps you cool
+
Ideal for hot weather
Reasons to avoid
-
Loose fit will not be for everyone
If you want a shirt for high-intensity hikes, hot weather, humid conditions or all of the above, look no further than the Columbia Zero Ice Cirro-Cool T-Shirt. It's described by Columbia as 'ideal for intense activity in the sun' and we couldn't agree more.
The stretchy T-shirt is made from polyester and has elastane side panels for added flexibility. The fabric is moisture-wicking and has Omni-Freeze ZERO Ice advanced cooling technology, as evidenced by the internal snowflake design.
It is very comfortable. While the loose-fit cut won't be for everybody, it enables extra breathability. We tested the Zero Ice Cirro-Cool on a pleasant late-summer's day and were seriously impressed. However, to really put it to the test, we took it for a high-intensity trail run in hot and sunny conditions. Once again, it wicked away sweat and kept us surprisingly cool. A high-performing shirt that does what it's supposed to.
One of the lightest shirts on test is also great at keeping odors at bay – ideal for warmer walks
Specifications
Fabric:
Recycled polyester (100%) with Polygiene finish
Sizes:
S / M / L / XL / XXL
Weight (men's large):
162g / 5.7oz
Colors:
Chlorite Green Marl / Beluga Marl / Nightfall Blue Marl / Oxblood Red Marl
Reasons to buy
+
Lightweight
+
Breathable
+
Fast drying
+
Odor control
+
Looks great
Reasons to avoid
-
Might be too understated for some
It's easy to be wary of products pitched as 'multi-purpose' as they are often the masters of none. However, the Mantle Tee dodges this trap with ease, as you might expect from Rab.
Made from 100% recycled polyester, the shirt is quick drying and highly breathable. Lightweight and superb-looking to boot, it's a great choice for high-intensity hikes or day-to-day usage.
The Rab Mantle Tee has undergone a Polygiene treatment to reduce odor-causing bacteria by more than 99%. The active ingredient in this treatment is a silver salt, which is a highly effective, naturally occurring antimicrobial agent. Active only on the fabric surface, it does not interfere with your skin's natural bacteria, according to Rab.
The moment we slipped this technical tee on, it felt reassuringly good quality and the fit was complimentary. On humid afternoons in the hills, it felt wonderfully lightweight, wicked away sweat with seemingly little effort and backpack sweat patches dried quickly. A consummate all-rounder.
All-season technical t-shirt that performs well and is reasonably priced
Specifications
Fabric:
Recycled APEX ECO (100%), finished with Polygiene
Sizes:
XS / S / M / L / XL / XXL
Weight (men's large):
105g / 3.7oz
Colors:
Alpine Red / Antarctic Blue / Black / Electric Blue / Kelp Green / Orion Blue / Slate
Reasons to buy
+
Comfortable
+
Breathable
+
Moisture wicking
+
Offers good insulation
+
Odor control
+
Anti-chafing seams
+
Reasonable price
Reasons to avoid
-
Tight fit not for everybody
The latest incarnation of the Dart T-shirt offers high performance, great comfort, understated style and impressive odor control, all at a very reasonable price. Made from 100% recycled APEX ECO fabric, Montane has managed to balance added warmth with moisture wicking and breathability. The result is an all-season technical T-shirt that performs well in all conditions.
The slim, tailored fit might not be for everyone. However, we found the Dart T-shirt fitted well, was extremely comfortable and afforded plenty of movement. It boasts low-profile, flatlocked sewn seams, both internally and externally, which help to avoid chafing while increasing the durability of the t-shirt.
As soon as we slipped the shirt on, it felt extremely lightweight. On the trails, it was highly breathable, fast drying and wicked away sweat fast. Furthermore, the Montane Dart T-Shirt is finished with Polygiene permanent odor control so is a great choice for multi-day hikes. A consummate all-rounder that performs well in all conditions.
How to choose the best hiking shirt
While there are lots of styles to choose from, the best men's hiking shirts should keep you dry and comfortable in all conditions. Hiking shirts should always be breathable, moisture-wicking and fast drying. Here are some things to consider.
Materials
Why you can trust Advnture Our expert reviewers spend hours testing and comparing products and services so you can choose the best for you. Find out more about how we test.
The best men's hiking shirts are composed of synthetic fabrics like polyester and nylon, or natural fabrics like merino wool or bamboo. Synthetic fabrics are fast-drying and absorb very little sweat. They are cheap, durable and machine washable. While synthetics do not have natural odor control, they are often treated to prevent the fabric smelling. Merino wool is much softer than synthetic materials, and it is breathable and naturally odor-resistant too. However, it is expensive and less durable. Bamboo is also breathable and naturally soft. While cotton blends can work well, avoid 100% cotton clothing as it can absorb 25 times its weight in water and is very slow drying.
.
Moisture management
Hiking shirts are always in direct contact with your skin. As such, it is essential that shirts are breathable and wick moisture away fast.
Style
Button-up shirts afford the most features, such as storage pockets and sun-protection collars, and heat regulation is easier because you can unbutton the shirt. While lacking features, t-shirts are typically lightweight and offer more versatility. Long sleeves provide more protection from the sun and insects, and keep you warmer in cool conditions. Shirts with a looser fit are more breathable.
Weight
Lightweight hiking shirts are best for hot weather as they are faster drying and more breathable. They can also be used as part of a layering system (see our guide to hiking layers). Heavier shirts offer more insulation but can be slower drying.
Odor protection
The best hiking shirts should have odor control. Merino wool and bamboo are both naturally antimicrobial. However, synthetic materials can be treated to prevent fabrics from smelling.
Durability
A hiking shirt should be machine-washable and maintain performance properties after regular washing. It should also be able to cope with backpack abrasion and unexpected snags on the trail.
Environmental concerns
As always, the most sustainable clothes are the ones you've already got, but if you do need to invest in a new hiking shirt, look for garments woven from natural, biodegradable materials (wool, bamboo) or recycled synthetics, made with natural dyes by brands with good environmental principles and robust manufacturing ethics. Our guide to the most eco-friendly outdoor brands will point you in the right direction.
All the latest inspiration, tips and guides to help you plan your next Advnture!
A journalist, writer and editor with a passion for self-powered adventures, Dan combines a love of landscape, wildlife and culture with a need for exhilaration, good times and endurance tests. Raised in the Peak District, Dan loves nothing more than exploring the national park's rolling hills, picturesque dales and wild moorland. However, you'll find him walking, running and cycling in lots of landscapes in the UK and further afield. Dan's most cherished hiking experience is bivouacking on Volcan de Acatenango, in Guatemala, and watching the 'Volcano of Fire' across the valley erupt golden lava into the black tapestry of stars and galaxies.