A quick guide to synthetic fabrics for outdoor gear
Nylon? Polyester? Acrylic? What does it all mean and is any of it recyclable? We explain with our quick guide to synthetic fabrics for outdoor gear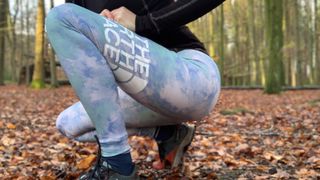 (Image credit: Julia Clarke)
Here at Advnture, we've spent more than our fair share of time extolling the benefits of natural fabrics, such as merino wool and, to a lesser degree, bamboo rayon, in our outdoor gear. Not only are they high performing (think, moisture wicking and breathable) and kind on your skin, but they're better for the planet, too, even if all manufacturing comes with a cost. However, we're aware that a lot of your favorite hiking pants and jackets are made using synthetic fabrics, and you may be interested to know more about the unique properties of these materials, as well as their advantages and disadvantages, when next shopping for new gear.
Synthetic fabrics have been around for decades and are widely used in textiles because they're cheaper than natural fibers, and typically more durable. They're often lightweight, water-repellent, moisture-wicking and quick-drying, which makes them especially valuable when it comes to outdoor gear that you're going to battle the elements in, such as base layers and synthetic puffer jackets. However, as you may know, synthetic fabrics are made using fossil fuels, which makes them intrinsically troublesome for the environment and we won't try to sugar coat that here. With a new focus on sustainability, however, moves are being made to find ways to recycle synthetic fibers, and we're hopeful that new solutions will be found soon.
Read on for our quick guide to synthetic fabrics for outdoor gear to help you understand what the label on your clothing really means for its performance, learn what to look for in different types of gear, and get real about the impact of your clothing on the environment.
Nylon
Nylon was the world's first fully synthetic fiber, making its entrance in the world back in 1938 at the World Fair in Flushing Meadows, NY and creating a textile revolution. Nylon is actually the name for a family of synthetic polymers composed of polyamides, and you may see it listed as such on the label of your new waterproof jacket. In clothing, it was first used to make stockings due to its silky feel at a lower cost, but its natural flexibility doesn't mean it's fragile – rather, it's an extremely tough and abrasion-resistant fabric so you'll see it in hiking backpacks such as the Gregory Katmai 55 and clothing like Alpkit Nautilus waterproof hiking pants.
Nylon is naturally stretchy, doesn't wrinkle easily, holds up to a lot of machine washing and generally lasts a long time. It is also moisture wicking, which is why you so often see it as an ingredient in running gear from the best running socks to tops like the Artilect Sprint Tee. Furthermore, it's naturally water-resistant, making it ideal for outerwear like the Montane Pac Plus XT waterproof jacket and, and even sleeping bags and bivy sacks like the RAB Trailhead Bivi. However, its breathability really varies depending on the yarn width and weave
Nylon doesn't have the odor control properties that we enjoy in our merino wool gear, so expect to have to wash that running jacket every couple of days, but the good news is that the smell usually washed out completely leaving it fresh for your next trot.
So nylon makes a great choice for running, hiking and camping, all things we love, but is it a planet-friendly choice? Well, you can find garments such as the Montane Alpine Resolve jacket which are made using recycled nylon and reducing the amount of resources required. it is not biodegradable, so if you throw that old pair of nylon running shorts in the landfill when you've worn out the elastic waistband, it will be there forever, but hold your horses there, because nylon is recyclable. It is made from plastics and therefore can technically be recycled with other plastics. This is made more difficult if it's mixed with fabrics that aren't recyclable (see: elastane, below) but nylon is naturally stretchy so may not need the added stretch.
Anyway, don't just chuck it in your local recycling bin without checking first. Find out if your recycling center will take it, and if they won't, research outdoor gear companies that are accepting old garments for recycling.
Polyester
Polyester gets a bit of a bad rap as being an ingredient in cheap, uncomfortable clothing, and while that may be true, it's also a component in a lot of high-performing sports gear. It's also essentially made from plastic and was invented by some British chemists a few years after nylon and heralded for its wrinkle-free appearance in men's suits.
Polyester shares a lot of the same qualities as nylon – it's lightweight but strong, easy to care for and naturally water-repellent, which is why it's used in all types of outdoor gear including down jackets like the Nathan Sports BFF Puffer Jacket while it's silky feel makes it common in sleeping bag liners.
Where you'll most often see polyester in outdoor gear, however, is as the main ingredient in fleece. That's right, whether it's Polartec or generic, your fleece jacket, fleece-lined hiking gloves and hat are all woven from polyester.
Polyester is generally not considered a breathable fabric, so a base layer made using polyester can feel clammy if you work up a sweat in it, however it is moisture-wicking and does dry quickly. Like nylon, it gets stinky when you workout in it, but unlike nylon, that smell can build up with repeated wear and washing. It's also notorious for building up static when it's not blended with other fabrics, so expect that crackling noise when you pull a polyester shirt on.
In terms of sustainability, polyester can be made using recycled plastics, but these fibers are not infinitely recyclable. When you've finished with a pair of running leggings made with polyester, they're generally not recyclable at this time either, especially since the polyester is typically blended with other fabrics.
Acrylic
Unlike nylon and polyester, which mimic the feel of silk, acrylic is generally used as a wool substitute. Invented in the 1940s and also made from plastic, it's commonly used in carpets and sweaters, and in outdoor gear, you'll see it in beanie hats like the Rab Logo Beanie as well as hiking and ski socks, such as the Falke SK2s.
It looks and feels a lot like wool, but it doesn't necessarily behave the way wool does. It is lightweight, soft and hydrophobic like wool, but it's not as warm as wool and is far from breathable, making it less than ideal in clothes you're going to get sweaty in. It also gets very smelly as opposed to wool's natural odor-resistance.
Like polyester, it tends to build static and acrylic fabric is also highly flammable, making it a poor choice for anything you might wear near a camping stove. It's often seen as a better alternative for those who are sensitive to wool, however.
Further, it's neither biodegradable nor recyclable, so besides being cheap, there aren't a lot of great arguments for having a lot of acrylic gear in your closet.
Elastane (Lycra and Spandex)
Elastane is the generic term for brands of stretchy fabric such as Lycra and Spandex. Needless to say, then, elastane is a highly elastic fabric. It was invented in 1930s Germany and made from plastics. It pops up as a supplementary component in all kinds of outdoor gear that you'd want to have a little give, from running leggings to sports bras and hiking socks. In fact, it's hard to imagine life outdoors without a little elastane in our clothing, though Edmund Hillary summited Everest before it became widely used, so it must have been possible.
Elastane can be breathable, depending on the weave, and moisture wicking, but it's used in smaller amounts primarily to give your clothing enough give that it doesn't restrict your movements on the hill or at the crag, so these properties are less important than they are in the main fabrics. In garments that you'd want to have a lot of stretch, such as leggings, look for a higher stretch content of around 10 percent but you might avoid it in outerwear that you want to hold its shape. It's not the most durable of the fabrics on this list, and does eventually break down.
Elastane isn't biodegradable and is not currently recyclable either, making it problematic for the environment. You can get round this by choosing nylon and merino wool garments such as the EDZ Merino Base-Layer which has zero elastane but plenty of natural stretch.
All the latest inspiration, tips and guides to help you plan your next Advnture!
Julia Clarke is a staff writer for Advnture.com and the author of the book Restorative Yoga for Beginners. She loves to explore mountains on foot, bike, skis and belay and then recover on the the yoga mat. Julia graduated with a degree in journalism in 2004 and spent eight years working as a radio presenter in Kansas City, Vermont, Boston and New York City before discovering the joys of the Rocky Mountains. She then detoured west to Colorado and enjoyed 11 years teaching yoga in Vail before returning to her hometown of Glasgow, Scotland in 2020 to focus on family and writing.