The best men's winter boots 2023: for cold weather adventures
Our guide to the best men's winter boots features footwear that's warm, waterproof, and ready for anything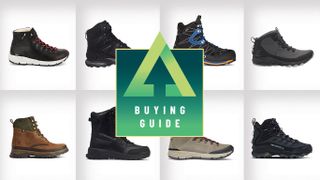 (Image credit: Future)
The best men's winter boots let you boldly adventure on into the chilly months. Winter is a season when having top-quality gear is more important than at any other time of year. Few pieces of kit matter as much as those that separate you from the ground, so in our best men's winter boots guide we've tested the top models for a range of winter activities.
Winter means different things to different people. The type of outdoor sports or activities you pursue, what kind of winter weather you get in your part of the world and your own sense of style will all influence what kind of winter boot you choose. Some winter wanderers need extra insulation and grip for hiking when trails are at their wettest and muddiest. Other explorers require a snow boot for coping with severe winters at northern latitudes. And some people just want a stylish waterproof boot to slip on after a day's skiing, for when they hit the après bars.
If you don't see what you're looking for here, head over to our best women's winter boots guide, or for footwear for tackling more technical trails, check out our best winter hiking boots guide, or peruse our best walking boots or best walking boots for women guides.
The best men's winter boots
The best men's winter boots for versatility
A warm, comfortable, grippy, versatile and beautifully built winter boot
Specifications
Weight (per boot):
638g / 22oz
Insulation:
200g Primaloft
Compatibility:
Low-level trails in cold and snowy conditions
Reasons to buy
+
Excellent warmth
+
Outstanding grip
+
Superb build quality
+
Stylish
Reasons to avoid
-
Expensive
-
Side zip a bit unnecessary
For this winter boot, Oregon-based Danner teamed up with Vibram to create a sole designed specifically for snow and ice. The Vibram Nisqually Arctic Grip outsole is designed to provide traction in sub-zero temperatures when it's extra slippery underfoot. Your feet won't feel cold either, thanks to 200g Primaloft Gold insulation. Meanwhile, Danner's own waterproof and breathable lining ensures your feet stay dry and sweat gets wicked away. A removable OrthoLite footbed provides plenty of cushioning making them comfortable over long hours on the trail.
Suede-and-nubuck uppers are hardwearing but soft and supple enough to accommodate a wide range of foot shapes. They look terrific as well – this is a boot you can come off the mountain in, and wear straight to the pub. A side zip means you can – theoretically – leave the laces tied and just zip in and out. We like our boots nice and secure, though, so we preferred to tie the laces every time. Heel loops mean they're easy to put on anyway.
They're not cheap but they're beautifully made, warm, have excellent traction, and are perfectly designed for life in the mountains. If you're after a men's winter boot that can cope with snowy and icy footpaths and still look good in post-walk pub scenarios, these are ideal.
Read our full Danner Arctic 600 Side Zip review
Exceptionally stylish full-grain Italian leather boots that look as good around town as they do on the mountain
Specifications
Insulation:
Gore-Tex Perfomance Comfort lining
Compatibility:
Low-level trails in cold and snowy conditions
Reasons to buy
+
Beautiful style
+
Handmade in Italy
+
Soft yet tough Tuscan leather
+
Built to last
Reasons to avoid
-
Not overly warm
-
Took time to wear in
-
Too nice to get muddy
Constructed with great craftsmanship from soft-yet-rugged premium leather, these beautiful boots from Zamberlan are as stylish as they are capable. This is a boot that's equally at home scaling a mountain on a cold and gray winter day and dangling from a barstool afterwards.
Founded in Italy in 1929, Zamberlan is still run by the same family that set the company up nearly a century ago. As was the case then, their boots are handmade in Italy using traditional methods. Available in black or mustard leather, with contrasting red or orange laces, the Zamberlan Cornell GTX have an Alpine style that's all their own.
They're not all-show and no-go either; a Vibram sole provides grip across a range of conditions and a Hydrobloc water repellent treatment augments the already waterproof leather uppers and Gore-Tex lining.
They may not offer enough warmth in the very coldest temperatures, but for the vast majority of outdoor winter activities these boots will perform as well as they look.
We didn't find them super comfortable right out of the box, but over the course of a few hikes they gradually molded themselves to our feet. These are boots that will offer more and more comfort the longer you own them.
Read our full Zamberlan Cornell GTX review
High-cut, full-grain leather boot with cushioned sole
Specifications
List price:
$195 (US) £175 (UK)
Colors:
Oily distressed brown
Compatibility:
All-weather adventures on non-technical trails
Reasons to buy
+
High cut keeps out water and snow
+
Quality full-grain leather
+
Good cushioning
Founded by two Stanford University students in the 1990s, Ariat aim to combine traditional boot-making methods with the kind of technology used in sports shoes. The Ariat Moresby is a high-cut, full-grain leather boot that has the level of cushioning you'd expect from a pair of basketball shoes. A four-layer foot bed combines support, stability and shock absorption.
They look every bit as good as most casual leather boots. A rubber toe protector and the sharp teeth of the sole's grips are the only suggestions that these boots are designed with more extreme activities in mind. Fully waterproof, the 6in boot is cut high enough to keep your feet dry through most conditions. Deep lugs offer grip across a variety of terrains, from snow to mud and slippery rock surfaces.
Loops on the tongue and heel make them easy to put on and take off. There are six metal lace-hooks, though, so tying them takes time. Once tied they offer a secure, weatherproof fit.
Built in a medium width, the Ariat Moresby should be suitable for most foot shapes and the soft leather will mold over time for a personalized fit.
The best men's winter boots for warmth
4. Columbia Bugaboot Celsius Plus Snow Boot
Extremely warm snow boot with unique heat-reflective system
Specifications
Weight (per boot):
666g / 23.5oz
Insulation:
400g synthetic plus Omni-Heat reflective lining
Colors:
Black / Gray / Brown / Black
Compatibility:
Best for wearing in very cold conditions, walking on non-technical but snowy trails, and exploring winter resorts
Reasons to buy
+
Outstanding warmth
+
High ankle for deep snow
+
Good grip levels
Reasons to avoid
-
Inflexible materials means correct sizing is important
-
Not an all-rounder – best suited for snow
If you regularly spend a lot of time in very cold and snowy places, the Columbia Bugaboot Celsius Plus should be on your radar. With a remarkable 400g of insulation, these were the warmest men's winter boots we tested. As well as all that padding, the Bugaboot Celsius Plus benefits from Columbia's Omni-Heat system, a special lining that has hundreds of gold dots to reflect your body heat back into the boot.
The uppers feature waterproof leather, textile, webbing and metal. They feel incredibly tough and should be good for many winters. However they are hard and inflexible so getting the correct size is crucial. These are not boots that will break-in and mold themselves to your feet over time.
The rubber Omni-Grip sole is designed specifically for snowy conditions and should ensure you can make your way up along the trails or around the ski resort without taking a tumble. Huge heel loops make them easy to put on or take off with winter gloves on. These are boots that are very specifically designed for life in the snow and cold. If you spend a lot of time skiing or live somewhere with harsh winters you'll be very glad you bought a pair. If you only hit the slopes once or twice a year you might be better of picking one of the more all-round men's winter boots from our guide.
Best lightweight men's winter boots for warmth
5. Haglöfs LIM FH GTX Mid
Lightweight boot that's well built and oh-so comfortable
Specifications
Weight (per boot):
381g / 13.5oz
Colors:
Black / Nordic Blue
Compatibility:
Mid-level trails in milder winter conditions
Reasons to buy
+
Lightweight at 381g
+
Comfortable on long hikes
+
Sneaker-like feel
+
Breathable for changeable weather
These boots from Swedish outdoors company Haglöfs are good for fast-paced, active winter activities. At just 381g per boot, they're incredibly lightweight and a joy to have on your feet, and despite barely nudging the dial on the scales they're well featured and ready for winter adventures. There's a Gore-Tex lining, reinforced fabric uppers, a thick foam midsole and padded ankles for extra support, but they're not insulated, so if you're standing around in sub-zero conditions your feet will soon start to chill. Active winter activities are what these boots excel at. They're in their element on a brisk hike up a mountain or through a forest.
Excellent breathability and plenty of flex mean they remain comfortable after a long day on the trail. The sole's 4mm lugs offer plenty of grip on wet or slippery surfaces but aren't quite rugged enough to deal with the kind of deep mud Scotland's mountains all too frequently offer in winter. These boots will be out of their depth in the very harshest weather, but if you want a boot that offers a superb weight-to-performance ratio for winter days when the forecast isn't dreadful, these will be your go-to choice.
The best men's winter boots for hiking trails
6. Merrell Moab Speed Thermo Mid
Insulated 4-season version of Merrell's classic hikers
Specifications
Weight (per boot):
480g / 17oz
Compatibility:
Everything from winter hiking to wearing around a snowy ski resort
Reasons to buy
+
Out-of-the-box comfort
+
Good warmth levels
+
Trail-shoe feel
Reasons to avoid
-
Less ankle support than some others
Merrell's Moab Speed have been a firm favorite with hikers for years and now there's an insulated version. The Merrell Moab Speed Thermo Mid is a winter-oriented iteration of the American company's popular 3-season trail boots. They have all the features of their stablemate the Moab Speed GTX – including being fully waterproof – and add a useful extra dose of winter warmth thanks to 200g of Primaloft insulation.
At 480g they're not feather-light, yet the numbers don't tell the full story and these Merrells never feel heavy or cumbersome to wear. Indeed, a neat design makes them look a size smaller than they actually are.
Price-wise, they're not bargain basement but neither are they at the higher end of the price spectrum. A Vibram sole with deep lugs makes it easy to find traction in snow or mud, while that Primaloft layer ensures your feet don't feel the chill when the mercury plummets. Soft fleece trim inside the ankles and tongue gives a little bit of extra comfort and warmth.
7. Salomon Men's Ultra Trek GTX High Rise
Grippy boots with good ankle support that are comfortable on day-long winter hikes
Specifications
Compatibility:
Hill hiking on proper trails in cold and snowy conditions
Reasons to buy
+
Durable
+
Superb grip
+
Good ankle support
Reasons to avoid
-
Narrow fit
-
Flex may not suit climbers on more technical routes
Salomon has built a deserved reputation for shoes that are capable and long lasting. The Ultra Trek GTX range is available in low, mid, and the high version tested here.
Aimed at year-round hiking but perfectly capable of holding its own in most winter conditions, this 3-season-plus boot has a sole with deep lugs that can handle anything from thick mud to snow. Salomon don't give insulation info for the Ultra Trek GTX but the uppers are thick and well padded. As long as you're active they should keep you warm in most conditions, but it's not a fully specced winter boot.
However, high ankles give extra confidence that snow and water won't find their way into these boots. Salomon have a reputation for build quality and these feel like they will go and go. A flexible sole is great for day-long hikes where long miles are covered and comfort is key. Those tackling difficult rocky ascents may want something stiffer, however, in which case we recommend the AKU Tengu GTX.
A lightweight and capable mountaineering boot with a neat and nimble feel – though the lacing system seems to make it a little tricky to dial in a precise fit
Specifications
Weight (per boot):
725g / 1lb 9oz
Colors:
Blue & Black / Black & Orange
Compatibility:
Four-season B2
Reasons to buy
+
Lightweight
+
Supportive
+
Protective
Reasons to avoid
-
Lacing system not the best
-
Not insulated
On paper, the AKU Tengu tick virtually all the boxes when it comes to the best winter walking boots. The design incorporates a high-ankle cuff for plenty of support and protection, tough uppers with a wraparound rand for durability, a Gore-Tex lining for reliable waterproofing, and a Vibram sole for reliable traction underfoot.
Actually, there's even more to the boot than that – it's just that most of the really clever stuff is hidden from view. Structurally, the boot is made up of a dual-density PU midsole with a carbon fiber shank. This consists of a durable "Exoskeleton'"along with a lightweight inner section for better cushioning. As a result, they feel supportive yet comfortable, being stiff enough to take a C2 crampon (check out our guide to the best crampons you can buy) and climb competently, yet with enough cushioning for easy walking. The burly toe box is equally good for scrambling or kicking steps in snow.
AKU boots are generally known for their excellence in terms of fit, with sophisticated tech and lasting to try and guarantee a close, precise fit. Indeed, some reviewers have praised the Tengu in this regard. Unfortunately, we didn't get on quite so well with it, experiencing noticeable heel slip no matter how tightly we laced the boots. Even trying a thicker insole didn't help. It's a minor niggle though, and one that may not affect all foot shapes and volumes. Just because it didn't suit us doesn't necessarily mean it won't suit you.
Read our full AKU Tengu GTX winter hiking boots review
The best affordable men's winter boots
9. Decathlon Quechua SH500 X-Warm Waterproof Lace-Up Snow Hiking Boots
Superb warmth and comfort with a bargain price tag
Specifications
Colors:
Brown & Black / Black / Pebble Gray
Compatibility:
Snow play and après chilling
Reasons to buy
+
Exceptional value
+
Very warm
+
Comfortable
Reasons to avoid
-
Not fit for technical trails
There really is no limit to how much you can pay for a pair of men's winter boots. But do you need to spend all that money? Isn't there a boot that offers good performance for a lot less outlay? Step forward this snow boot from Quechua, budget sporting goods retailer Decathlon's house brand.
The fully waterproof boot has a thick fleece lining that offers exceptional warmth. In fact it's second only to the Columbia Bugaboot for warmth in this test. According to their makers they'll keep your feet comfortable to -8°C (18°F) when static and -17°C (1°F) when on the move. Costing just £45, they're incredibly good value for a boot that will keep your toes toasty down to temperatures as low as all but the most gung-ho adventurers are likely to encounter.
The sole is designed to offer maximum traction on snow and the boots have a high cut so you can wade through a fresh fall of the white stuff without soaking your socks.
The combination of a flexible synthetic upper and deep, soft fleece lining makes for a very comfortable winter boot. In fact we sometimes wore them instead of slippers on cold days working from home. However, these boots are not designed for hiking or any real general wear. They're for wading through snow. But their combination of warmth, protection and comfort at an astonishing price make them a perfect purchase for après-ski footwear.
The best minimalist men's winter boots
Minimalist men's winter boot for barefoot enthusiast
Specifications
Insulation:
Thermal insole
Compatibility:
Low-level, non-muddy trails
Reasons to buy
+
Minimalist design
+
Packable
+
Featherlight at 329g
+
Wide toe box
+
Exceptional feedback from the trail
Reasons to avoid
-
More expensive than most
-
Not very warm
-
Barefoot shoes take time to get used to
Can a barefoot model be used as a men's winter boot? Minimalist footwear specialist Vivobarefoot think so. Their Tracker II FG is billed as a hiking boot that can be used all year round.
Vivobarefoot believe footwear should be foot-shaped and have minimal distance between you and the elements. The Tracker II FG has a sole that's just 2.5mm thick, with 4mm lugs to stop you slipping. Such a thin sole doesn't give much insulation between you and the ground so Vivobarefoot include a removable thermal insole that improves underfoot warmth.
At 329g, they're the lightest boot we tested – you barely notice you're wearing them. On test we found them to be waterproof, handling waterlogged trails without letting any wetness in. Our feet didn't get cold but the temperature didn't reach truly frigid conditions. Even with the thermal insole it's likely to be only the hardiest of hikers that will wear them in the depths of winter. Barefoot shoes also take a bit of getting used to. Your calves do more work so if you're new to barefoot-style hikes it's best to build up distances gradually while your muscles adapt.
Also, those 4mm lugs are perfect for bone-dry winter trails, but for muddy conditions hiking you need more aggressive indentations to grip when the going gets boggy.
That said, no other boot on this test offers the same sensation you get standing on a rocky outcrop in Vivobarefoots. Feeling the ground beneath your feet really does connect you to the landscape you're walking through.
See our full review of the Vivobarefoot Tracker II FG hiking boot.
Swipe to scroll horizontally
Best men's winter boots

| | | | | |
| --- | --- | --- | --- | --- |
| Boot | Price | Weight per boot | Insulation | Compatibility |
| Danner Arctic 600 Side-Zip | $240 (US) / £230 (UK) | 638g / 22oz | 200g Primaloft | Low-level trails in cold and snowy conditions |
| Zamberlan Cornell GTX | £190 (UK) | 540g / 19oz | Gore-Tex Perfomance Comfort lining | Low-level trails in cold and snowy conditions |
| Ariat Moresby | $195 (US) £175 (UK) | 680g / 24oz | N/A | All-weather adventures on non-technical trails |
| Columbia Bugaboot Celsius Plus Snow Boot | $170 (US) / £160 (UK) | 666g / 23.5oz | 400g synthetic plus Omni-Heat reflective lining | Very cold conditions, walking on non-technical but snowy trails |
| Haglöfs L.I.M FH GTX Mid | $170 (US) / £160 (UK) | 381g / 13.5oz | N/A | Mid-level trails in milder winter conditions |
| Merrell Moab Speed Thermo Mid | $170 (US) / £155 (UK) | 480g / 17oz | Primaloft | Winter hiking to après-ski |
| Salomon Men's Ultra Trek GTX High Rise | $190 (US) / £170 (UK) | 861g / 30oz | Synthetic | Hill hiking on proper trails in cold and snowy conditions |
| AKU Tengu GTX | £270 (UK) / €319.90 (EU) | 725g / 1lb 9oz | N/A | Capable of everything up to winter mountaineering |
| Decathlon Quechua SH500 X-Warm Waterproof Lace-Up Snow Hiking Boots | £44.99 (UK) | 490g / 17oz | Thick fleece | Snow play and après chilling |
| Vivobarefoot Tracker II FG | $240 (US) / £190 (UK) | 329g / 11.6oz | Thermal insole | Low-level, non-muddy trails |
How we test men's winter boots
Our expert gear testers have put all of the following boots through their paces on a wide variety of terrain in thoroughly winter conditions, in Scotland and the Alps. Each pair has been performance assessed against a range of criteria, including thermal insulation, waterproofing, comfort, functionality, grip and style.
Choosing the best winter boots for you
What kind of men's winter boots you need will depend largely on what you want to do with them and where you intend to use them. If you live in a temperate climate you'll need something that can cope with wet and muddy conditions. People who live in Canada, Norway and other northerly climes will require a warmer boot that offers traction on snow. Skiers are likely to want something comfortable to ease into for an evening at the après bars. Whatever kind of men's winter boots you want there are a few factors you should bear in mind.
Insulation
It would seem to go without saying that a winter boot needs to be insulated. But that may not be the case. If you're hiking up mountains at a fast pace your exertion levels are high and your body temperature will be elevated. Overheated, sweaty feet are going to increase your discomfort level. So while you'll still need grip, support and weatherproofing, you may not need insulation.
If it's extra cold or you'll be out for extended periods then insulation becomes much more important. Most insulated boots use a synthetic, breathable insulation such as Primaloft. Snow boots often come with a thick fleece lining that offers warmth and comfort. The former is better if you're going to be active in cold conditions, while the latter is fine for outdoor ski bars.
Waterproofing
All the boots tested here are waterproof. But how long they remain waterproof for is likely to vary a great deal depending on the type of boot you go for.
Models that are extremely lightweight with thin fabric uppers will be relying on a membrane liner such as Gore-Tex to keep water out. A couple of broken stitches or a tiny tear in the lining is all the opportunity water will need to seep in and soak your socks.
The more hardcore winter boots will feature much thicker lining that is a lot more robust and will stand up to abuse. Waterproof boots with full grain leather uppers are also likely to remain waterproof for years rather than months of hard use. As with everything, however, there's a trade-off and you'll pay a weight penalty for boots with waterproofing that'll never let you down.
Ankle height
Winter is when streams are high, puddles are everywhere and there may be snow to wade through. It doesn't matter how waterproof your boots are if snow or water goes over the top of them. That's why ankle height is an important factor when considering which men's winter boot to buy. Many models of outdoor shoe come in low-, mid- and high-cut versions. If you're likely to be walking through snow or splashing through streams aim for a high-cut boot to avoid wet feet.
Tread
No single hiking boot sole has the best traction overall. They will all perform at their best on different kinds of terrain. If you're most likely to encounter mud or snow you want deep lugs that will dig in and find traction. Soles with shallower, wider grips will cling better onto wet rock or ice but are more likely to slide around in deep mud. If you're attacking steep ascents and descents you'll want V-shaped lugs with braking lugs that face the opposite way and help with downhills.
All the latest inspiration, tips and guides to help you plan your next Advnture!
Jack McKeown is a Scottish journalist, hiker, skier, runner and beach volleyball player. Having walked many of Scotland's long distance trails, last year saw him tackle his first ultramarathon. He lives in Dundee and in his spare time Jack and his golden retriever Bracken are often to be found exploring the mountains, forests, lochs and rivers of Highland Perthshire.