The best women's winter boots and snow shoes for adventures in the white stuff
Our pick of the best women's winter boots and snow boots are waterproof, snow proof and ready to keep feet warm in sub-zero temperatures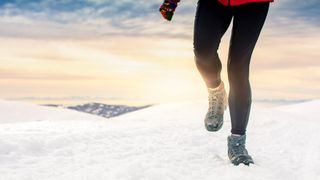 (Image credit: Getty)
The best women's winter boots open up a whole playground of snowy adventure. From taking on snowy trails in the mountains to exploring the ski resort, it's important to have robust boots that will keep your feet dry and warm, while giving you a secure grip on the icy ground beneath your feet.
Winter kit can be expensive, so it's important to consider your intended use before you invest. If you're looking to get yourself a pair for between snowboard and ski sessions on a resort holiday, or something to go for low-level snowy walks, you don't need anything too technical. However, if you are a winter backpacker, keep an eye out for pairs that boast excellent grip and a more rigid sole.
As is the case with all the best hiking boots, the higher the boot – the better the ankle protection. If you're hitting the trails you might want to also ensure your chosen pair has suitable waterproofing credentials. We consider insulation, waterproofing, soles and fit at the end of this guide.
Below, we have a range of the best women's winter boots. From fashionable pairs with cozy warm linings to more technical hiking boots for iced up trails, there's something for you here. If you are after a pair that can take crampons though, check out our guide to the best winter hiking boots for superb unisex mountaineering models. If not, read on for our round-up of the best women's winter boots.
Best women's winter boots for general adventures
Why you can trust Advnture Our expert reviewers spend hours testing and comparing products and services so you can choose the best for you. Find out more about how we test.
LL Bean Shearling-Lined Bean Boots
Outdoor boots offering slipper-like comfort levels
Specifications
RRP:
$229 (US) / £225.50 (UK)
Insulation:
Lamb shearling lining 200g Thinsulate underfoot
Weight:
475g / 1lb, 0.7oz
Colors:
Maple & brown / Brown
Reasons to buy
+
Available in multiple widths
+
Fashionable and functional
Reasons to avoid
-
Soft soles
-
Lack of grip on the outsole
With a full waterproof rubber shoe stitched to a tall, supple leather cuff, and lined with the same lamb shearling LL Bean uses in its slippers, this iteration of LL Bean's iconic boot is amazing to slip into for urban excursions and rural rambles. It's handmade in Bean's Brunswick, Maine factory, where the Bean Boot been made since 1912. The leather upper is tumbled to make it supple, then triple stitched to the base, while inside a steel shank supports your foot and smooths out the terrain. On the downside, the soft soles aren't great for hiking on variable terrain, and the chain print sole didn't grip as well as winter-specific lugged soles. If you typically wear heavy socks, order these in your standard size; if you usually opt for a thinner sock, size down.
Columbia Paninaro Omni-Heat Tall Boot
Bringing the moon boot back to Earth, these puffy après snow boots are warm and waterproof with a lot of sole
Specifications
RRP:
$140 (US) / £125 (UK)
Insulation:
200g synthetic
Colors:
Black & stratus / White & cobalt blue / Abyss & zinc
Reasons to buy
+
Very warm
+
Waterproof (including the zipper)
+
Good midsole
Reasons to avoid
-
Grip isn't brilliant
-
Winter wear only
The levels of comfort and thermal protection the Paninaros offer is superb, with Columbia's ever-so clever Omni-Heat reflective lining keeping feet warm and cozy right across the colder months of the year. These puffy boot feature a zip (also waterproof) and a pull loop, which combine to make them very extremely easy to get on and off. There's more magic in the midsole, which has a moulded EVA footbed to absorb the stress of repeated footfall, making these lightweight, gravity defying moon boots suitable for strolling along trails. They are too hot to wear much outside of winter, however, and while the outersole is made with reasonably grippy high-traction rubber, the lugs aren't especially aggressive and they struggle in deep mud.
The Sorel Caribou is a classic, and for good reason – this big beast of a boot is reliably warm and weatherproof
Specifications
RRP:
$170 (US) / £150 (UK) / €170 (EU)
Insulation:
Felt inner boot
Compatibility:
Ideal for working in – or just stomping about in – deep snow and cold temperatures
Reasons to buy
+
Removable felt liner
+
Tough rubber bottoms
Sorel's snow boots are classics worn by mountain guides, rangers and ski seasonnaires alike, and their bestselling Caribou boot is our top winter all-rounder from their wide range of styles. Warning – these boots are big and heavy workhorses, and are definitely not at the barely-there end of the snow boot spectrum, making them a better choice for working or playing outdoors rather than for long hikes. Warm, chunky and designed with proper snowbound winters in mind, the Caribou features a wellington boot-style rubber toe that stops any water seeping in and makes the bottom part of the boot easy to wipe clean. The higher section of the Caribou is waterproof nubuck leather lined with warm fleece, and this can be laced tightly enough to keep feet cosy. We love the removable inner booties which act as the boot's insulating layer, made from recycled felt and which you can take out to wash or to wear around the house as slippers. For seriously cold temperatures, Sorel also make a warmer wool-lined version of the Caribou for an extra $10/£10.
These fun faux fur-lined boots may look fashion forward, but they also perform well in the cold
Specifications
RRP:
$120 (US) / £115 (UK) / €130 (EU)
Insulation:
Omni-Heat reflective lining
Compatibility:
These very comfortable lined boots are great for ski holidays
Reasons to buy
+
Soft and comfortable
+
Warm
Ok, so they do look a bit like ski bunny wear – but Columbia's faux fur-lined Slopesides are designed with substance as well as style in mind, and are deliciously warm and comfy to wear as well as waterproof enough to repel snow. A quilted lining and 200g of insulation make these winter boots as cosy on your feet as your favourite slippers, and there's also a lining of Columbia's own-brand Omni Heat technology – which uses little silver dots to trap and reflect body heat and keep feet snug even in sub-zero conditions. Laces are easy to adjust, so you can get a snug warm fit around the legs or leave these tall boots loose on more casual walks. The soles of the Slopesides also proved very good on test, offering decent grip on icy pavements and snowy trails alike. As the name suggests, these boots are a great choice for wearing when you're not busy skiing on a winter sports holiday, or for popping out for walks in the winter, especially if comfort is at the top of your wishlist. Did we have any quibbles when testing these boots out? The fit of the Slopesides is definitely way off – we couldn't even fit our feet into our normal size – so go at least one size up, especially if you have wide feet or plan to wear thicker socks.
This winter version of Timberland's classic leather boot is great for combating the cold in style
Specifications
RRP:
$180 (US) / £140 (UK) /
Compatibility:
Wear on cold but dry days on your winter travels
Reasons to buy
+
Warm quilted upper made from recycled material
+
Good grip
+
Primaloft insulation
Reasons to avoid
-
Not waterproof
-
Not hardy enough for trails
-
Need some breaking in
Classic Timberland boots on the bottom, warm faux fur-lined quilted fabric on top – these winter boots, made with recycled materials, are a great marriage of urban styling with outdoor-ready warmth. This warm take on your favourite Timberlands is well suited to the cold, with 200g of Primaloft insulation packed in to keep feet warm even in the frost. The quilted fabric upper, made from recycled plastic bottles, is reminiscent of how it might feel to wrap your ankles in a down jacket and really adds warmth when the mercury drops. Just like classic Timberlands, these boots have thick but very light and bouncy rubber soles with good lugs that offer decent traction even on slick icy surfaces. Leather is naturally water resistant as long as you take care of it and keep it in good condition, and the fabric upper of the Heritage boots also repels water, but this design is definitely better suited to cold but dry snow days rather than to wet weather, and it won't repel heavy rain or thick snowfall. Like many leather boots, the Heritage boots may need some breaking in before they soften and mould to your feet.
These boots are just like your favourite insulated jacket – they're super snug but are only designed to keep you warm on dry days
Specifications
RRP:
$159 (US) / £152 (UK)
Insulation:
Fleece lining
Colours:
Black/carbon/cream
Compatibility:
Keep toes cosy on cold but dry winter days
Reasons to buy
+
Delightfully comfy to wear
+
Good lacing
+
Warm Primaloft insulation
Reasons to avoid
-
Not waterproof
-
Can look dirty fast
All-American brand LL Bean are the makers of the iconic Duck Boot, a wellington and leather boot hybrid which is excellent in the rain. For cold dry weather, however, we prefer their snug-as-anything Snowfield boots. Think of them as being like your favourite down jacket shaped into boots – light, airy and instantly very warm against the bitter cold, but pretty useless when wet. The Snowfield is water resistant enough to deal with light snowfall but will quickly get sodden in rain or sleet – but it's delightful in freezing dry weather, and proved very warm indeed on test, with a thick layer of Primaloft insulation to combat the chill and a narrow faux fur-lined top that can be laced up snugly. We also rated the sole – it's thick but very bouncy, and grippy enough to keep you padding happily about on snow for hours. We recommend picking the black or grey versions of the Snowfield over the cream, which can quickly look dirty.
Best women's winter boot for hiking trails
This walking boot is ideal for serious trekking in frosty weather
Specifications
RRP:
$250 (US) / £160 (UK) / €190 (EU)
Compatibility:
A great hybrid of hiking boot and winter boot
Reasons to buy
+
Fully waterproof
+
Great grip
Reasons to avoid
-
No dedicated insulation, so not warm enough for really freezing days
Love to go off the beaten track no matter what the weather? Keen's Karraig could be your new best friend. This high-performing leather hiking boot is warm, waterproof and instantly comfortable to wear. We like the high, supportive and well-padded ankle, which doesn't let rain or snow seep in, the protected toe box and the thick soles, which offer great grip even on wet and icy surfaces. The Karraigs aren't snow-specific boots, and there's no insulation besides naturally warm leather, but we still found them brilliant when we tested them out in temperatures down to and around 0°C, making these boots a great choice if you want a hardwearing hiking boot for autumn, winter and spring that you can also wear on frosty walks or when venturing above the snow line in the mountains. If you're planning to be out in deep snow all day long, however, pick a winter-specific boot such as Keen's insulated Revel IV (scroll down).
Keen Revel Polar IV (High)
With rugged soles offering excellent grip, these waterproof winter boots can put up with Arctic environments
Specifications
RRP:
$190 (US) / £140 (UK) / €170 (EU)
Insulation:
KEEN.WARM Recycled PET insulation
Colours:
Black / Dusty olive and rose dawn
Compatibility:
These waterproof boots offer trustworthy warmth down to -40°C, and wouldn't be out of place in their namesake Polar regions
Reasons to buy
+
Great quality
+
Very warm
+
Waterproof
These hefty boots mean business. Keen's Revel IV is designed with winter in mind, starting from the bottom, where chunky rubber soles offer brilliantly sticky grip even on slick ice and give great confidence as you hike. Up top there's a waterproof suede leather outer, a high lacing system that hugs your ankle and a cushiony inner sole that makes these boots feel springy underfoot even after hours of trudging through snow. The Revel IVs are ideal for working long hours outdoors in the cold, hiking in sub-zero temperatures (Keen claim the boots insulate down to -40°C/-40°F, which we couldn't test, but they were very snug at -5°C/23°F) or dog walking in any weather, and are definitely worth the investment if you get outside all winter long. The Revel IVs aren't as chunky as some of the other high-performing boots we tested, either, making them a versatile pick. Trying to make environmentally sound purchases this year? Most of this boot is constructed from recycled materials and the design is PFC-free. Two heights are available – we prefer the higher cut, which is great for stomping through deeper snow, but the mid cut boot ($170/£130/€160) offers a little more flexibility of movement for hiking. We give top marks for both.
Hardy boots that deliver big on both style and performance in icy conditions
Specifications
RRP:
$220 (US) / £171 (UK) / €190 (EU)
Compatibility:
Excellent grip and warmth make these boots perfect for icy terrain
Reasons to buy
+
Fully waterproof
+
Very comfortable
+
Excellent grip
Icy terrain won't know what has hit it when tackled by these tough-as-nails winter boots. Danner are best known for their sumptuous, retro-inspired leather hiking boots, but they've turned their hands brilliantly to winter boots with the Arctic 600, which packs in some great technology – warm Primaloft insulation, Danner's own-brand Danner Dry waterproofing and the star of the show, Vibram's Arctic Grip soles, which really do stick to the slickest of icy surfaces. We were very impressed by this boot on test – we love the handy side zip which makes popping the boots on and off a breeze, the snug lace-up fit and good ankle protection, the tough toe box and the cushioning footbed, which moulds nicely to your feet for a custom fit. Plus, the suede Arctic 600 looks very handsome, and works just as well when worn casually for winter days in the city as on mountain treks, making its price point more palatable.
Mountain Warehouse Vostock
The good-looking, reliable Vostock is a great pick if you're after a taller winter boot
Specifications
Insulation:
Thermal Thinsulate lining
Compatibility:
A versatile taller boot with great soles for tackling cold and wet weather
Reasons to buy
+
Great look
+
Vibram soles
+
Warm lining
Mountain Warehouse's excellent Vostock winter boot gets regular high reviews from fans, who have worn it everywhere from Iceland to Norway. Mountain Warehouse vouch for the warming properties of the boot down to -30°C/-22°F, and they're definitely very cosy, with a Thinsulate lining designed to add warmth without too much bulk and a fully waterproof leather upper that keeps sleet and snow at bay. The taller cut of the Vostocks also offers a nice bit of extra warmth. We always rate Vibram soles on test, and these are no exception, offering excellent grip even on ice and packed snow, although we did find the soles rather stiff and unforgiving, and wouldn't hike for miles in these boots – save them for winter holidays, snow days or working outdoors. The tan leather can stain slightly with regular use in wet weather, so you may want to treat your new boots with a leather protector before you head for the hills.
What to look for when buying the best women's winter boots
Insulation
The key element that makes the best women's winter boot stand apart from a standard hiking or outdoor boot is insulation – they're designed to keep your feet cosy even in sub-zero temperatures. Some snow boots come with a temperature rating (-10°C/14°F for example), which means they've been tested and proven to perform at that low temperature. Otherwise, look to see what materials are used in the construction to trap in warmth – insulation such as Primaloft, which is also used in insulated jackets, is great at keeping feet warm, as are thermal fleece and neoprene linings. Some brands, such as Sorel, make boots with removable fleece booties inside which you can keep on your feet like slippers when you're indoors. Note that winter boots will never be as breathable as light fabric hiking shoes – they're only suitable for the cold.
Waterproofing
Any boots designed to tackle snow should have a waterproof or at least water resistant (sometimes labelled snow proof) outer layer. Boots which claim to be fully waterproof can usually deal with deep snow and rain, and are recommended if you're hiking or working outdoors in winter conditions. 'Snow proof' or water-resistant boots only repel light snow fall – these are better for casual city walks and for wearing if you're travelling to a snowy destination such as on a ski holiday, as they're likely to be warm and insulated but not suitable for really wet conditions. Some snow boots use rubber to create a wellington boot-like lower portion of the boot, which is great for keeping rain and snow out but does render the boot less breathable, so your feet might overheat in warmer weather.
Soles
Winter boots should be designed for walking on challenging surfaces such as ice, snow and wet terrain, so picking a pair with good soles is key. Look for chunky rubber soles with deep 'lugs' (the studs on the sole) to ensure you have a good grip on ice – shallow lugs are only suitable for less challenging walking. High-performing winter boots often feature the same technology found in hiking boots, such as Gore-Tex waterproofing and tough, bouncy Vibram soles, both of which we always rate highly on test.
Fit
Just like with hiking boots, the best snow boots should feel comfortable and roomy, with plenty of space to move your toes and no tightness anywhere. You won't usually need to break in fabric snow boots – they should feel deliciously comfy from the get-go. Leather winter boots, on the other hand, may require some breaking in before they soften and mould to your feet. You'll want to wear thick socks (ski socks or winter hiking socks are ideal) inside your snow boots, so take some with you when you're testing pairs out – you may need to go a size large than your usual. If the boots you're trying out lace up, check that they feel snug and secure once done up, and that they support your ankle. There should be plenty of room for your toes to flex, but your feet shouldn't slip around within the boot. Soles should feel cushiony and very grippy, but not too heavy. Ideally there won't be much room between the opening of the boot and your leg, to avoid snow getting in – and the taller the boot's cuff, the dryer your leg will be in a drift.
An award-winning travel and outdoors journalist, presenter and blogger, Sian regularly writes for The Independent, Evening Standard, BBC Countryfile, Coast, Outdoor Enthusiast and Sunday Times Travel. Life as a hiking, camping, wild-swimming adventure-writer has taken her around the world, exploring Bolivian jungles, kayaking in Greenland, diving with turtles in Australia, climbing mountains in Africa and, in Thailand, learning the hard way that peeing on a jellyfish sting doesn't help. Her blog, thegirloutdoors.co.uk, champions accessible adventures.
All the latest inspiration, tips and guides to help you plan your next Advnture!
Thank you for signing up to Advnture. You will receive a verification email shortly.
There was a problem. Please refresh the page and try again.