11 great reasons to head outdoors instead of hitting the gym
Thinking of renewing your gym membership? You might get a better, more enjoyable workout outside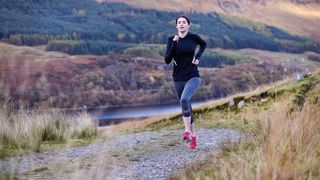 (Image credit: Getty)
Each January, people flood to the gym to get the new year off to a healthy start, but for many people the great outdoors is just as good for working out – if not better.
Gyms certainly have advantages. They're warm for one thing, which is always appealing in winter, you can easily book a personal trainer to help you out, and all the equipment is right there (provided the new members haven't snatched everything up). However, there are some things about the outdoors that are just impossible to beat – and we're not just talking about the lack of a monthly fee.
If you've been thinking about joining a gym, don't sign up before you've considered all the advantages of getting your exercise outside instead. Here are 11 good reasons to give it a try...
1. Fresh air
It's easy to see that advantages of exercising outdoors in the fresh air, especially if you have access to green spaces, woodland or the countryside, compared to the hot, stale and sweaty air created in the indoor environment of a gym.
With viruses such as Covid-19, flu and colds very much on many people's minds, it's also worth thinking about how much more susceptible you are to germs indoors than outdoors.
2. Mental health
There are numerous studies that reveal the mental health benefits of taking regular exercise outdoors. For example, a 2018 study published by the Environmental Design and Research Association found that walking in nature measurably improved mood and decreased stress.
Another piece of research published in Landscape and Urban Planning found that Londoners who live, and spend time near trees, typically have better mental health, and a study at the University of Glasgow found that neighbourhood blue space – areas of water and waterways – have a positive effect on the mental health of older adults.
Immersing yourself in water, especially cold water, is thought to have even more positive advantages for mental well-being, including boosting dopamine levels and increasing the release of endorphins, which make us feel happier.
It is especially important to spend time outdoors in winter when daylight is more limited and the effects of darkness can have negative effects on mood. Indeed, it's believed one of the key ways to overcoming issues such as SAD – seasonal affective disorder, or "winter blues" – is to increase the time you spend in daylight, so as to ward off a drop in serotonin.
3. Lots of variety
Unless it's a particularly small venue there are probably plenty of classes and workout options at your gym, but there's also heaps to enjoy outdoors. Yes, you can go hiking, but there's also trail running, mountain biking, climbing, skiing, skating, bouldering, kayaking, canoeing, rowing, wild swimming, and many more activities that will work different parts of your body, and improve different aspects of your overall fitness.
Many people complain that working out at the gym becomes boring and samey, but this is very rarely the case when taking part in sports and workouts outdoors.
4. Beautiful scenery
At the gym you will most likely be staring at a wall or maybe a mirror. Perhaps your gym has TVs, especially in front of treadmills and spin bikes. But there is no substitute for the huge variety of different views to enjoy outdoors.
Even if you're running in urban environments, there is a constantly changing view and scenes and when you take your activities to the countryside, you will rarely see the same view twice.
5. Balanced, varied workouts
Gym workouts have many physical benefits but it is possible to argue they do not have as many as being outdoors. A treadmill, for example, is a constant platform that has adjustment only in speed and gradient. A spin bike stays static, too, apart from gear changing.
When running or cycling outdoors you need to make non-stop micro adjustments to the terrain and the conditions, especially if you take your sport on to the trails. For example, the physical benefits of running off-road include boosted muscle and ligament strength, improved balance and better mental health well-being.
6. Social opportunities (if you want them)
Unless you have found a time at the gym when there are few other people, the chances are your immediate space around your workout will include other people. You might enjoy the social interaction of this, but what if you fancy some me-time? You don't really have that choice in the gym.
However, the option to spend time with other people going for run, bike ride or an open water swim is entirely yours in the outdoors. You could set a time to meet a friend, attend a club session, or simply get up, go out your door and run, cycle or swim solo.
There are benefits of spending time with other people, as well as advantages of switching off and enjoying time to yourself.
7. Seeing new places
Your gym membership might give you access to different areas at your centre, such as the gym, gym hall, swimming pool and tennis courts. But when you walk, run, cycle, ski or enjoy any kind of outdoors sport, you will be seeing new places simply because you are moving.
There are many possibilities for discovering new locations and visiting new areas when you exercise outdoors.
8. No travel necessary
Unless you live next door to a gym, you'll need to get yourself there. This might be by car, bike or on foot, but still you need to travel to exercise.
If you choose to do an outdoors sport, the likelihood is you will be able to take part right from your door. Perhaps not all your sessions and activities will start from your home, but it's likely that some of them can be and this will save time.
Plus it's easier to motivate yourself simply to go out of your front door, rather than go out the door, travel to the gym and then do the session at the allotted time.
9. Anytime, anywhere
Whether you are at home, away from home with work, on holiday or staying with a friend, the outdoors is always there. You are not tied to one place – such as with a gym membership – and so you can enjoy your favourite outdoor sport, but simply in a different location.
10. Cheaper
There are costs associated with outdoors sports but once you have the clothes, such as trail running shoes, waterproof jacket and a vest pack, you do not need to pay for anything else.
Going to the gym requires you to buy comfortable and suitable kit, but you also need to pay for a membership, too.
11. Get in touch with nature
One of the biggest arguments fro choosing the gym over the outdoors is the weather. We are not going to deny the advantages of an indoors fitness session when it's wet, cold or snowy outside.
But we also want to suggest that there are some very uplifting benefits to being outdoors whatever the conditions. Running, walking and even cycling and wild swimming in different weather can make you feel alive.
Try running or swimming in the rain, jumping into puddles as you walk, or cycling through a snowy landscape (of course, you need to take care that you are safe if there is snow and ice on the ground).
So long as you are dressed for the weather and do not get too cold or wet, the chances are that exercising outdoors will give you a mental boost.
And you will enjoy the dry and sunny days of outdoors exercise all the more, simply because of the contrast.
Conclusion
While gym sessions are good for keeping fit, especially for strength and conditioning training, many people reap greater and more varied benefits of participating in sports outdoors.
All the latest inspiration, tips and guides to help you plan your next Advnture!
Fiona Russell is a widely published adventure journalist and blogger, who is better known as Fiona Outdoors. She is based in Scotland and is an all-round outdoors enthusiast with favourite activities including trail running, mountain walking, mountain biking, road cycling, triathlon and skiing, both downhill and back country. Her target for 2021 is to finish the final nine summits in her first round of all 282 Munros, the Scottish mountains of more than 3,000ft high. Aside from being outdoors, Fiona's biggest aim is to inspire others to enjoy the great outdoors, especially through her writing. She is also rarely seen without a running skort! Find out more at Fiona Outdoors.