What is trig bagging – and why is it popular among hikers and runners?
Discover how a historic mapping scheme now provides the focus for a modern-day outdoors activity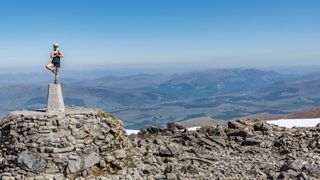 (Image credit: Getty Images)
The triangulation pillar, or "trig" is a quintessential British landmark. You'll spot these "markers" all over the UK's countryside. Trigs also provide the basis for an activity called trig bagging.
History of trig pillars
It was in April 18, 1936, that the first trig pillar was installed by mapping agency Ordnance Survey (OS). It launched what was known as the "Retriangulation of Great Britain".
Such was the extent and detail of the mapping that some 6500 trig pillars were used to measure the shape of the land and to rewrite the map of Britain. Today, the land is measured and mapped by modern GPS.
Trig pillars are still a common feature of British scenery – and offer a rewarding focus for trig baggers.
What is triangulation?
The triangulation system is a mathematical process that makes accurate map-making possible. An OS spokesperson explained: "Triangulation works by determining the location of a point by measuring angles to it from known points at either end of a fixed baseline.
"For OS maps, the known points were the thousands of trig pillars erected across the country.
"A theodolite was secured to the top mounting plate of a pillar so that angles could then be measured from the pillar to other surrounding points."
It took many angle measurements to gain the most accurate primary points in the retriangulation and observations often took several hours at each pillar. In total, the retriangulation task took 26 years, including break for World War II.
The OS maps – and map apps – that many hikers and runners use are based on this Retriangulation process, although today most new measurements are done by GPS.
What is trig bagging?
There are more than 6000 remaining trig pillars spread across the Britain landscape and most can be "bagged" by using a map and compass.
Trig pillar locations are marked by a small blue triangle on OS maps.
You can choose to walk, run or, in some cases, cycle, to a trig. While some trig bagging routes offer an easy going stroll others form the basis of a more challenging mountain hike.
Many people enjoy "bagging" or "ticking off" a list of trigs. For example, you could hike, run or cycle to all the trig pillars in your country or region, or aim to reach all the trig pillars on one OS Landranger map.
Trig bagging is also a great activity for families, especially if you look for pillars that are located on smaller hills. Let your children show you the way by map and compass.
Some people set themselves the challenge of reaching a set number of trigs in a day, such as all the trigs in your local hills.
There are some useful resources for discovering the location of trigs, such as:
Britain's top trig bagger
It took one extraordinary trig bagger 14 years to bag all the existing trig pillars in Britain. On April 16, 2016, Rob Woodall walked to his final trig point on Benarty Hill in Fife.
Rob, of Peterborough, completed a list of 6,190 trigs and celebrated his achievement with 29 friends and fellow trig baggers in 2021.
He said: "It's been a great adventure to walk to – and to try to discover – all the remaining trig pillars. I have visited some very remote places in Britain but also reached trigs that are located in very easy places to walk to."
An OS spokesperson described Rob's quest as a "seriously impressive achievement".
6 fascinating facts about trig pillars


1. The highest trig pillar sits on the top of Ben Nevis in the Scottish Highlands.
2. The lowest trig pillar is at Little Ouse, sited at -1m, Cambridgeshire, England.
3. Trig pillars are usually made of concrete
4. Pillars are shaped like truncated square pyramids or obelisks that taper towards the top.
5. Like an iceberg, there is a large part of the trig pillar below the ground's surface.
6. In Scotland, some pillars are called Vanessas. These are taller, cylindrical concrete pillars.
All the latest inspiration, tips and guides to help you plan your next Advnture!
Fiona Russell is a widely published adventure journalist and blogger, who is better known as Fiona Outdoors. She is based in Scotland and is an all-round outdoors enthusiast with favourite activities including trail running, mountain walking, mountain biking, road cycling, triathlon and skiing, both downhill and back country. Her target for 2021 is to finish the final nine summits in her first round of all 282 Munros, the Scottish mountains of more than 3,000ft high. Aside from being outdoors, Fiona's biggest aim is to inspire others to enjoy the great outdoors, especially through her writing. She is also rarely seen without a running skort! Find out more at Fiona Outdoors.