What does VLT mean in sunglasses?
We explain VLT in sunglasses so you don't end up picking shades that are too light – or dark – for your favorite adventures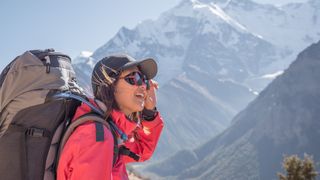 (Image credit: Pakawat Thongcharoen)
If you spend a lot of time outdoors, you've probably had a hitch with your sunglasses at some point, either wearing a pair that were too dark, meaning you had to take them off and squint all day long, or a pair that were too light for the amount of sunlight leaving your eyes feeling strained at the end of the day.
Your eyes need as much protection from the sun as the rest of you – arguably more – since we rely on sight so heavily in the outdoors. Selecting the best sunglasses for hiking and mountaineering is a crucial decision-making process, with UV exposure being accentuated at elevation and potentially damaging glare from snow and ice a real issue.
And if you're picking out a new pair for outdoor trail running, there's a lot more to consider than how they look. Sunglasses for trail running need to be lightweight and stay put when you're bouncing along the trail, for example, whereas you'll need to prioritize polarized lenses if you're going to be snowshoeing in extremely bright conditions like in Colorado. Then there's the question of how much light your lenses allow in, which is determined by a criteria usually known as VLT.
VLT then is obviously an important factor to consider, but one that can seem kind of confusing at first. In this article, we explain what VLT means and what the different categories are used for, so you don't end up picking shades that are too light – or dark – for your favorite adventures.
What does VLT mean in sunglasses?
VLT stands for Visible Light Transmission and it refers to how much light passes through the lens of your sunglasses to reach your eyes. It is also sometimes simply referred to as "light transmission" and will almost always be listed as a percentage, though there are categories used to organize them, which we'll explain in the next section.
There are four factors that affect the VLT of your sunglass lenses:
Color
Thickness
Material
Coating
Naturally, you want some light to reach your eyes when you're wearing sunglasses, but too much or too little could really sour an adventure, fast. Just as with ski goggles, you want darker sunglasses for brighter conditions, and lighter lenses for low light ventures.
Is a higher VLT better?
It's easy to assume that a pair of sunglasses boasting a higher VLT is better, but unlike UV protection, which you want to see listed as 100%, higher isn't necessarily better for VLT. Rather, it depends on what you're using the sunglasses for. There are five categories in total for VLT, but as you'll see, not all of them apply to sunglasses.
Here is a general guideline to what the different categories of VLT mean for you:
Swipe to scroll horizontally
VLT Categories

| | |
| --- | --- |
| Category 0: 80 - 100% VLT | Virtually clear lenses for very dim and night conditions. These are more likely to be used in ski goggles for night skiing, eyeglasses and fashion eyewear than in sunglasses. |
| Category 1: 40 - 80% | Medium-tinted lenses ideal for overcast and low-light conditions such as during dusk, these may be yellow, rose or amber-colored. |
| Category 2: 18 - 40% | Advised for all-purpose use, especially if your eyes are not sensitive, and during mixed conditions where it might be partly or intermittently sunny. |
| Category 3: 10 - 18% | Dark lenses best for bright, sunny days, water sports and snow sports where glare is likely. These are legal for driving during the day, but may be too dark for you to do so comfortably. These may be black, gray or copper-colored. |
| Category 4: 0 - 10% | Very dark lenses for high altitude trekking and mountaineering, as well as activities like welding. These are rarely found in regular sunglasses and it is not legal to wear them for driving in the UK as they don't allow in enough light to be safe. |
As you can see, the higher the VLT, the darker the lens, which is only a good thing if you're planning on using your sunglasses at high altitude or on the water or snow. If you're recreating in cloudier conditions or at dusk, you'll want a lower VLT or your sunglasses will be too dark.
What VLT is best for driving?
If you're looking for sunglasses to wear for driving during the day, avoid anything that's less than 10% as this doesn't allow enough light through to keep you safe, and may be illegal. You can wear anything between 10 - 100% for driving during the day and should consider polarized lenses, which help with reducing glare on flat surfaces like the road ahead. Don't wear sunglasses while driving at night or dusk.
All the latest inspiration, tips and guides to help you plan your next Advnture!
Julia Clarke is a staff writer for Advnture.com and the author of the book Restorative Yoga for Beginners. She loves to explore mountains on foot, bike, skis and belay and then recover on the the yoga mat. Julia graduated with a degree in journalism in 2004 and spent eight years working as a radio presenter in Kansas City, Vermont, Boston and New York City before discovering the joys of the Rocky Mountains. She then detoured west to Colorado and enjoyed 11 years teaching yoga in Vail before returning to her hometown of Glasgow, Scotland in 2020 to focus on family and writing.