Are tent heaters safe? In a word, yes – if you're sensible. Here's why…
Are tent heaters safe? We study the options for heating your shelter and consider what you can do to make them as safe as possible.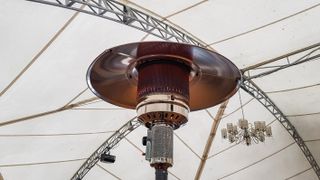 (Image credit: Getty)
Are tent heaters safe? Yes they are. Just as driving a car is safe, or using a blender is safe, or firing up a blow torch is safe. As with any piece of technology that has the potential to cause harm, if treated with respect and used properly, all will be well. By following the manufacturer's guidelines and exercising your common sense, tent heaters are safe.
That's not to say you can take any kind of propane fuelled heating device into your tent. Just as you wouldn't take a Formula One car on a drive around the city (however fun that may be), you shouldn't use a heater that's not specifically designed to be used in a tent, in a tent. Got it? Good.
We totally get why tent heaters are a desirable addition to your camping kit. Even the best camping tents can only do so much to keep us warm and these days you can create luxurious conditions on your camping trips; it's called glamping. However, with the potential fire risk and tales of carbon monoxide poisoning doing the rounds, we also understand why some people are hesitant. Bear with us, we'll deal with these perceived dangers one by one.
Of course, it may be that you don't need to even consider a tent heater. Plenty of hardy campers seek out the depths of winter and know how to stay warm in a tent without resorting to heaters and the like. Hot water bottles, hot drinks, quality kit, a proper insulated sleeping pad and plenty of layers can do the trick too.
However, if you're still thinking of acquiring a heater, here are some of the factors to consider.
Are tent heaters safe when using propane?
Propane is a natural gas that's used in numerous appliances, including use as camping stove fuel. Propane heaters use pressurized gas to heat areas like outside seating areas. You've probably been toasty by a propane heater at some point, enjoying a cold beverage or an al fresco meal during the shoulder seasons.
There are propane heaters that are designed for outdoor use only and some that are intended for indoor use in places like garages, warehouses and… tents!
What are the potential dangers when using a propane heater?
The aspect that can make people hesitant when considering a propane heater for their next camping trip is that they produce carbon monoxide. Usually this is only a miniscule, harmless amount. However, a faulty heater can produce more and cause significant harm. Due to this, it's important to follow the manufacturer's safety guidelines carefully when using an indoor heater.
Another consideration to make is that a propane heater consumes oxygen as fuel when burning. This isn't an issue in a well-ventilated space but in an enclosed, unventilated area can lead to hypoxia.
So, are propane heaters safe to use in my tent?
Propane heaters that are designed to be used in tents are safe but check carefully that they have following safety net features as a precaution against potential dangers:
A carbon monoxide detector that automatically shuts down the heater if excessive carbon monoxide is detected in the air. As mentioned, the amount of carbon monoxide a propane heater should create is miniscule, far too little to be picked up by a detector. If something goes wrong and a higher proportion of carbon monoxide is released, your heater will shut itself down and keep you safe.
A fall detector. We're not talking about the seasons here; it doesn't automatically kick the heater into gear once leaves start falling off the trees. No, this detector makes sure your heater switches itself off if it is knocked or blown over. As you can imagine, if it didn't do this you'd have quite the fire hazard on your hands and possibly the end of your family tent.
An overheating detector will shut your heater down if it goes over a predetermined temperature, thus reducing the risk of a fire or anything else going wrong.
Golden rules to stay safe when using a tent heater
We almost called these "tips", before realising that "tips" is a bit casual for guidance that, while mostly common sense, is designed to keep people alive. Are tent heaters safe? Yes, when adhering to these golden rules:
Keep your heater away from flammable objects. These are everywhere in a tent: your shelter's fabric itself, your best down jacket, your sleeping bag, your hat, everywhere! In an ideal world, your heater should be well away from the walls, so the middle of your tent might be the best place for it. However, make sure its somewhere where you won't stand a good chance of knocking it over.
As a rule of thumb, keep the heater at least a couple of feet away from the fabric walls. Setting up a heater in a one-person tent is clearly not a good idea…
Never leave the heater unattended. Like a baby in a bath, or Hannibal Lecter, never leave your tent heater unattended. A gust could blow into the tent or an animal could knock it over, or it might not be stable in the first place. Which brings us nicely to…
Make sure your heater is stable. The floor of a tent pitching in the backcountry isn't often pancake flat, so try to find a stance for your heater that is as stable as possible. While modern heaters should be fitted with a fall detector, it's better safe than sorry when it comes to these two golden rules.
Ensure your tent is well ventilated. It may sound counterintuitive, but veteran campers will know that ventilation is key to tent comfort even on the coldest nights. It's even more important that you open your vents when your heater is on. This is because it consumes oxygen as fuel to create its flame. Without proper ventilation, the oxygen in your tent will eventually be spent. As you will probably be aware, we humans kinda need oxygen too.
Have an expert inspect your heater before every trip. As we now know, a faulty heater can lead to excessive carbon monoxide, so it's worth getting your heater checked before you head off to the backcountry. An expert will check all is working properly, including your all-important detectors.
It's likely your modern tent heater has an integrated carbon monoxide detector, but if you are unsure, you can always invest in a separate detector and place it with your tent for the duration of your trip.
Are other types of tent heaters safe?
Are tent heaters safe if they don't use propane? Again, yes.
Many campsites offer electrical hook up, meaning you can power your electrical items just like at home. This is great for keeping your best headlamp, flashlight, phone, and other hiking tech juiced up, or installing a fan on those scorching summer days. This setup also gives you the option of bringing an electrical heater from home.
An electrical heater is perfectly safe to use if you follow the golden rules stated above. Don't use an electrical heater if you have any doubts about your tent's waterproofing. This is because water, humans and electricity do not constitute the kindest cocktail.
The other type of heater you might use is a battery-powered heater. This is a great alternative to a propane heater and is more portable than an electrical heater, as you don't have to rely on an outside energy source. Again, by following the golden rules, there's no reason why a battery-powered heater wouldn't be a perfectly safe way of keeping your tent cozy.
All the latest inspiration, tips and guides to help you plan your next Advnture!
Alex is a freelance adventure writer and mountain leader with an insatiable passion for the mountains. A Cumbrian born and bred, his native English Lake District has a special place in his heart, though he is at least equally happy in North Wales, the Scottish Highlands or the European Alps. Through his hiking, mountaineering, climbing and trail running adventures, Alex aims to inspire others to get outdoors. He is currently President of the London Mountaineering Club, training to become a winter mountain leader, looking to finally finish bagging all the Wainwright fells of the Lake District and hoping to scale more Alpine 4000ers when circumstances allow. Find out more at www.alexfoxfield.com