A night up a mountain in a tent from Aldi: did our budget shelter survive?
What we learned when we spent a night on a Welsh summit in Aldi's Adventuridge tent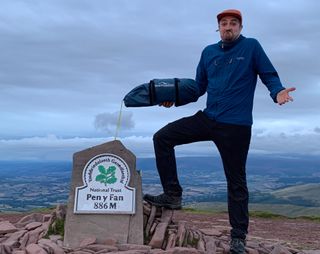 (Image credit: Craig Taylor)
In the middle of August, a small lightweight tent arrived at my door for the purposes of testing and reviewing. It weighed less than 2kg (4.4lb), packed down small, and felt surprisingly stable for its size and weight. First impressions were good. The only question mark, in fact, was the brand: it was manufactured by a company called 'Adventuridge' – a brand I'd never heard of, despite being somebody who spends an unreasonable amount of time reading up on outdoor gear.
What on earth was this brand? Heading to the internet, a quick online search revealed something I didn't expect. This small lightweight tent was sold exclusively at Aldi, the German discount retailer and grocery store. It was its attempt at an affordable backpacking shelter, sold across their stores throughout the summer of 2022. And it only cost £49.99 (it's actually on offer for £29.99 at the time of writing…).
Naturally, I was intrigued. Could a tent at this price point, sold in a store more known for tomatoes than tents, compete with the best two-person tents on the market? To find out, I carried it up to top of the UK's highest summit south of Snowdonia to put it to the test. Here's what went well, what went poorly, and why I think this Aldi tent might be one of the best budget shelters on the market right now.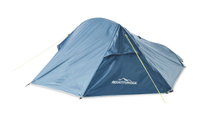 The tent
The little Aldi tent's real name is the Adventuridge 2 Man Tent. It's a two-poled inner-first shelter that has a packed weight (as delivered) of 1.75 kilograms (3.9lb). Compact and easy to store, it packs down reasonably small and comes with a fly sheet that has a hydrostatic head rating of 3,000mm (which, incidentally, is double that of many of the most popular lightweight tents, such as the Big Agnes Fly Creek or the MSR Hubba Hubba).
It also has a sturdy bathtub floor that feels strong and durable, and is perfect for pitching on rougher ground. What's more, the tent comes fully seam sealed to stop any rain seeping in, and it can be pitched/disassembled in a matter of minutes.
The mountain
To give the tent a proper test in good old British weather, I told the Advnture editors I'd pitch it on the top of a mountain. In fact, the original plan was to put it up against the likes of Scotland's Ben Macdui or pitch it on some craggy outcrop in the Lake District, but – due to the lack of faith I had before embarking on this endeavor – I decided to stick to more familiar pastures. Should the gear fail, I wanted to be somewhere I knew like the back of my hand, so I headed to the Brecon Beacons and committed to a night up Pen y Fan – a mountain that's as well known for its strong gusts of wind and perpetual cloud cover as it is for its epic views.
How did the Aldi tent perform in the wild?
On the day of the big Aldi tent test, the weather over Pen y Fan was looking perfect for this sort of endeavour. It was wet but not too wet, windy but not too windy, and cold but not too cold. In fact, the worst of the weather was predicted to die down in the early hours of the night, meaning that – should the Adventuridge survive the first few hours – I should be in for a fairly restful night.
So, with that in mind, I parked up the car and shoved everything I thought I might need into a backpack, including an emergency bivy sack and spare sleeping bag just in case the Aldi failed in the night. Strapping the poles to the outside of my bag, I managed to squash the Adventuridge down to an impressively small size. It collapsed to about the size of an average soccer ball, and easily fit into my 45-liter backpack.
A night up a mountain in a tent from Aldi
Once up on the summit of Pen y Fan, the weather was pretty much exactly as forecast. It was drizzly and windy, with regular gusts of up to 30 mph providing ideal conditions for testing the Adventuridge. And to my surprise, it went up without any major hitch.
Despite it being an inner-first pitching style, the two poles slotted in quickly to provide the frame for the fly, which meant I could get the rainproof flysheet on in less than a minute. In the drizzle I erected it in, minimal rain fell into the tent, though I wouldn't have been as lucky had it been a real rainstorm. While this was promising, the flysheet is solely kept in place by tying some short straps to the inner. These felt quite cheap and as though they'd easily tear, which didn't fill me with confidence as the wind picked up.
Additionally, I hit a bit of a snag when it came to pitching out the guy lines. To secure the tent and all of the guys, you need at least 18 pegs. Frustratingly, the Adventuridge only came with 16 in the pack, which meant I could only peg out the lines on one side – not ideal for sleeping on the top of a mountain.
Through the night, despite the forecast, the rain picked up and the wind got more regular. And as it howled outside my small mesh door, I grew increasingly nervous. I even packed all of my stuff into my backpack in case I needed to make a quick exit. But, as the light rose above the horizon and I climbed out on top of one of the UK's highest mountains south of Scotland, I realised all of those midnight nerves had been for nothing. The tent looked exactly as it had seven hours earlier, aside from being a darker shade of blue than I remember (due to the deluge of rain that fell in the night). Inside I'd stayed dry and protected, while outside Pen y Fan chucked all it had at the little Aldi tent.
Verdict
Overall, I was – and continue to be – very impressed with the Adventuridge tent. It's durable, lightweight, easy to pack and simple to pitch. It's also large enough for an average-sized person (including gear) and comes with a vestibule that's suitable for some simple cooking/storage. It also costs less than £50 – to put that in perspective, you can get 2.4 Adventuridge 2 Man Tents for the cost of one Patagonia Better Sweater.
Naturally, however, there are some drawbacks. Firstly, the stitching and overall quality of this tent aren't comparable to higher-end products. But if you're new to dispersed camping or are looking for a budget tent for a specific trip, this might not matter to you. Just try and manage your expectations: this is a budget shelter that probably won't survive multiple seasons of abuse out on the trail unless you're incredibly careful with the stitching.
The pegs that come with the tent are also terrible. They weigh a ton and bend as soon as you push on them. I'd strongly recommend swapping these out for some better stakes, which – if you go for aluminum or titanium options (check out our guide to the best tent pegs) – will also reduce the tent's packed weight by up to 150g. (The supplied pegs and bag weigh 320g.)
All things considered, I'd still give the Adventuridge nine out of 10. If Aldi doubled its price next year, would I still consider buying it? No. But I also wouldn't entertain the thought of buying a Nemo Hornet if the price suddenly doubled to $800.
The point is, this is a decent tent at an amazing price. And with my newfound confidence in what the little Aldi Adventuridge tent can do, I'm looking forward to using it on future adventures.
All the latest inspiration, tips and guides to help you plan your next Advnture!
Growing up just south of the glorious Brecon Beacons National Park, Craig spent his childhood walking uphill. As he got older, the hills got bigger, and his passion for spending quality time in the great outdoors only grew - falling in love with wild camping, long-distance hiking, bikepacking and fastpacking. Having recently returned to the UK after almost a decade in Germany, he now focuses on regular micro-adventures in nearby Snowdonia and the Brecon Beacons, as well as frequent trips to the Alps and beyond. You can follow his adventures over on komoot, or visit www.craigtaylor.co for more info.