Best Colorado 13ers: snag the views and beat the crowds
The best Colorado 13ers offer fine hikes to rival the state's tallest peaks, but offer solitude rarely found at the very top of the Rockies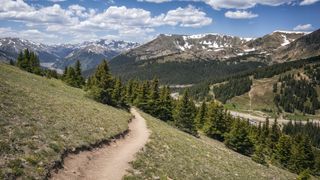 (Image credit: Patrick Lienin)
Colorado has long been a mecca for hiking enthusiasts looking to bag one or two of its famous 14ers – mountains that top out at 14,000ft or higher. These mountains make up the highest peaks in the state and some of the highest in the country, which makes them alluring for adventurers seeking the best views of the Rocky Mountains. But those views and the kudos associated with checking these peaks off your list makes for some pretty overrun trails, and locals know that if you want the views and the climb without the crowds, you're often better off on one of their slightly smaller cousins – a Colorado 13er.
Colorado 13ers are largely overlooked, but you can find magnificent hikes on these mountains, and there are hundreds of them. Our guide to Colorado 13ers covers the highest and hardest of them, but focuses on the best for day hikes and views, plus everything you need to get started. Get your best hiking boots and compass at the ready, because a world of high altitude adventure awaits you!
How many 13ers are there in Colorado?
If the lack of crowds atop a 14er isn't enough to bring you down 100 feet, the sheer number of 13ers might. While Colorado's 53 mountains over 14,000ft sounds impressive, you'll find a whopping 637 13ers across the state, making 13er bagging a much more endurance-based task. But it also means that, almost wherever you are in the Colorado Rockies, you'll have plenty of arresting peaks to choose from.
What is the tallest 13er in Colorado?
At 13,988ft above sea level, Grizzly Peak up on Independence Pass is just two feet short of being a 14er. It's also one of six 13ers called Grizzly Peak in the state – coming up with 637 separate names is a tall order – and you can easily combine it with Mount Sniktau, which we cover in this article.
What is the hardest 13er in Colorado?
According to the hiking trail difficulty system, hiking trails can be classified as grade 1 - 4, with four being the most difficult, and once you get to class 5 routes, you're really talking about technical climbing and not just wearing good hiking boots. The following seven Colorado 13ers rank as Class 5 climbs, making them the most difficult:
UN 13900 (Drift Peak)
Jagged Mountain
Tea Kettle Mountain
Dallas Peak
Peak 15
Coxcomb Peak
Lizard Head
Of these, UN 13900 in the Tenmile Range is the only one not in the San Juans.
What do you need to hike a 13er?
If you're wondering if that 100 feet will make a difference in terms of acclimating and gear, the short answer is no. You'll want to follow of the same guidance that we gave you for hiking 14ers when you hike a 13er, and remember that many of these hikes won't have such clearly defined or marked trails as 14ers, owing to their lesser popularity, so you'll want to fine tune your navigation skills before you head off.
Here's a reminder as to what're required for high altitude hiking:
Acclimate to altitude first
Know your route (and carry a map and compass)
Only hike in the summer months (June - September)
Check the weather forecast the morning you intend to set off (and cancel if there aren't clear skies)
Set off at dawn, or earlier
Don't hike alone
Wear your best hiking shoes or boots
Dress in hiking layers (it will be cold up high even in summer)
Drink more water than you normally would on a hike – Colorado is dry!
Don't be afraid to bail out if you get tired
Best 13ers near Denver
If you're coming from the Denver area and looking for a peak to bag, chances are you'll head south from Idaho Springs to Evans or Bierstadt, two 14ers that provide fun day hikes and excellent views. However, their easy trails and proximity to the Front Range mean you're also likely to be muscling your way through throngs of people to get to the top, which probably isn't the reason you left the city behind for the day. Instead, why not try these three fabulous 13ers that are all an easy drive from Denver, gorgeous hikes and far less touched by hiking boots.
Square Top Mountain
Elevation: 13,794ft
Hike distance: 7 miles
Near Guanella Pass, Square Top mountain is sandwiched between Evans and Bierstadt to the southeast and Greys and Torrey to the northwest, so it's often overlooked, but this hike is definitely worth a second glance. The broad, flat summit is nearly half a mile wide and so appears square from below, and offers spectacular views of the surrounding peaks. There are several routes to the top, but the easiest is to start from Guanella Pass (10 miles south of Georgetown) and follow the clear path up the ridge through alpine tundra and scree fields, passing several lovely alpine lakes on the way.
James Peak
Elevation: 13,294ft
Hike distance: 8 miles
Instead of following the hordes south at Idaho Springs, another option is to head north into the James Peak Wilderness. James Peak is named for the first mountaineer to complete a recorded summit of a Colorado 14er and it's one of the massive bulks you can see from I-70 as you approach Idaho Springs. This hike is best combined with St Mary's Glacier, which made our list of one of the best winter hikes in Colorado, in which case you may want to bring traction like Yaktrax or Microspikes, though they're not required. Take exit 238 from I-70 west and follow Fall River Road for 10 miles to the parking lot ($5 cash only). Set off on the St Mary's Glacier trail, staying left at every fork, and you'll arrive at St Mary's lake after half a mile, then cross the glacier if you have traction, or skirt it on either side. At the jeep road, continue straight across the tundra until the trail becomes well defined again as you proceed up the basin to a flat summit offering spectacular mountain views.
Best 13er in Rocky Mountain National Park
Hardy adventurers enjoying the best hikes in Rocky Mountain National Park usually make a beeline for fearsome Longs Peak. From the same trail, you can divert to Mount Meeker instead, which is really just a continuation of Longs Peak's slopes, but make no mistake, this isn't an easy hike.
Mount Meeker
Elevation: 13,911ft
Hike distance: 11.4 miles
Begin on the Longs Peak trail until you reach the intersection where the fork to the right leads to the boulder field to ascend Longs, and the branch to the left is signposted for Chasm Lake. Head left on the Chasm Lake trail past the Ranger's cabin to a rocky and rugged ridge that requires a little scrambling. The cliffs here require technical climbing, so avoid them and look out for the ledge to the left which provides walking access via a narrow path. Reaching the saddle between Meeker and Longs, known as the loft, head southeast to the summit encountering some large boulders on the way and enjoy spectacular views of the park from the top. The true summit is only large enough for one person at a time.
Best 13ers near Breckenridge
If you're already up in the high country, Quandary is probably on your list as one of the easiest 14ers in Colorado, but between hikers in flip flops and mountain goats, you might be standing in a queue all the way to the top. Take the route less traveled with one of these fantastic 13ers instead:
Pacific Peak
Elevation: 13,950ft
Hike distance: 7 - 10 miles
Pacific Peak is the distinctive pyramid-shaped peak rising out of the Tenmile Range that you have probably noticed on your approach into Copper Mountain Ski Resort. Its slopes are home to one of the highest – if not the highest – lakes in Colorado and it can be approached from multiple popular trailheads including McCullough Gulch, North McCullough Gulch, Spruce Creek and Mayflower Gulch. The route from Mayflower Gulch can be combined with Atlantic Peak, another 13er, and starts from the large parking area off 91 and takes you up a jeep road to the splendid gulch, passing picturesque mining trails and wildflowers on the way. Continue up the west ridge of Atlantic Peak and cross the rugged plateau to the west ridge of Pacific. Take the rocky climb up to the saddle between Pacific and Crystal and head north to the summit of Pacific.
Mount Sniktau
Elevation: 13,234ft
Hike distance: 4 miles
Mount Sniktau is reached from the top of Loveland Pass, making it one of the most magnificent 13ers around, and also one of the most accessible summits – meaning it may be a little busier than some other 13ers. Starting at 11,990 feet from the Continental Divide parking lot where the views are already breathtaking, take the trail for Mount Sniktau and Grizzly Peak across high tundra. After about 1.5 miles, the trail splits. The fork to the right goes to Grizzly – which can be combined with this hike for a more vigorous day – you'll head left for another 1.2 miles to the summit of Sniktau where you'll enjoy endless mountain views including Greys and Torrey.
Best 13er near Leadville
Leadville is surrounded by many of the best 14ers in Colorado and it's certainly difficult not to bag one or three while you're there, but there are plenty of other peaks waiting to be discovered, including Horseshoe Mountain, which can even be combined with Sheridan for a more vigorous day, and makes a great alternative to nearby Sheridan and Sherman.
Horseshoe Mountain
Elevation: 13,898ft
Hike distance: 7.3 miles
This prominent peak in the Mosquito Range forms a glacial cirque that is magnificent if approached from the east (and barely noticeable from the west). To begin from the Fourmile Creek trailhead, drive one mile south of Fairplay and take County Road 18 west for about 10 miles and park near the old mining site of Leavick. Pick up the old mining road and after about a mile, take the left onto Peerless mountain and Horseshoe will be visible to the southeast. The road ends at an old mine, and you'll continue up the crest to the summit.
Best 13er near Vail
The closest 14er to Vail is Holy Cross which makes a worthy opponent for any pair of hiking boots, but a less crowded and more forgiving peak nearby can be found in distinctive Notch Mountain.
Notch Mountain
Elevation: 13,237ft
Hike distance: 9.6 miles
If you've ever driven the winding road from Minturn up to Red Cliff, you've noticed Notch Mountain which looks like someone has taken a bite out of it. This peak can be reached from Half Moon trailhead, the same one used for Holy Cross which begins from Tigiwon Road out of Minturn. Expect the first part of the trail to be busy with hikers heading for Holy Cross. Enjoy easy hiking on the way to Half Moon Pass and just before the pass, take the trail to the left through a meadow before beginning the rocky ascent to the summit, made longer with a slightly excessive number of switchbacks, but the walking is certainly not too strenuous. At the top, shelter and enjoy lunch in the stone Notch Mountain hut and snag the best views of Holy Cross that you'll find anywhere.
Best 13er in the San Juans
Difficult 14ers abound down in the stunning and rugged San Juans, and amongst them you'll find some of the gnarliest 13ers too. Broken Hand Peak makes for a long day, but a much more manageable hike compared to its neighbor, Crestone Needle.
Broken Hand Peak
Elevation: 13,573ft
Hike distance: 5.8 - 11.2 miles
Broken Hand Peak is a distinctive jagged peak near Crestone and Great Sand Dunes National Park and the hike up here involves some class 3 hiking, though the trail has vastly improved in recent years. If you have a high clearance vehicle with 4WD, you can shave about six miles off this hike. From Highway 69 south of Westcliffe, turn right onto County Road 119 and drive for about 5.5 miles to an intersection. Go right onto County Road 120. If you don't have high clearance, you'll need to park after about a mile and start walking, otherwise continue to South Colony Creek. From the creek crossing, take either trail to South Colony Lake and views of the Needles then follow the signposted Broken Hand Pass trail. From the Pass, descend a little towards Cottonwood lake then begin your final climb up the gully, winding through tall rock towers to the small, rocky summit.
All the latest inspiration, tips and guides to help you plan your next Advnture!
Julia Clarke is a staff writer for Advnture.com and the author of the book Restorative Yoga for Beginners. She loves to explore mountains on foot, bike, skis and belay and then recover on the the yoga mat. Julia graduated with a degree in journalism in 2004 and spent eight years working as a radio presenter in Kansas City, Vermont, Boston and New York City before discovering the joys of the Rocky Mountains. She then detoured west to Colorado and enjoyed 11 years teaching yoga in Vail before returning to her hometown of Glasgow, Scotland in 2020 to focus on family and writing.