Why buy a winter sleeping bag? The reasons you should invest in one this winter
A winter sleeping bag opens up a potential world of adventure, but their eye-watering prices put off many a would-be winter camper. We explore the reasons why you might want to buy one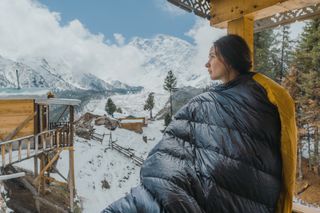 (Image credit: Getty)
Why buy a winter sleeping bag? Well, if you're the sort of person who loves a summer backpacking adventure, you may have tried the occasional wild camp during the shoulder season. It's likely your 3-season tent and your 3-season sleeping bag just about coped with the cold in the dead of night, but you might have been a bit chilly. But in the depths of winter, particularly in the mountains, this combo simply won't cut it.
Having a winter sleeping bag, combined with a tent also rated for the colder months, gives you the freedom to camp in all but the most Baltic conditions. You can confidently pitch your tent in the snow, knowing you've got the appropriate kit to keep you warm. You can join expeditions into the mountains safe in the knowledge that your gear will hold its own. Having said that, seriously high-altitude missions in the Greater Ranges may require specialist kit that's simply not available on the high street.
On top of all this, a winter sleeping bag's uses go far beyond sleeping in a tent. Winter walkers uses them to stay cozy in shelters, such as a Scottish bothy or a Scandinavian cabin. If you're an alpinist who uses the winter rooms in mountain refuges, you'll know how priceless one of the best sleeping bags is for a decent night's sleep before an early alpine start. Basically, if you aspire to adventures in the cold wilds of this world, you need a winter sleeping bag.
However, winter sleeping bags, like the best tents for winter, are eye-wateringly expensive. Featuring premium goose or duck down and boasting water and windproof fabric shells, the finest winter sleeping bags are serious pieces of kit, rated to keep you comfortable way after the mercury has dropped below zero. The insulation provided by goose down's loft is second to none and the finest exponents of this is down sourced from Hungarian and Russian geese. So, you can already tell there's plenty going on in terms of a top-quality winter bag's manufacture. These high-performance sleeping systems are also designed to be lightweight, compact and durable enough to last many years, so when you buy a winter sleeping bag you're paying for gear of the highest calibre.
Before you come to any conclusions, let's consider a few more factors concerned with winter sleeping bags.
Why buy a winter sleeping bag? Temperature ratings
From 2-season sleeping bags to models designed for Arctic expeditions, all sleeping bags go through internationally standardized testing. This leads to their sleeping bag ratings, which give a temperature for 'comfort', 'limit' and 'extreme'. 'Comfort' describes the temperature at which a camper, lying down straight, is 'globally in thermal equilibrium', which is a fancy way of saying comfortable. At the 'limit' temperature, the camper should be able to fend off the cold by curling up inside the bag. At 'extreme', the sleeping bag has reached its limit, only just keeping you from suffering frostbite and even then it may not be enough to stop hypothermia.
For example, the Mountain Hardware Phantom 0/-18, one of the best winter sleeping bags available, has a comfort rating of -7°C/19.4°F and a limit of -18°C/0.4°F. While this is great for winter camping, it's going to be overkill in summer, so don't throw away your old sleeping bag just yet...
Why buy a winter sleeping bag? The ethics
A winter sleeping bag is usually filled with duck or goose down. Down is a naturally occurring marvel and is not only used in sleeping bags but also as the filling in premium duvets and in the best down jackets too. It is the soft fluffy layer of undercoat feathers that hide beneath the outer feathers on geese or ducks, keeping them warm in some of the chilliest places on the planet.
So, this is where considerations of ethical down come into play. It is thought that around 80% of the down used in modern products comes from China, where the ethical practices around animal-based products have been called into question. It's worth doing a bit of research to check if your chosen brand source their down ethically. For vegans, down is obviously a total no go. The alternative is a sleeping bag filled with synthetic materials like polyester. Though, while animals have not been exploited in its creation, polyester does release tiny micro-plastics when washed, which then enter our water supply.
Why buy a winter sleeping bag? Other considerations
There's no point setting out with a sleeping bag that's winter ready if you haven't got a tent rated to match. A sleeping bag liner is a shrewd purchase and will upgrade your sleeping system's coziness, cleanliness, and comfort, all while providing additional protection that will enhance your sleeping bag's long-term performance. As well as this, it's worth investing in one of the best sleeping pads, as insulating yourself from the frozen ground is even more important during the winter months. Finally, with crampons, ice axes, fuel, your tent, all your food and all your spare layers crammed into your pack, you're going to feel like a loaded donkey when backpacking in winter. Any weight savings you can make, even on a sleeping bag, will go a long way towards your overall enjoyment.
Why buy a winter sleeping bag? The verdict
So, why buy a winter sleeping bag? If you're a serious adventurer with winter camping or mountaineering high on your list of priorities, a winter bag opens up a world of adventure and will keep you warm for countless camping trips. Ideally, you want to get a high-quality product that will accompany you on countless adventures. The best outdoor gear is the gear you already have and once you've got hold of one, learning how to wash a sleeping bag and how look after it correctly will mean that it performs well for many years. Having to constantly replace gear is not good for the planet and the environmental and ethical burden is not something you want on your conscience.
It may be that you're just looking to camp in summer and the shoulder seasons. If this is the case, an all-singing, all-dancing winter sleeping bag is probably not worth your investment.
All the latest inspiration, tips and guides to help you plan your next Advnture!
Alex is a qualified Mountain Leader, adventure writer and content creator with an insatiable passion for the mountains. A Cumbrian born and bred, his native English Lake District has a special place in his heart, though he is at least equally happy in North Wales, the Scottish Highlands or the European Alps. Through his hiking, mountaineering, climbing and trail running adventures, Alex aims to inspire others to get outdoors. He is currently the President of the London Mountaineering Club, training to become a Winter Mountain Leader, looking to finally finish bagging all the Wainwright fells of the Lake District and hoping to scale more Alpine 4000ers when circumstances allow. Find out more at www.alexfoxfield.com